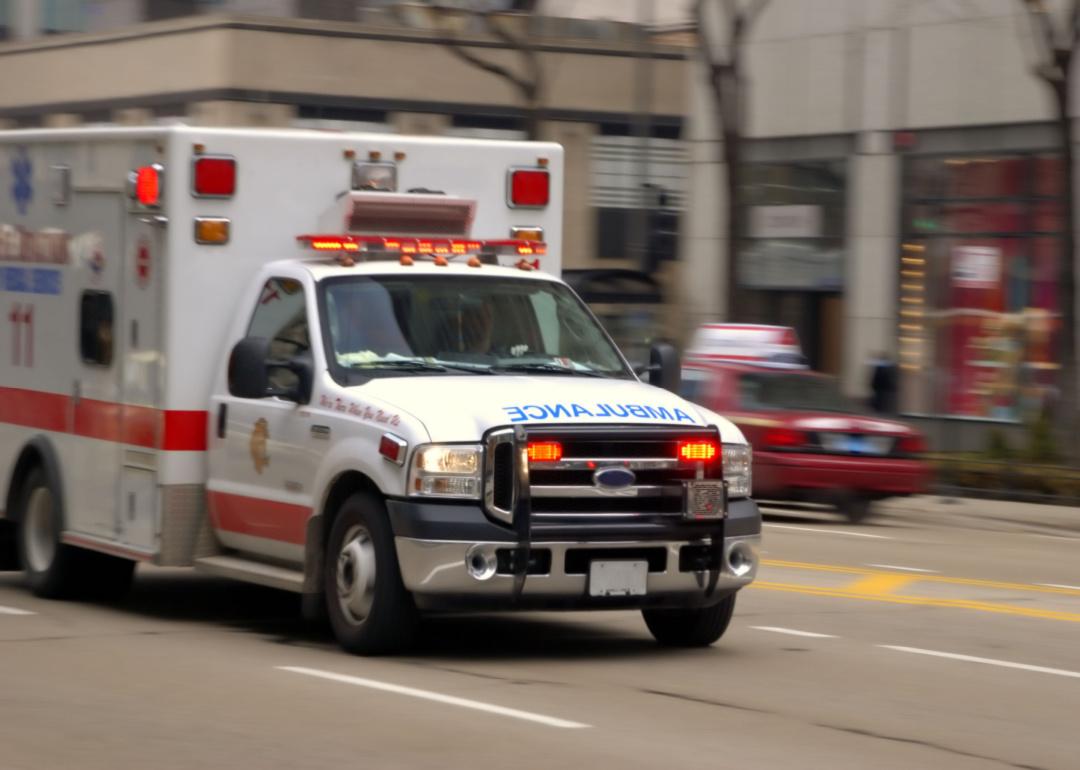 Bryant Jayme // Shutterstock
Americans love their SUVs—they're roomy, they're versatile, and above all, they're viewed as safer than the classic sedan. As roadways in the U.S. have gotten deadlier since the pandemic arrived, passengers in smaller vehicles are left to fret about their higher likelihood of death in the event of a collision.
But which of the leading SUVs are involved in the most fatal accidents for their passengers? Stacker used data from the Insurance Institute for Highway Safety to find the 30 SUVs with the highest driver death rates. Vehicles made by Jeep and Mitsubishi landed in several spots among the top manufacturers of vehicles ranked by highest death rate.
Death rates for this ranking were measured as the number of estimated driver deaths per 1 million registered vehicle years, each of which is measured as one vehicle registered for one year. Rates were also adjusted based on drivers' ages and gender. Ties were broken by the rate of multiple-vehicle crashes that resulted in driver deaths, though a few vehicles still remained tied after considering that factor.
The institute released the data in May 2020, primarily comparing 2017 vehicle models, but expanded the results to earlier model years for more data in cases where the vehicle wasn't substantially redesigned during that time. These rankings do not include luxury SUVs, which typically have additional safety measures.
The institute estimated that the overall death rate for SUVs is about 25 per million registration years, or 19 per 10 billion vehicle miles traveled. The largest SUVs have the lowest driver death rate compared to other vehicle categories. Many of the vehicle models with the lowest death rates were luxury SUVs, which were not included in these particular rankings.
Death rate estimates were created using statistical modeling, which is prone to some degree of error: Confidence interval ranges are provided, and the actual values have a 95% chance of being within that range based on the institute's analysis.
Some have postulated that Americans' penchant for larger vehicles—evident in sales of trucks and so-called sport-utility vehicles—is creating riskier conditions on roads. Even a midsize SUV can weigh nearly twice as much as a 1,500-pound Toyota Corolla. And a study from the National Bureau of Economic Research found that the likelihood of a person in a vehicle dying in a collision increased 47% for every additional 1,000 pounds of weight the vehicle is hit by.
The increasing frequency of deaths on American roadways is not new, and recent estimates from the National Highway Traffic Safety Administration found the rate has risen by more than 30% over the last decade. And data suggests it has ramped up further since the pandemic began. The NHTSA has also reported that alcohol use while driving, speeding, and distracted driving are simultaneously on the rise in the last two years.
Read on to see how your preferred SUV stacks up against other popular models.
You may also like: 5 scientifically proven ways to improve your sleep
#30. Toyota RAV4 2WD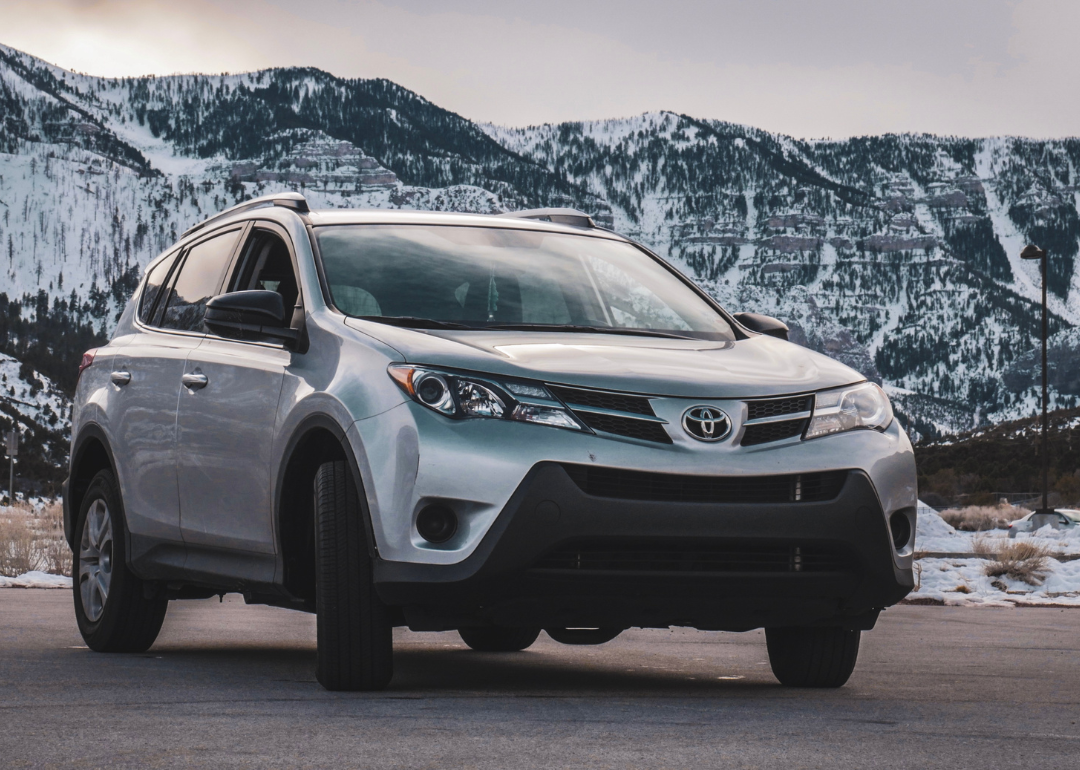 Canva
- Estimated driver deaths: 28* per million registered vehicle years
--- 28 in multiple-vehicle crashes
--- None in single-vehicle crashes
--- None in single-vehicle rollovers
*95% confidence range: 0-59
#29. Volkswagen Tiguan 4WD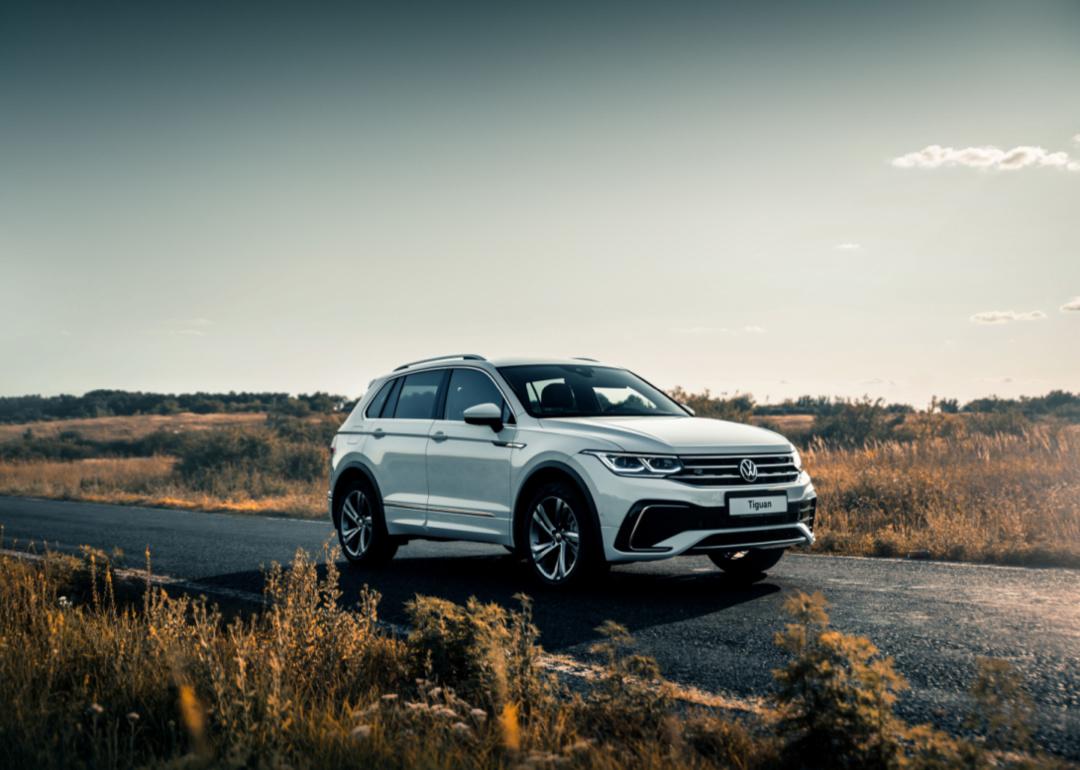 Veyron Photo // Shutterstock
- Estimated driver deaths: 29* per million registered vehicle years
--- 16 in multiple-vehicle crashes
--- 16 in single-vehicle crashes
--- None in single-vehicle rollovers
*95% confidence range: 0-62
#28. Chevrolet Traverse 4WD
Jonathan Weiss // Shutterstock
- Estimated driver deaths: 29* per million registered vehicle years
--- 19 in multiple-vehicle crashes
--- 9 in single-vehicle crashes
--- 2 in single-vehicle rollovers
*95% confidence range: 9-49
#27. Chevrolet Equinox 4WD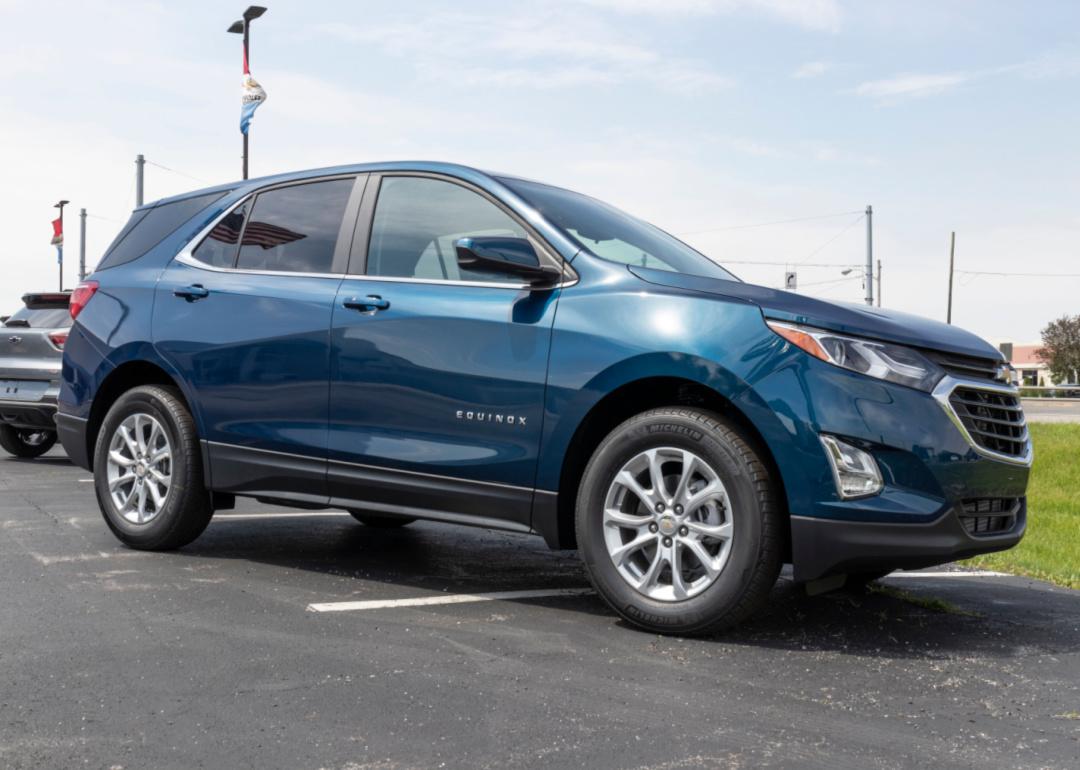 Jonathan Weiss // Shutterstock
- Estimated driver deaths: 29* per million registered vehicle years
--- 20 in multiple-vehicle crashes
--- 9 in single-vehicle crashes
--- 2 in single-vehicle rollovers
*95% confidence range: 15-43
#26. Ford Escape 2WD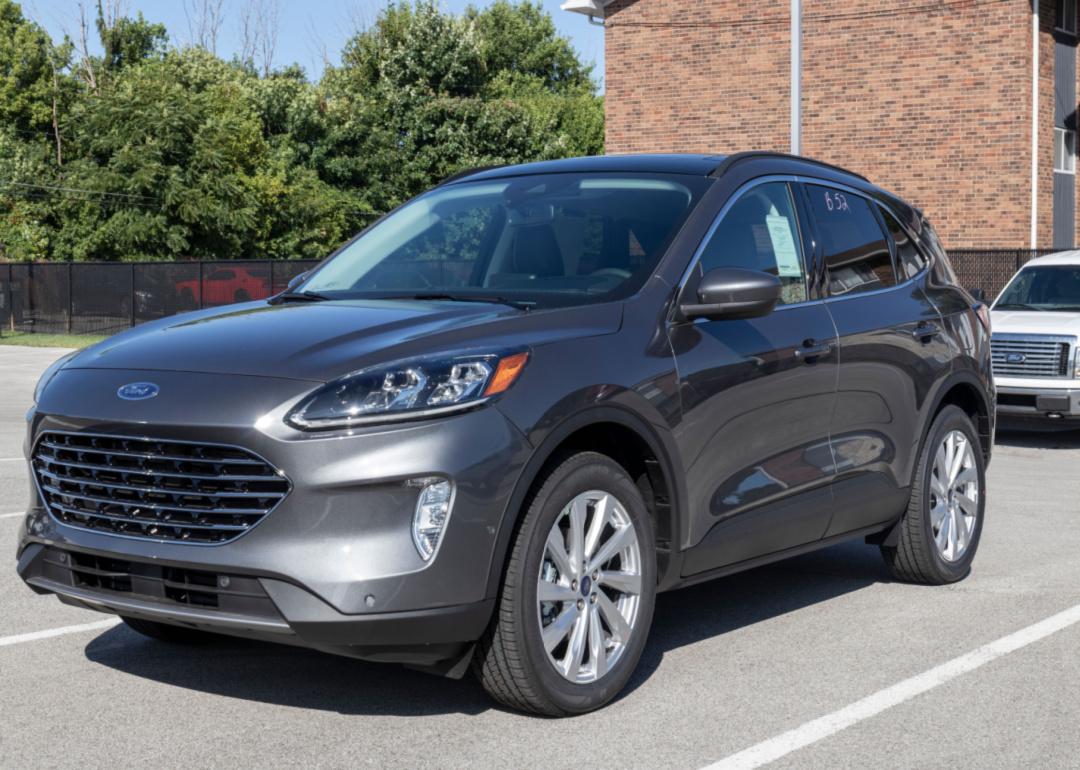 Jonathan Weiss // Shutterstock
- Estimated driver deaths: 29* per million registered vehicle years
--- 22 in multiple-vehicle crashes
--- 6 in single-vehicle crashes
--- 2 in single-vehicle rollovers
*95% confidence range: 20-38
You may also like: Most commonly misused prescription drugs in the US
#25. Jeep Wrangler 4-door 4WD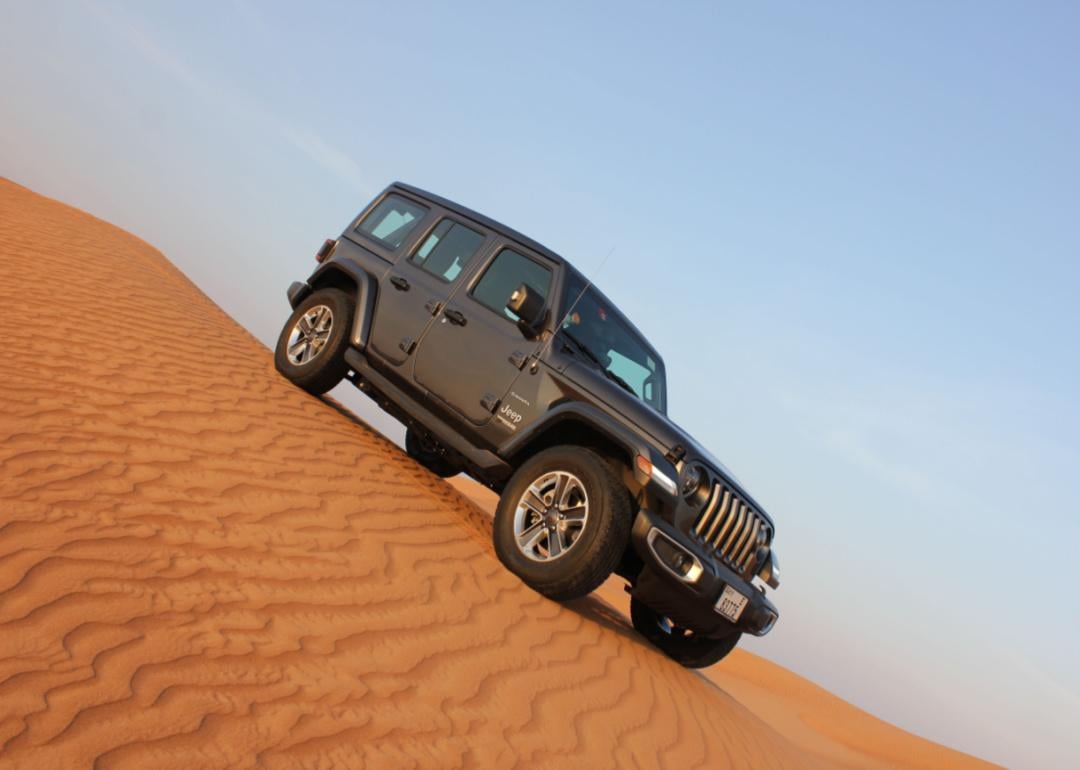 Arnold O. A. Pinto // Shutterstock
- Estimated driver deaths: 31* per million registered vehicle years
--- 15 in multiple-vehicle crashes
--- 17 in single-vehicle crashes
--- 10 in single-vehicle rollovers
*95% confidence range: 21-41
#24. Kia Sorento 2WD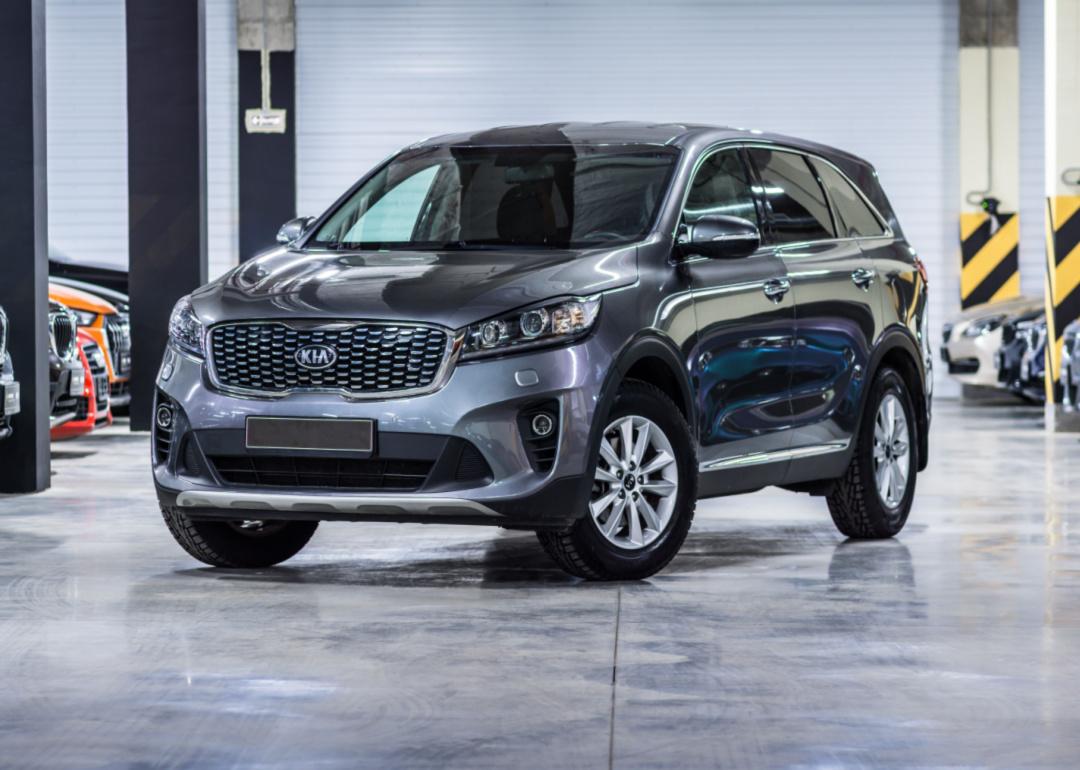 rebinworkshop // Shutterstock
- Estimated driver deaths: 32* per million registered vehicle years
--- 12 in multiple-vehicle crashes
--- 22 in single-vehicle crashes
--- None in single-vehicle rollovers
*95% confidence range: 5-58
#23. Ford Explorer 2WD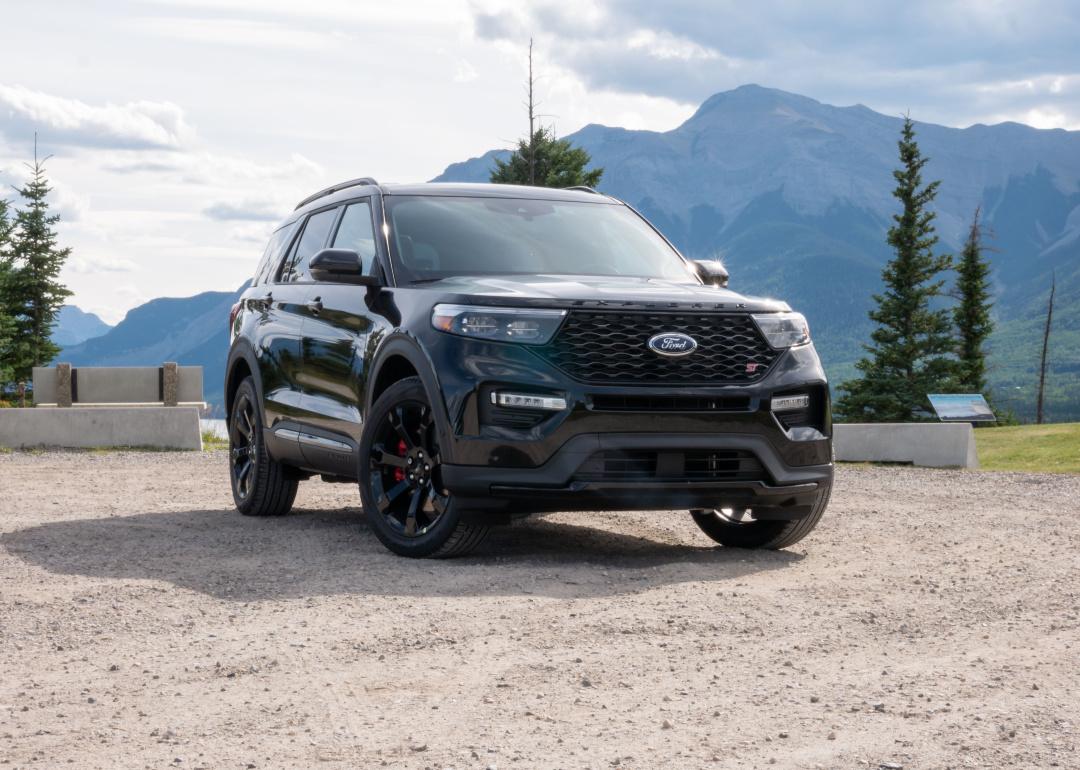 Fancey Media // Shutterstock
- Estimated driver deaths: 33* per million registered vehicle years
--- 21 in multiple-vehicle crashes
--- 11 in single-vehicle crashes
--- 6 in single-vehicle rollovers
*95% confidence range: 8-58
#22. GMC Terrain 2WD
Jonathan Weiss // Shutterstock
- Estimated driver deaths: 33* per million registered vehicle years
--- 22 in multiple-vehicle crashes
--- 10 in single-vehicle crashes
--- 1 in single-vehicle rollovers
*95% confidence range: 16-51
#21. Toyota 4Runner 2WD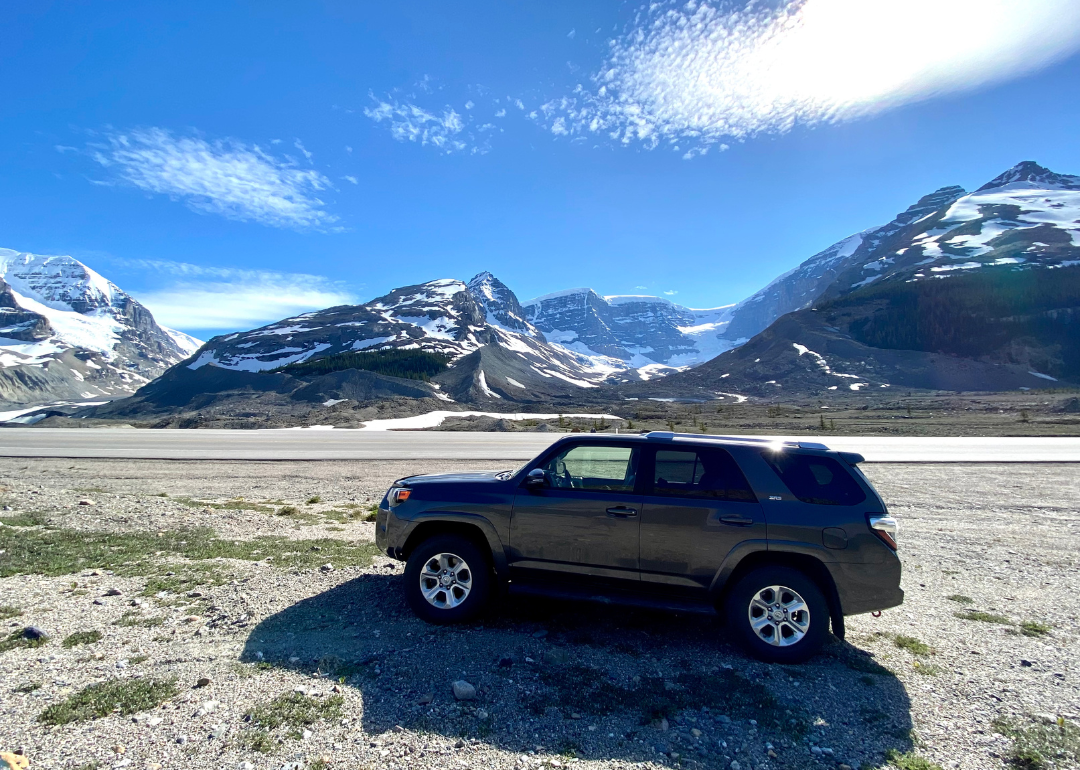 Canva
- Estimated driver deaths: 34* per million registered vehicle years
--- 23 in multiple-vehicle crashes
--- 10 in single-vehicle crashes
--- None in single-vehicle rollovers
*95% confidence range: 0-67
You may also like: Most and least healthy states in America
#20. Jeep Patriot 4WD
Iurii Vlasenko // Shutterstock
- Estimated driver deaths: 36* per million registered vehicle years
--- 24 in multiple-vehicle crashes
--- 12 in single-vehicle crashes
--- 2 in single-vehicle rollovers
*95% confidence range: 18-54
#19. Ford Flex 2WD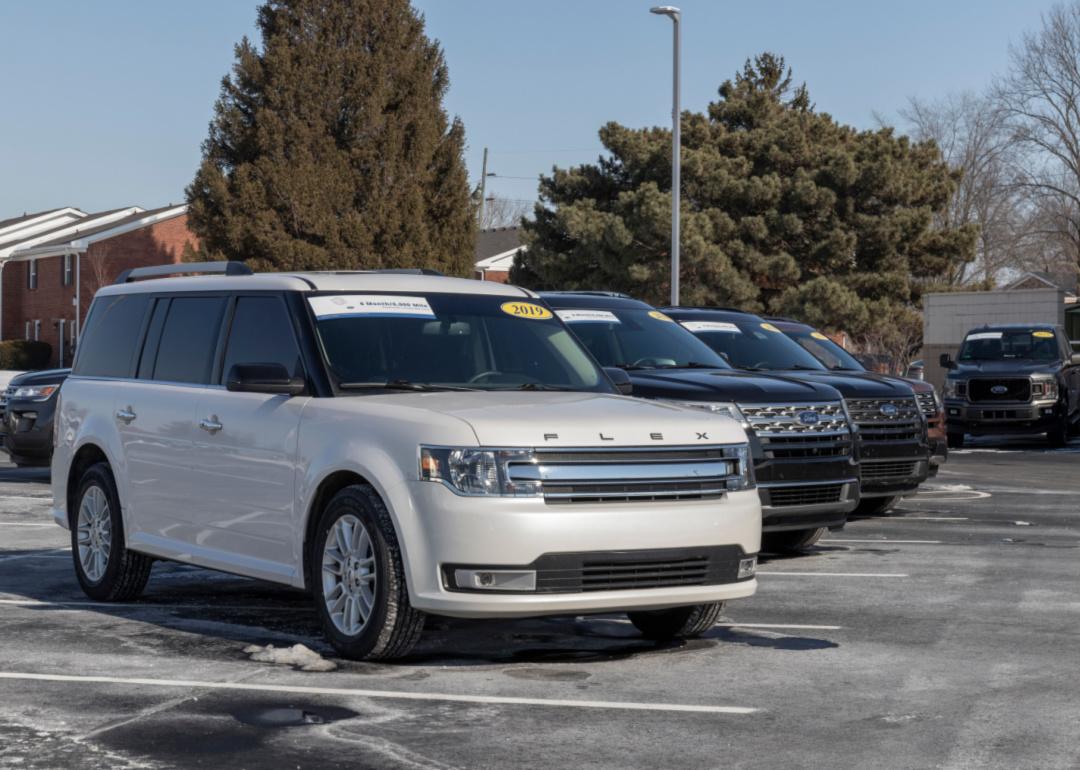 Jonathan Weiss // Shutterstock
- Estimated driver deaths: 38* per million registered vehicle years
--- 38 in multiple-vehicle crashes
--- None in single-vehicle crashes
--- None in single-vehicle rollovers
*95% confidence range: 0-75
#18. Hyundai Santa Fe Sport 4WD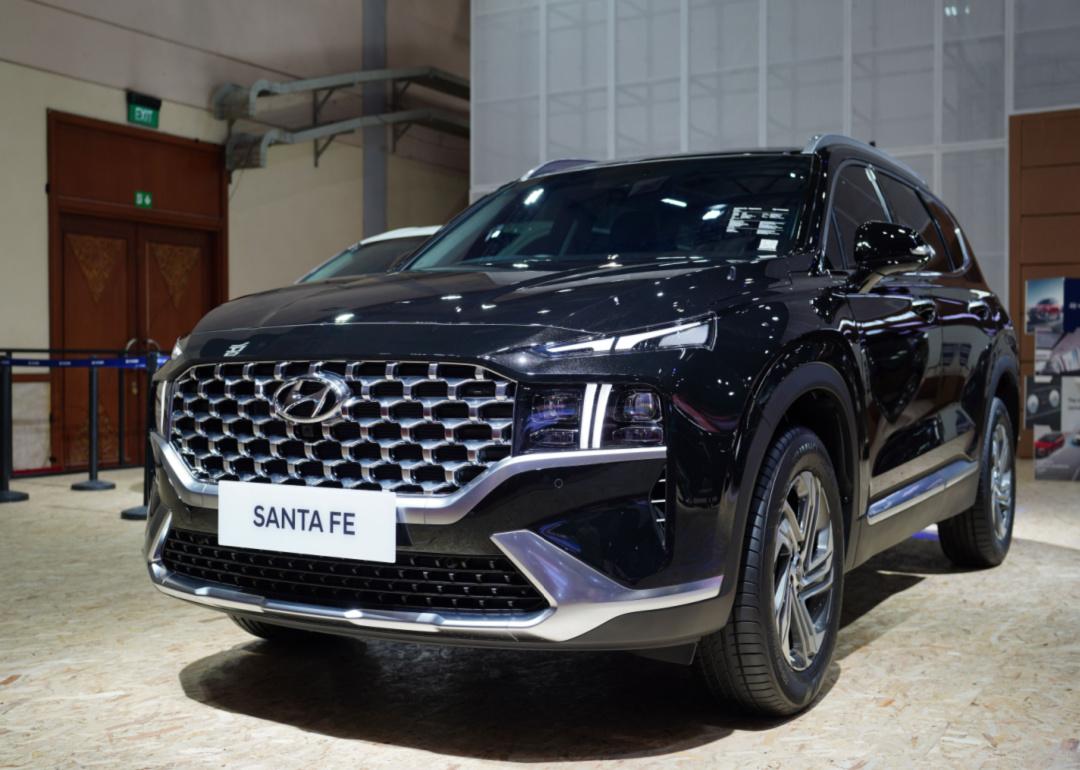 haryanta.p // Shutterstock
- Estimated driver deaths: 39* per million registered vehicle years
--- 9 in multiple-vehicle crashes
--- 35 in single-vehicle crashes
--- 15 in single-vehicle rollovers
*95% confidence range: 8-69
#17. GMC Yukon 2WD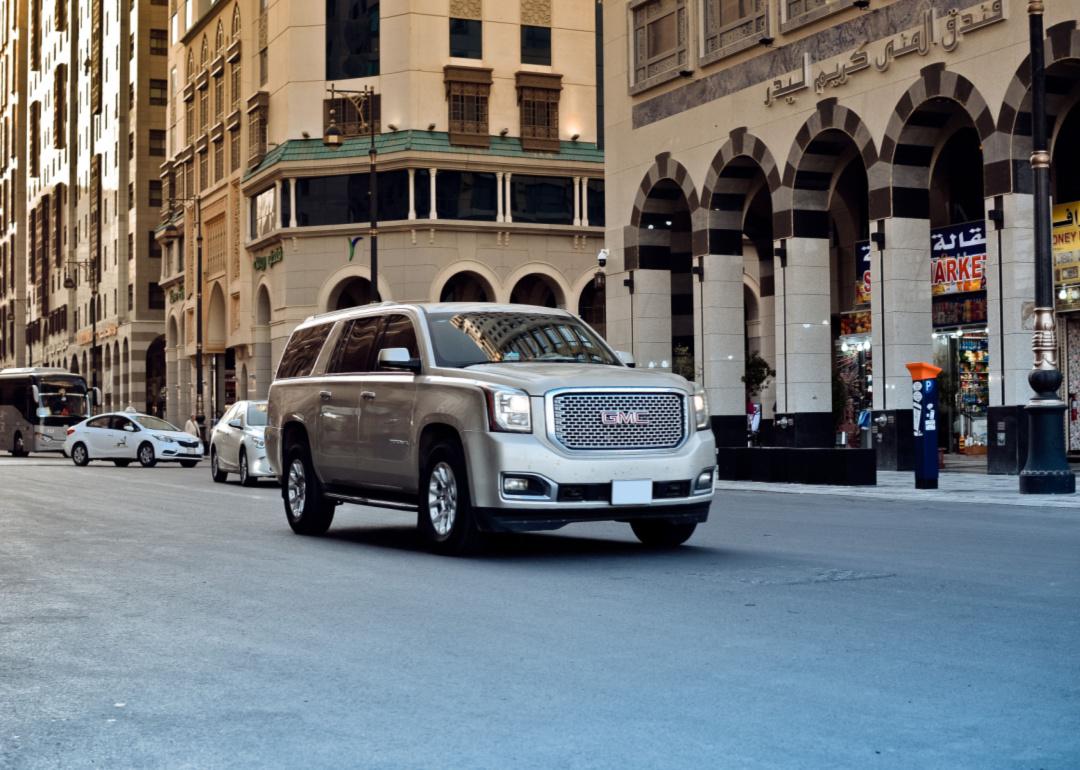 Amanson // Shutterstock
- Estimated driver deaths: 40* per million registered vehicle years
--- 0 in multiple-vehicle crashes
--- 40 in single-vehicle crashes
--- 26 in single-vehicle rollovers
*95% confidence range: 0-88
#16. Jeep Compass 4WD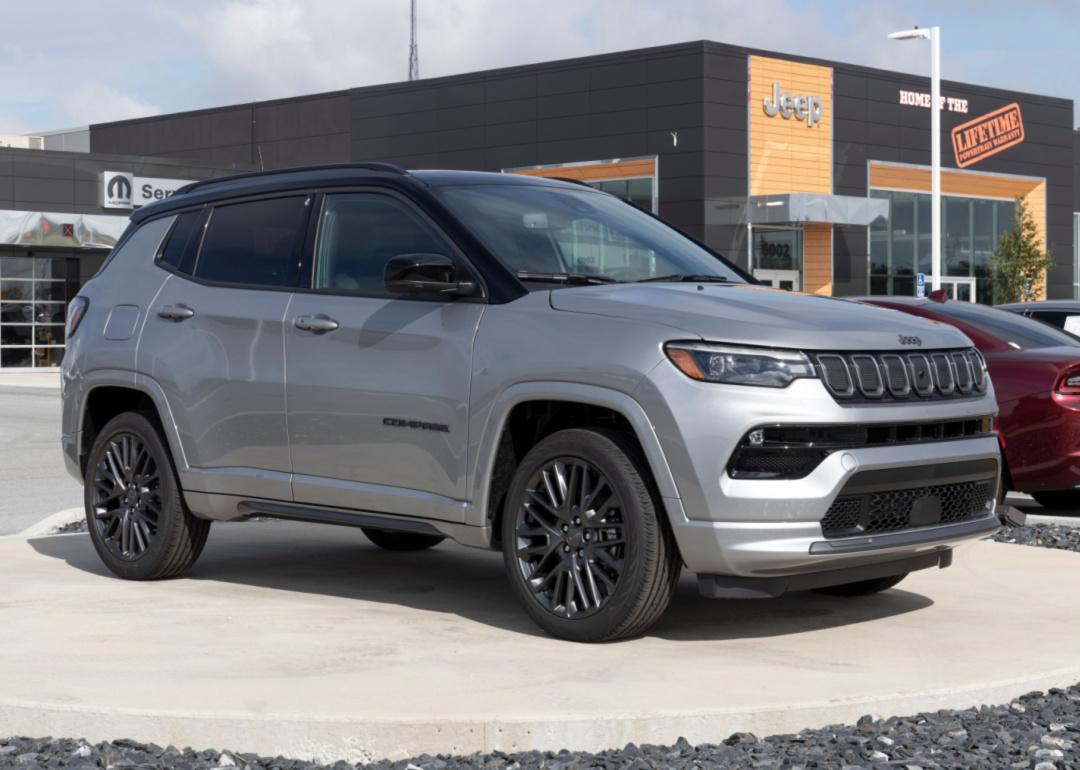 Jonathan Weiss // Shutterstock
- Estimated driver deaths: 40* per million registered vehicle years
--- 21 in multiple-vehicle crashes
--- 20 in single-vehicle crashes
--- 8 in single-vehicle rollovers
*95% confidence range: 15-64
You may also like: Medical information to have ready in case of emergency
#15. Mitsubishi Outlander Sport 2WD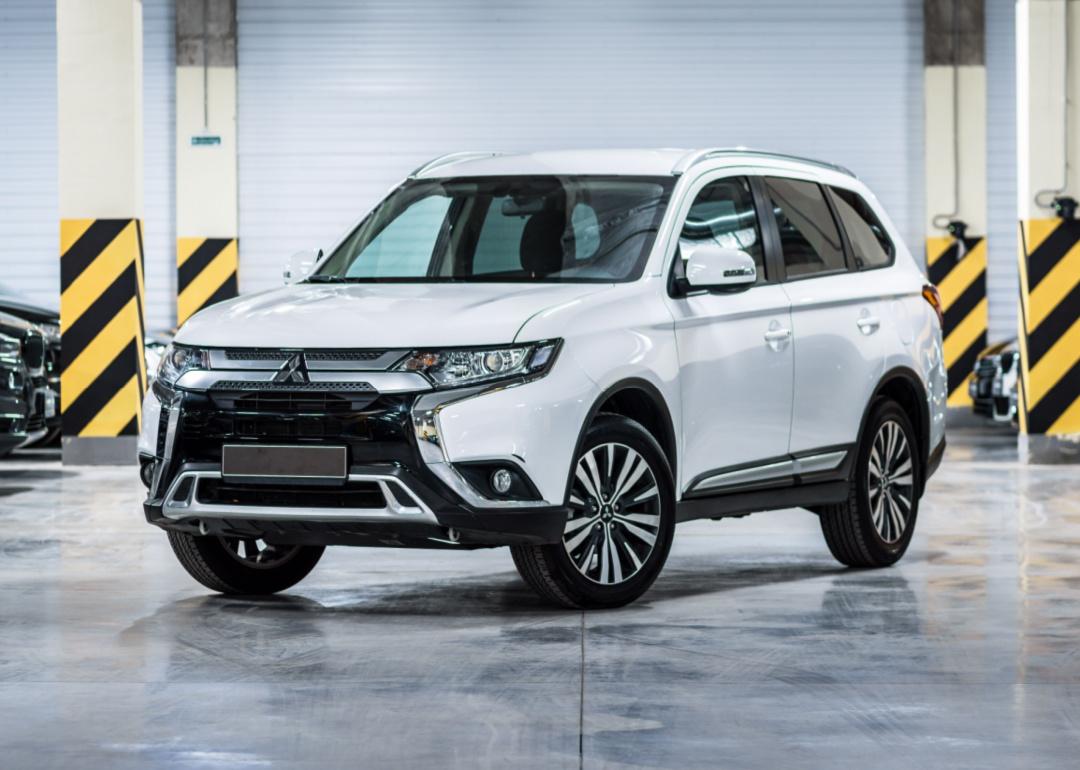 rebinworkshop // Shutterstock
- Estimated driver deaths: 43* per million registered vehicle years
--- 32 in multiple-vehicle crashes
--- 12 in single-vehicle crashes
--- 12 in single-vehicle rollovers
*95% confidence range: 9-77
#14. Chevrolet Trax 4WD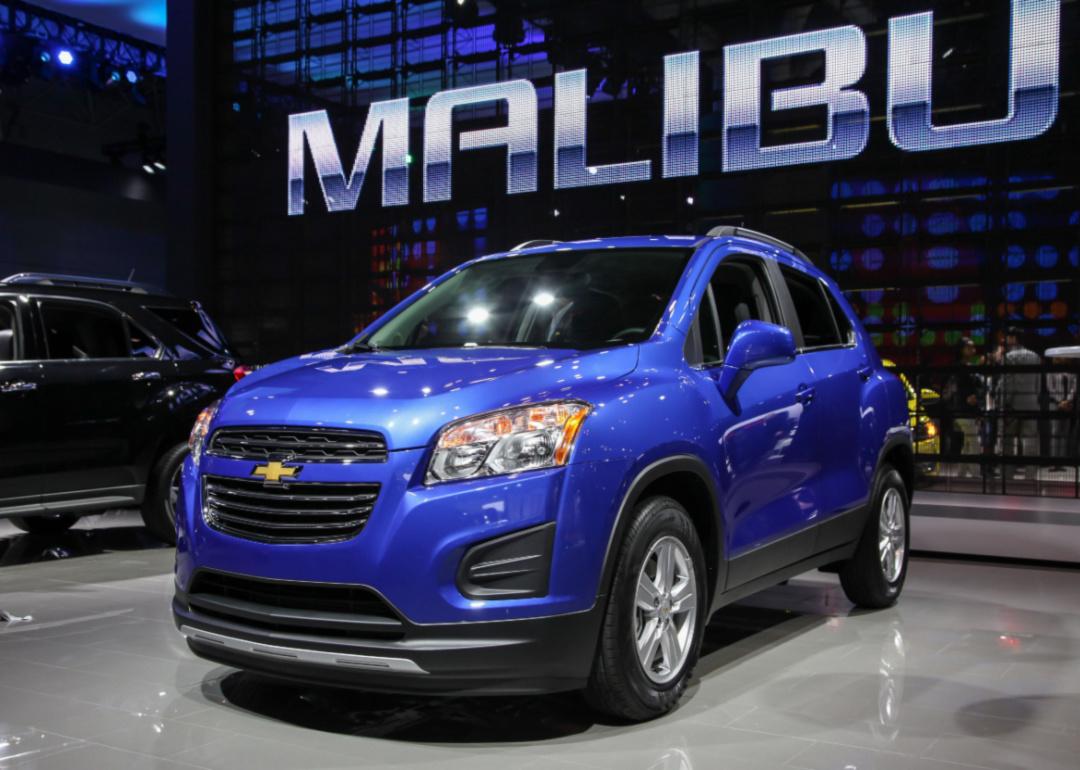 Miro Vrlik Photography // Shutterstock
- Estimated driver deaths: 45* per million registered vehicle years
--- 15 in multiple-vehicle crashes
--- 33 in single-vehicle crashes
--- None in single-vehicle rollovers
*95% confidence range: 2-88
#13. Dodge Journey 2WD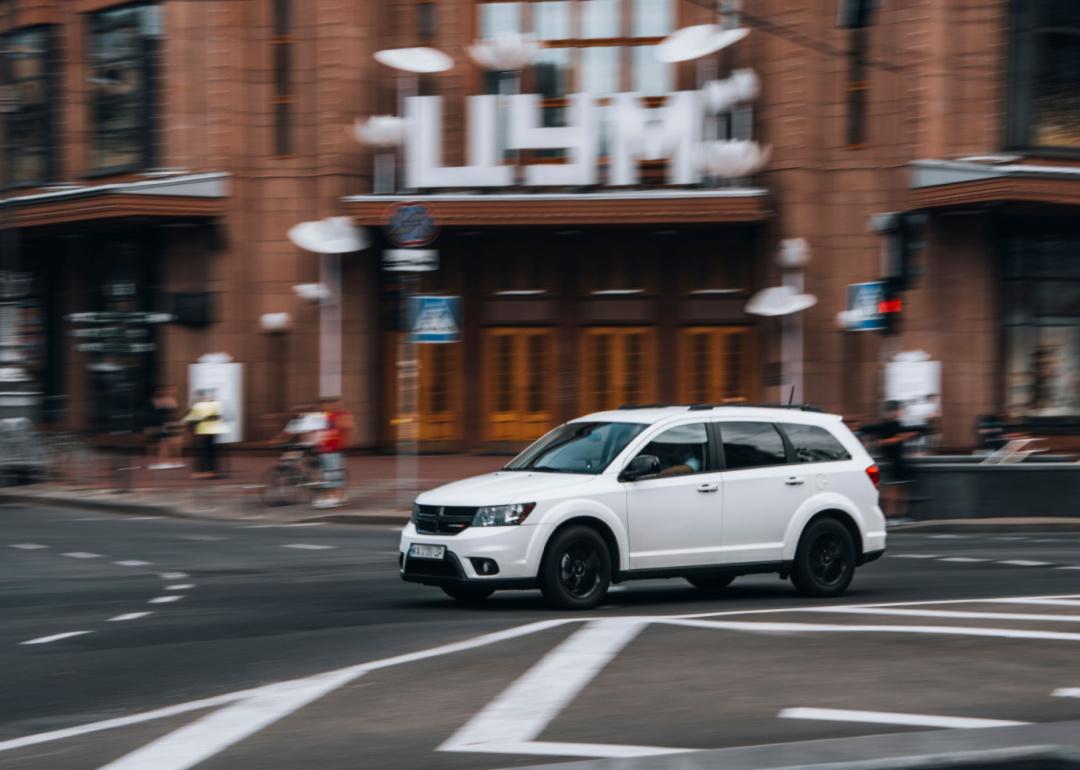 Iurii Vlasenko // Shutterstock
- Estimated driver deaths: 45* per million registered vehicle years
--- 26 in multiple-vehicle crashes
--- 19 in single-vehicle crashes
--- 12 in single-vehicle rollovers
*95% confidence range: 25-65
#12. Chevrolet Equinox 2WD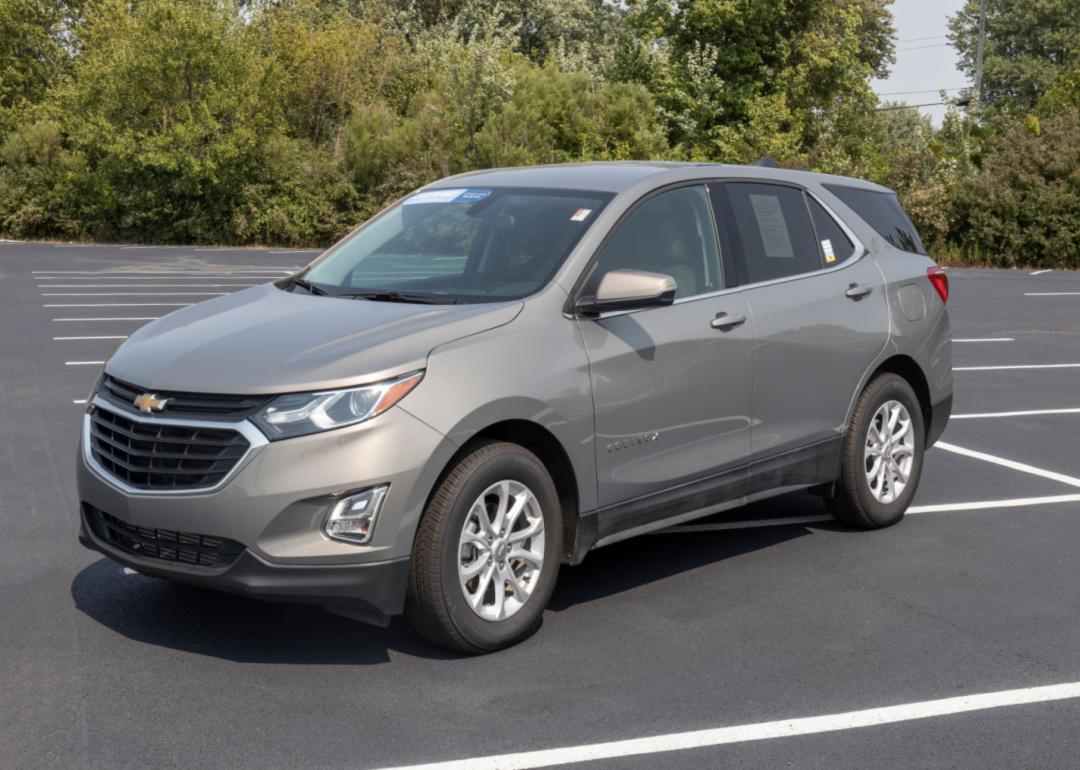 Jonathan Weiss // Shutterstock
- Estimated driver deaths: 45* per million registered vehicle years
--- 32 in multiple-vehicle crashes
--- 12 in single-vehicle crashes
--- 6 in single-vehicle rollovers
*95% confidence range: 33-57
#11. Jeep Wrangler 2-door 4WD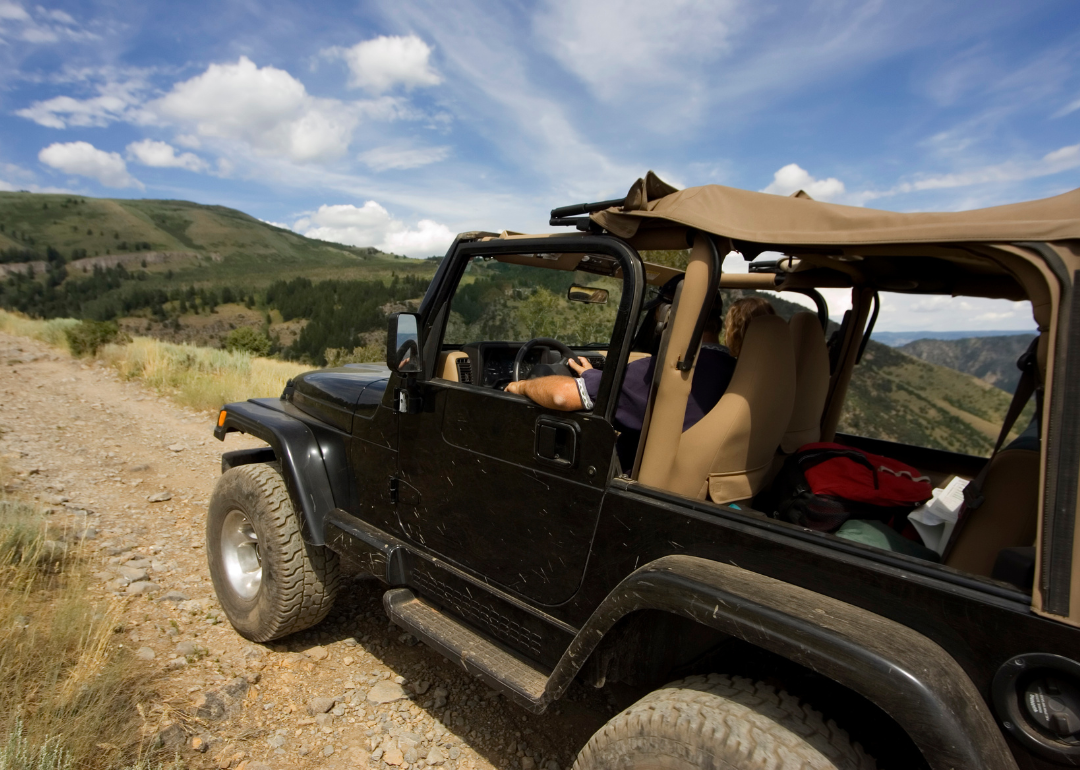 Canva
- Estimated driver deaths: 46* per million registered vehicle years
--- 23 in multiple-vehicle crashes
--- 23 in single-vehicle crashes
--- 20 in single-vehicle rollovers
*95% confidence range: 25-68
You may also like: Goosebumps and other bodily reactions, explained
#10. Honda HR-V 2WD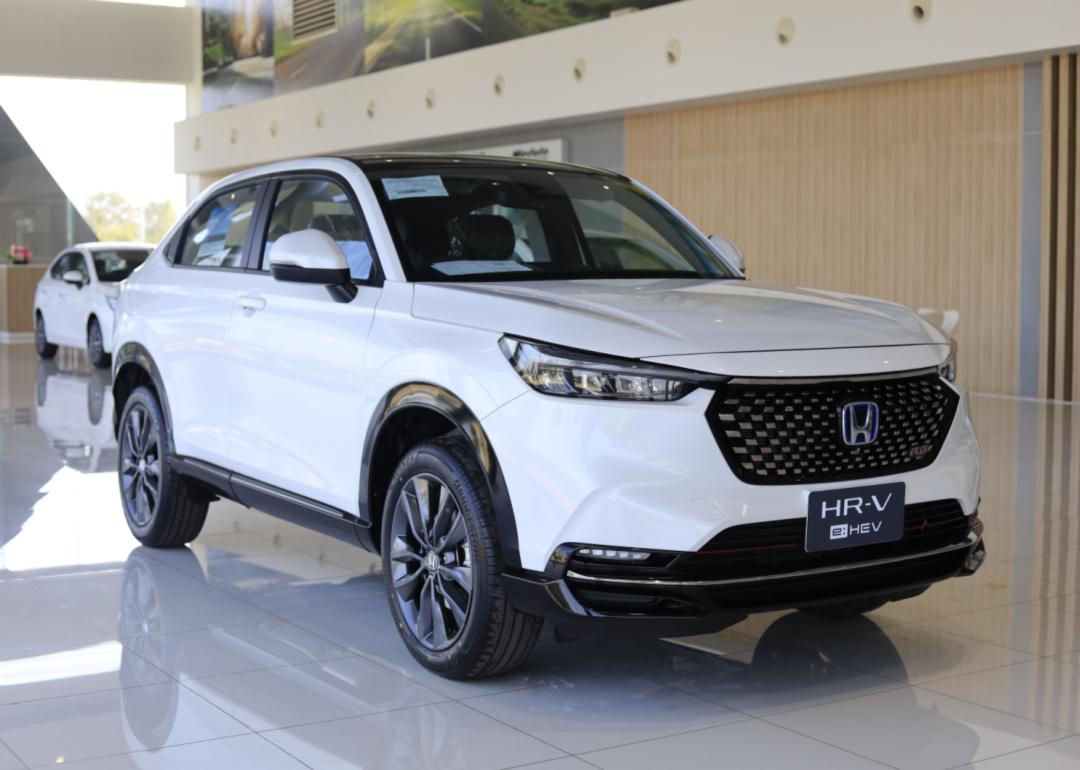 AnupongTermin // Shutterstock
- Estimated driver deaths: 50* per million registered vehicle years
--- 36 in multiple-vehicle crashes
--- 11 in single-vehicle crashes
--- 6 in single-vehicle rollovers
*95% confidence range: 4-95
#9. Hyundai Santa Fe Sport 2WD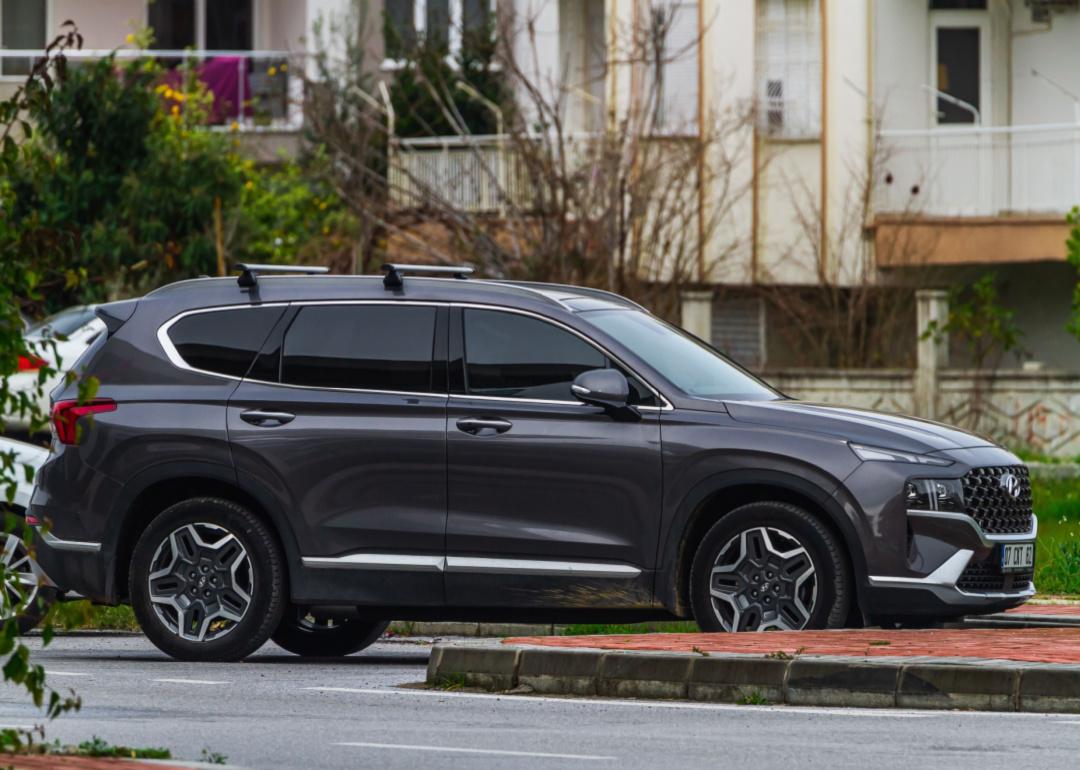 Everyonephoto Studio // Shutterstock
- Estimated driver deaths: 51* per million registered vehicle years
--- 26 in multiple-vehicle crashes
--- 26 in single-vehicle crashes
--- 15 in single-vehicle rollovers
*95% confidence range: 24-78
#8. Nissan Rogue 2WD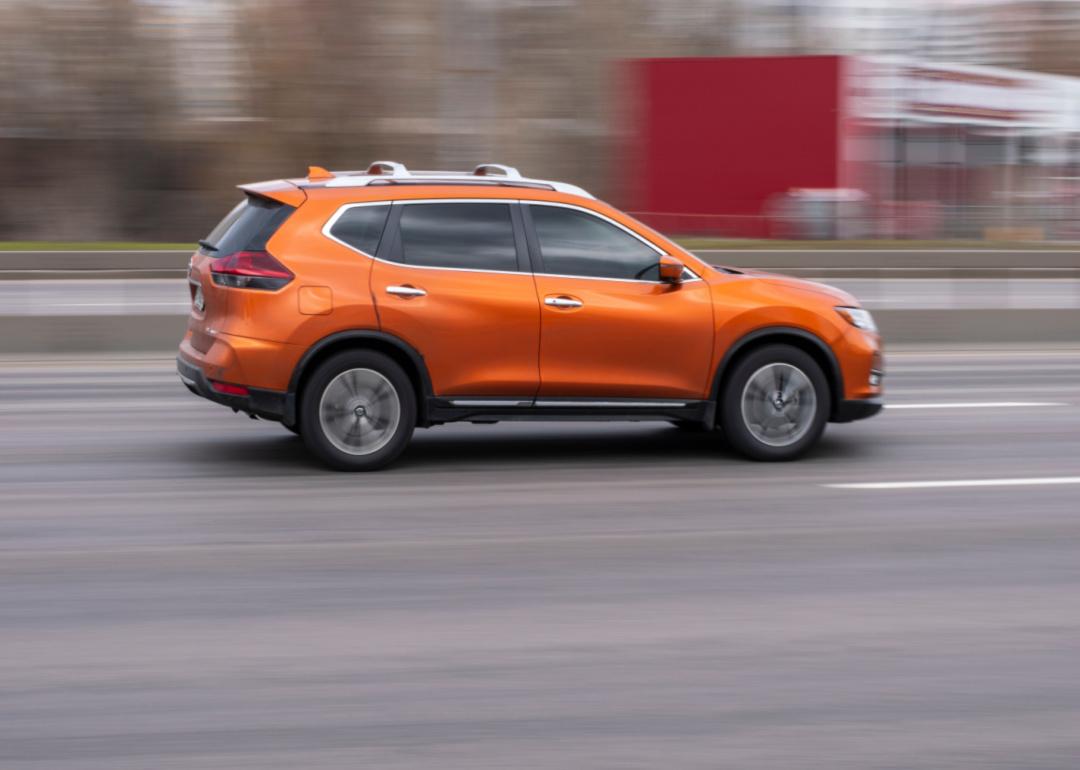 Iurii Vlasenko // Shutterstock
- Estimated driver deaths: 51* per million registered vehicle years
--- 38 in multiple-vehicle crashes
--- 11 in single-vehicle crashes
--- 1 in single-vehicle rollovers
*95% confidence range: 32-70
#7. Ford Expedition 2WD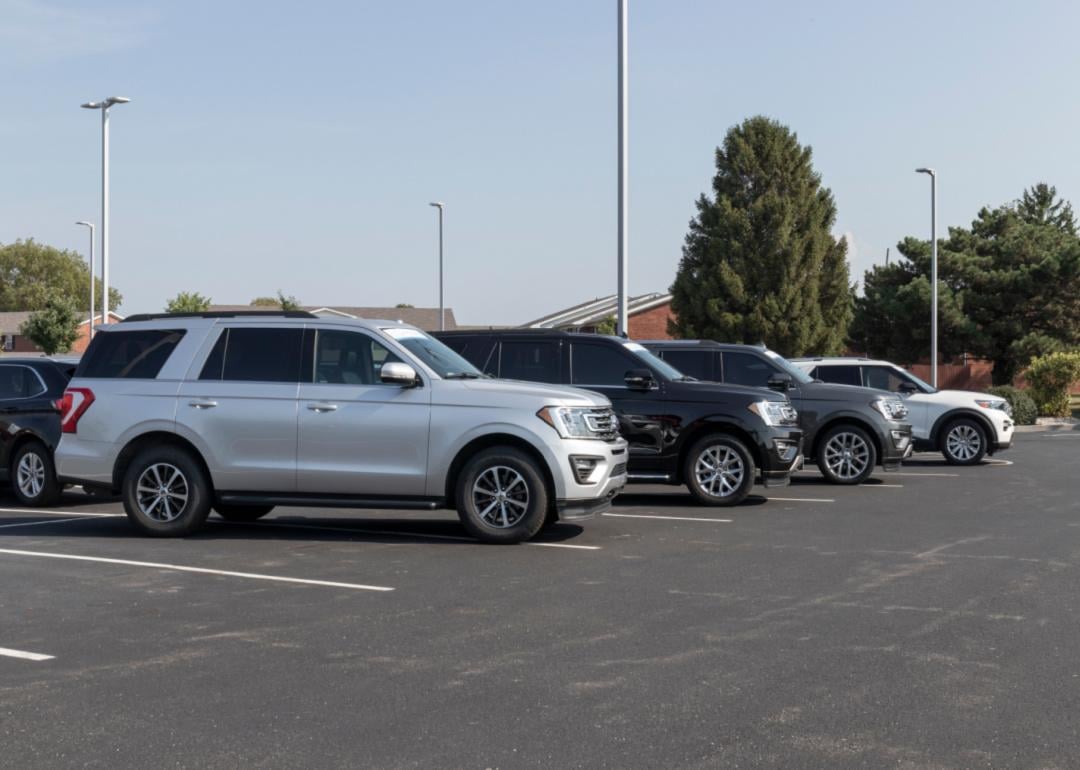 Jonathan Weiss // Shutterstock
- Estimated driver deaths: 55* per million registered vehicle years
--- 24 in multiple-vehicle crashes
--- 29 in single-vehicle crashes
--- 15 in single-vehicle rollovers
*95% confidence range: 5-104
#6. Mitsubishi Outlander 2WD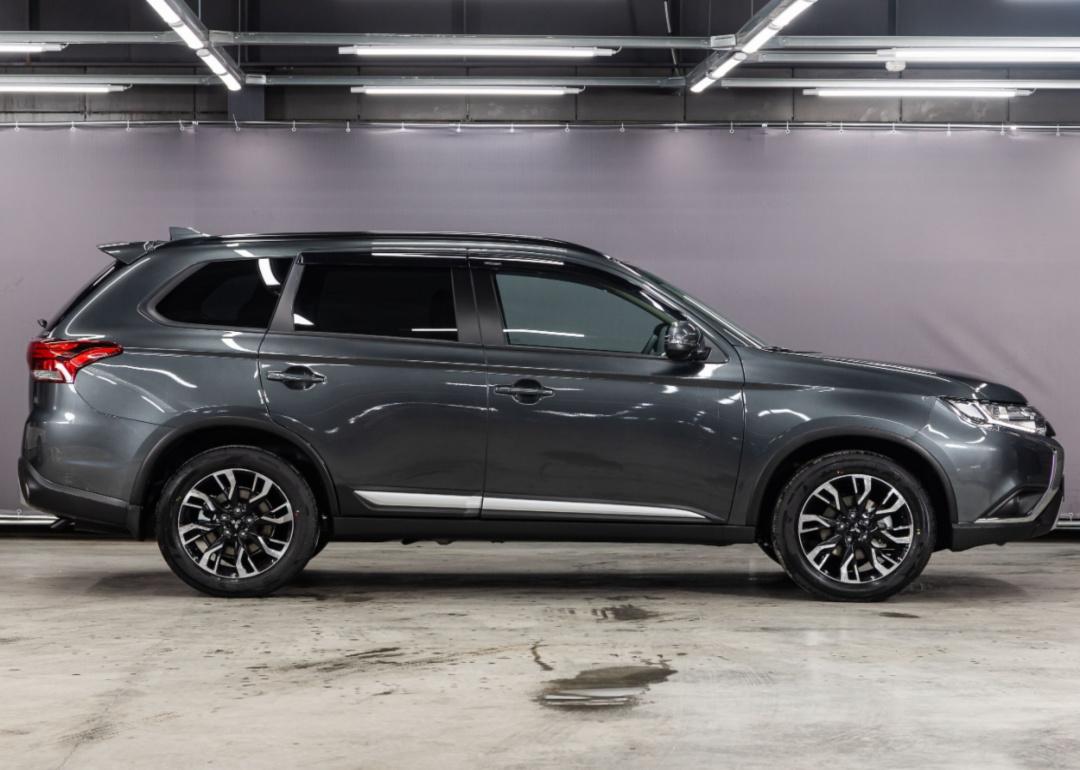 Everyonephoto Studio // Shutterstock
- Estimated driver deaths: 55* per million registered vehicle years
--- 31 in multiple-vehicle crashes
--- 22 in single-vehicle crashes
--- 15 in single-vehicle rollovers
*95% confidence range: 5-104
You may also like: States with the highest cancer rates
#5. Jeep Compass 2WD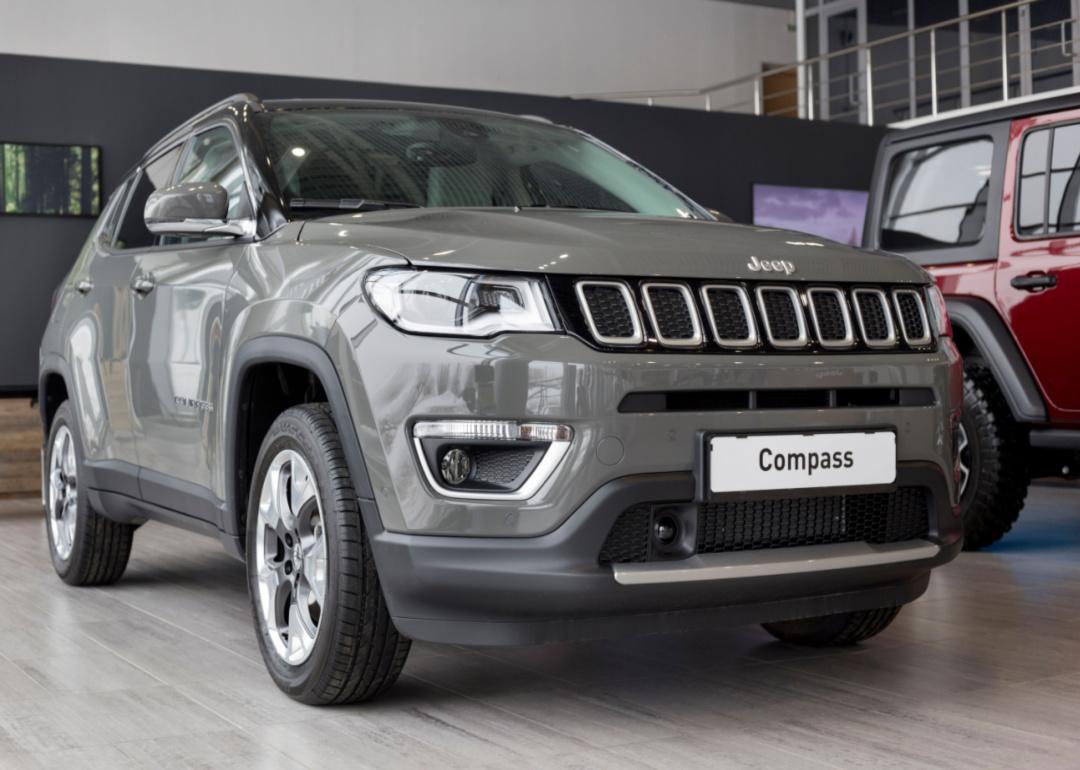 Tikhomirov Sergey // Shutterstock
- Estimated driver deaths: 55* per million registered vehicle years
--- 40 in multiple-vehicle crashes
--- 15 in single-vehicle crashes
--- None in single-vehicle rollovers
*95% confidence range: 25-85
#4. Jeep Patriot 2WD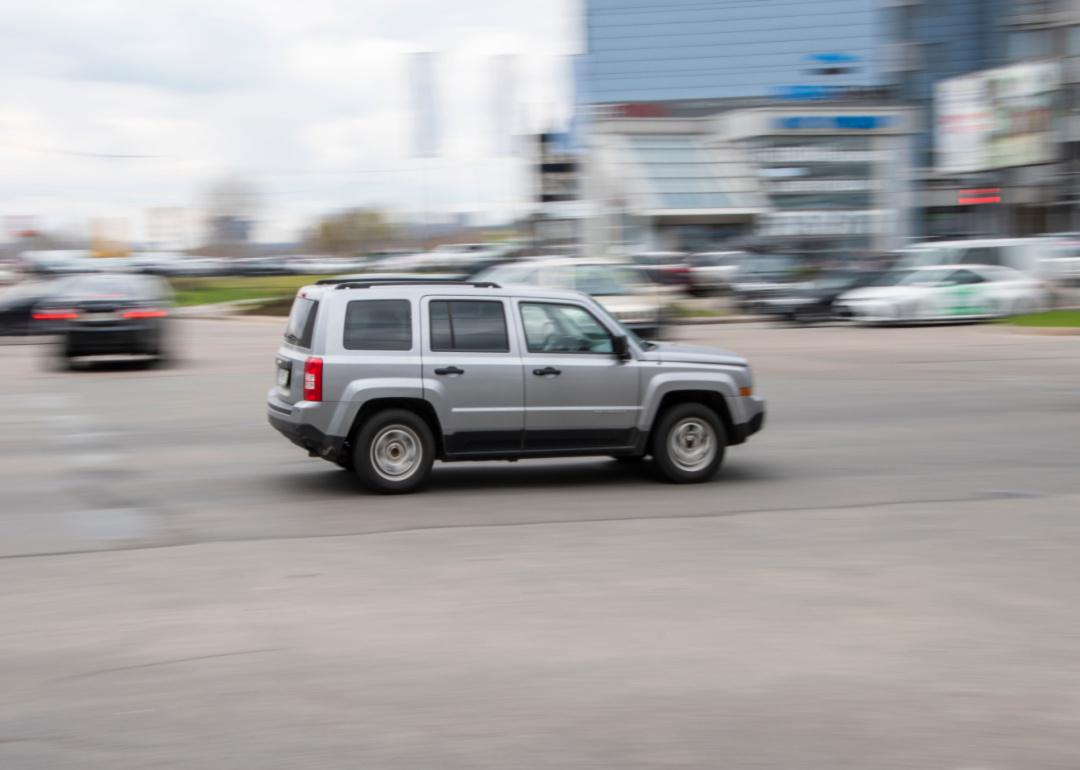 Iurii Vlasenko // Shutterstock
- Estimated driver deaths: 60* per million registered vehicle years
--- 49 in multiple-vehicle crashes
--- 8 in single-vehicle crashes
--- 5 in single-vehicle rollovers
*95% confidence range: 35-85
#3. Hyundai Tucson 2WD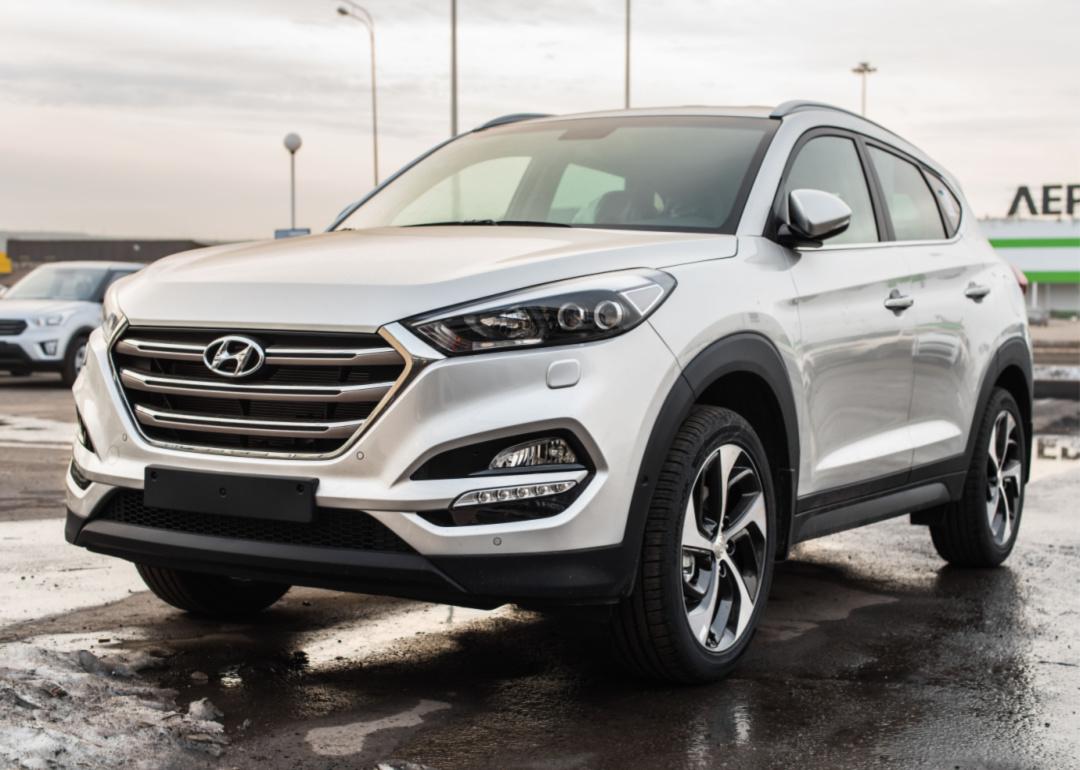 Renovacio // Shutterstock
- Estimated driver deaths: 61* per million registered vehicle years
--- 37 in multiple-vehicle crashes
--- 21 in single-vehicle crashes
--- 9 in single-vehicle rollovers
*95% confidence range: 18-103
#2. Mitsubishi Outlander Sport 4WD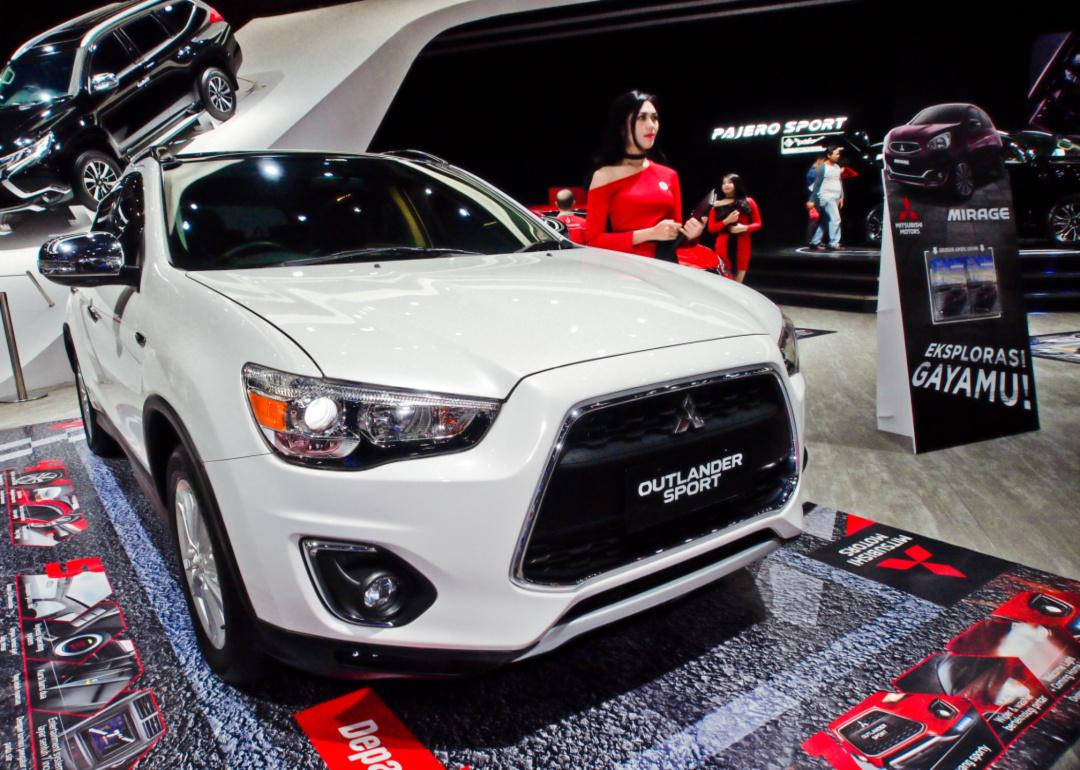 Pras Nazri // Shutterstock
- Estimated driver deaths: 67* per million registered vehicle years
--- 45 in multiple-vehicle crashes
--- 21 in single-vehicle crashes
--- 5 in single-vehicle rollovers
*95% confidence range: 12-122
#1. Chevrolet Trax 2WD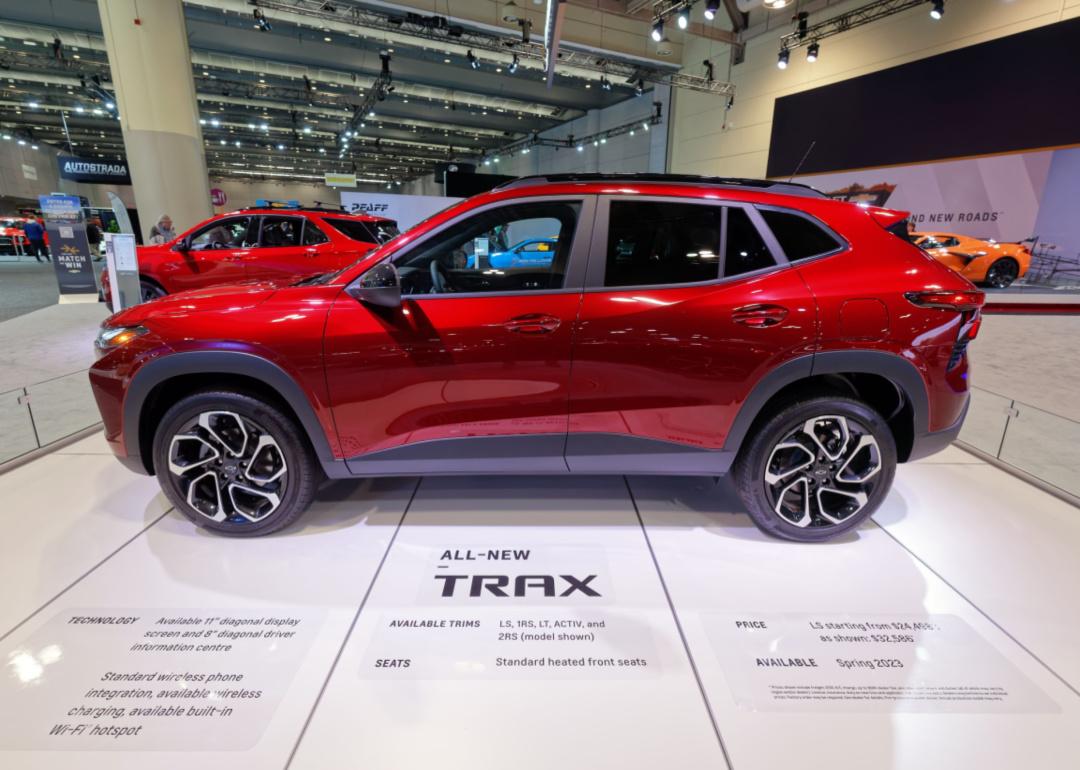 Zoran Karapancev // Shutterstock
- Estimated driver deaths: 73* per million registered vehicle years
--- 40 in multiple-vehicle crashes
--- 37 in single-vehicle crashes
--- 20 in single-vehicle rollovers
*95% confidence range: 32-114
You may also like: What the average American eats in a year