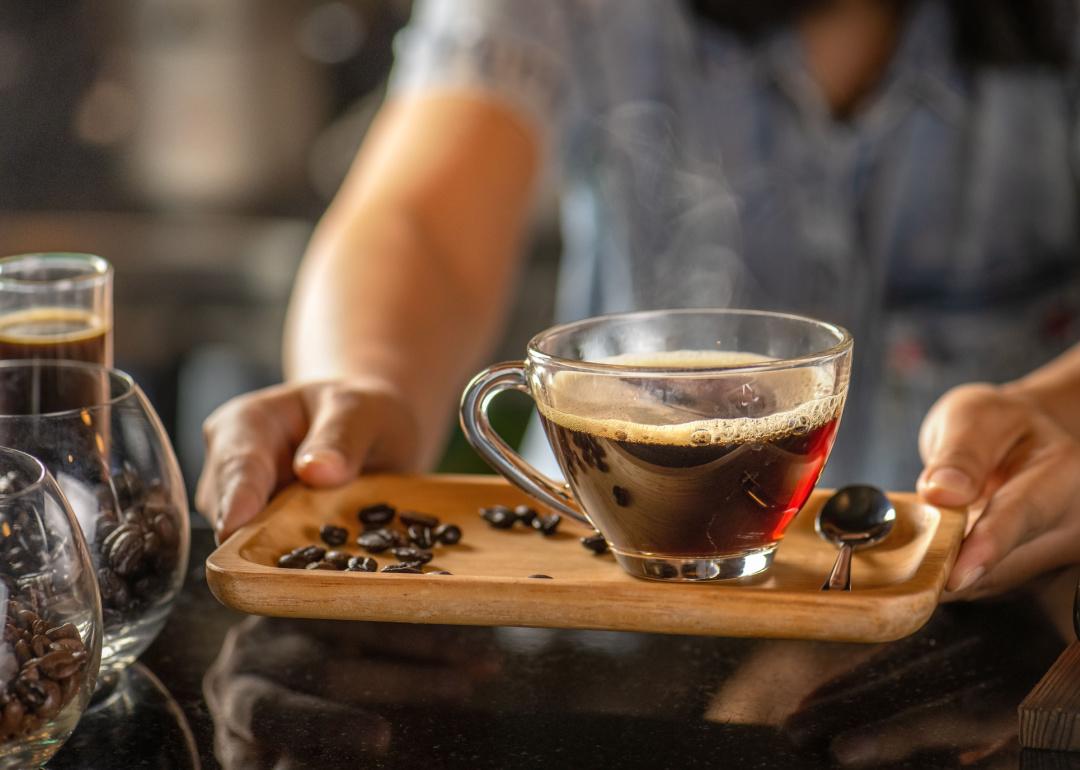 worradirek // Shutterstock
What makes a good cup of coffee is personal. Some coffee connoisseurs swear by an AeroPress, while others are drip loyalists. But what about the steps before that? Sure, how a cup is brewed impacts the flavoring, but so does how it's planted, harvested, and roasted.
Everything from the soil of the coffee plant to how the cherries are processed, roasted, and brewed affects elements like acidity and flavor notes. For example, arabica plants are more acidic than robusta plants, which tend to have double the chlorogenic acid as arabica plants. This flavoring can then be either increased or decreased based on how the cherries are processed. If the cherries are washed, it tends to have more acidic notes, but if the cherries are naturally processed, the end product will have a sweeter flavor profile. There's also a third option, where the cherries are pulped. This method creates a bean that falls somewhere in the middle, with mild acidity and mild sweetness.
If you're wondering why you love some dark roast blends and can't stand others, start paying attention to the origin of your coffee and how it's been processed. Homegrounds researched notable coffee roasters in the U.S. and listed ones you can't afford to miss in all 50 states. Here's a look at how the best roasters in America are crafting the ideal cup.
Alabama: Turbo Coffee
Canva
Turbo Coffee spent years developing the perfect modern dark roast, found in two signature blends—Ghostwriter and Double Vision. These are perfectly suited for coffee lovers who appreciate notes of walnut, dark chocolate, and rich fruit.
Alaska: Goldie's Coffee Roasters
Canva
Produced in small batches, Goldie's Coffee is an award-winning roaster celebrated for blends that are consistently fresh, tantalizing, and aromatic. Goldie's was recognized as the best coffee in Alaska by Food & Wine Magazine in 2019 and a two-time medal winner at the 2019 Golden Bean of North America competition.
Arizona: Peixoto Coffee Roasters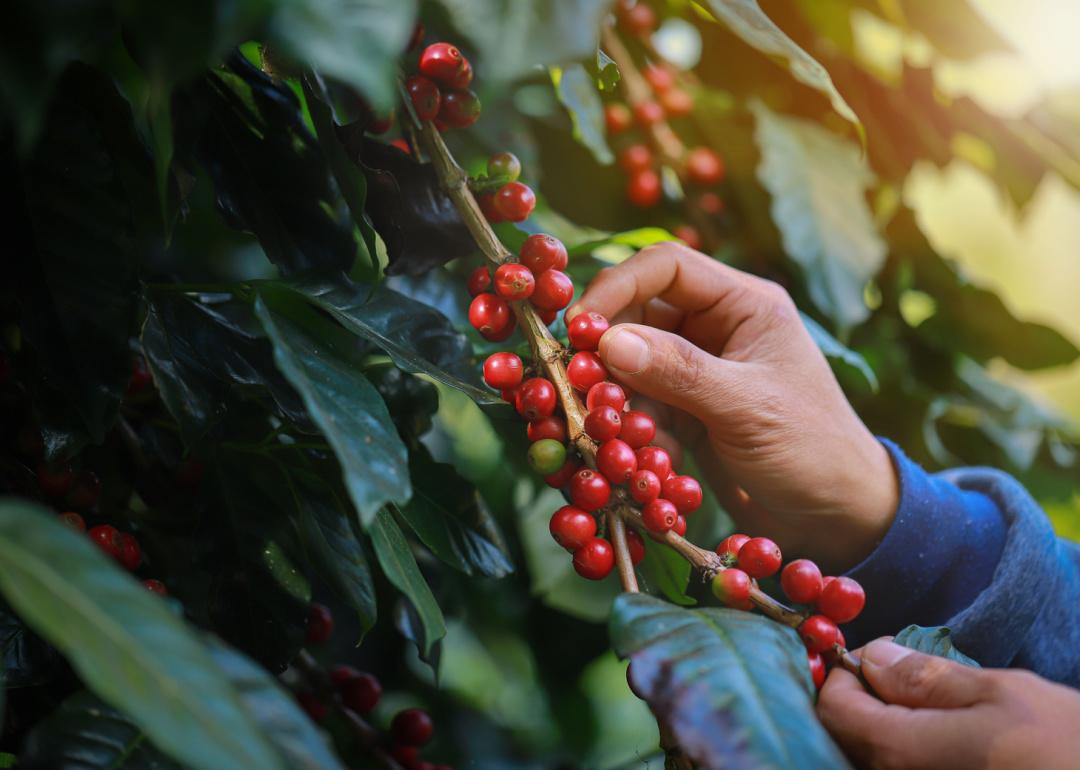 Noiz Stocker // Shutterstock
Each cup at Peixoto Coffee Roasters is served with over 100 years of family tradition and expertise. With roots in Brazil, this is more than a coffee house—it's an heirloom, where roasting knowledge has been passed down and perfected through the generations.
Arkansas: Mylo Coffee Co.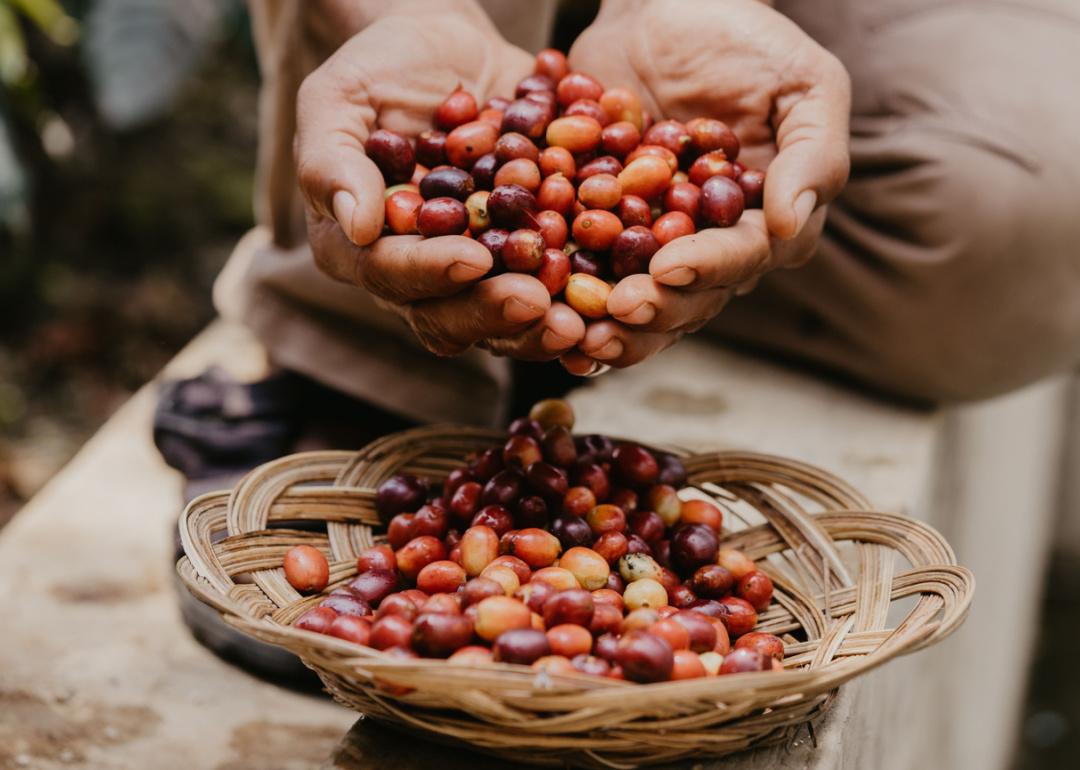 Petit Wiananda // Shutterstock
Mylo Coffee is best known for its commitment to sustainability, from sourcing beans to running the business. With in-house roasted beans and a variety of blends, expect fresh and flavorful options all year long.
California: Demitasse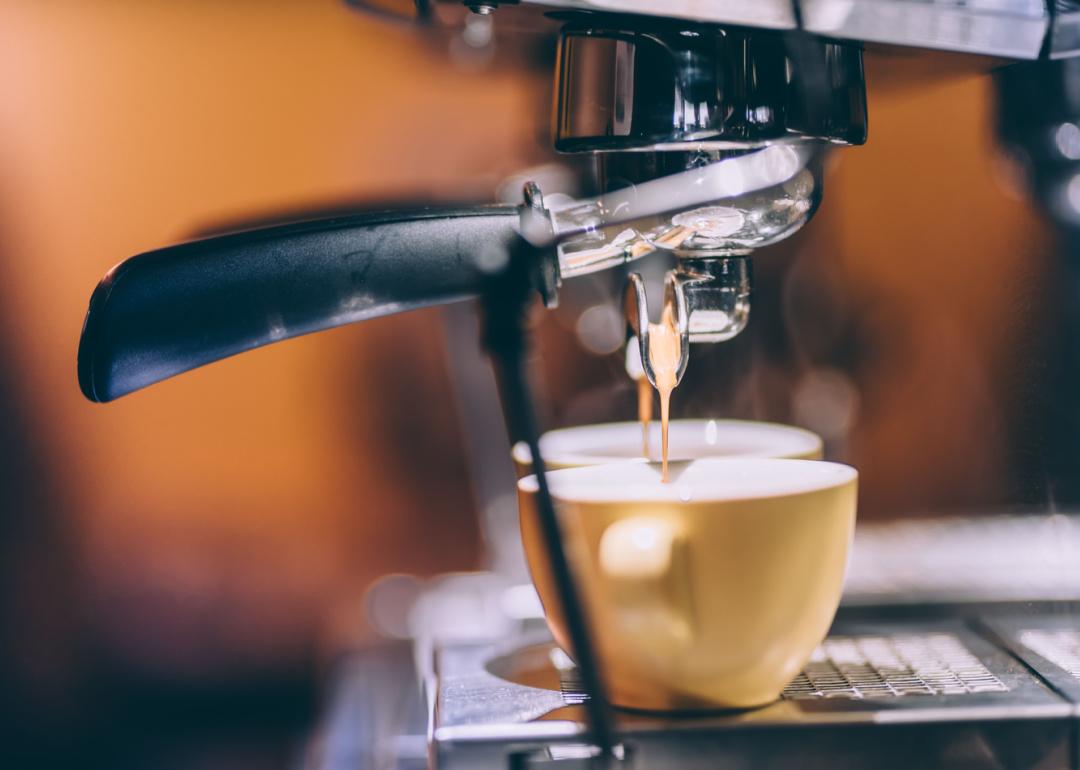 bogdanhoda // Shutterstock
Self-proclaimed coffee geeks, the baristas at Demitasse have each developed a signature drink that's only available when they are at the bar. They discovered their perfect blends by tinkering and exploring unique combinations and full-flavored blends.
Colorado: MiddleState Coffee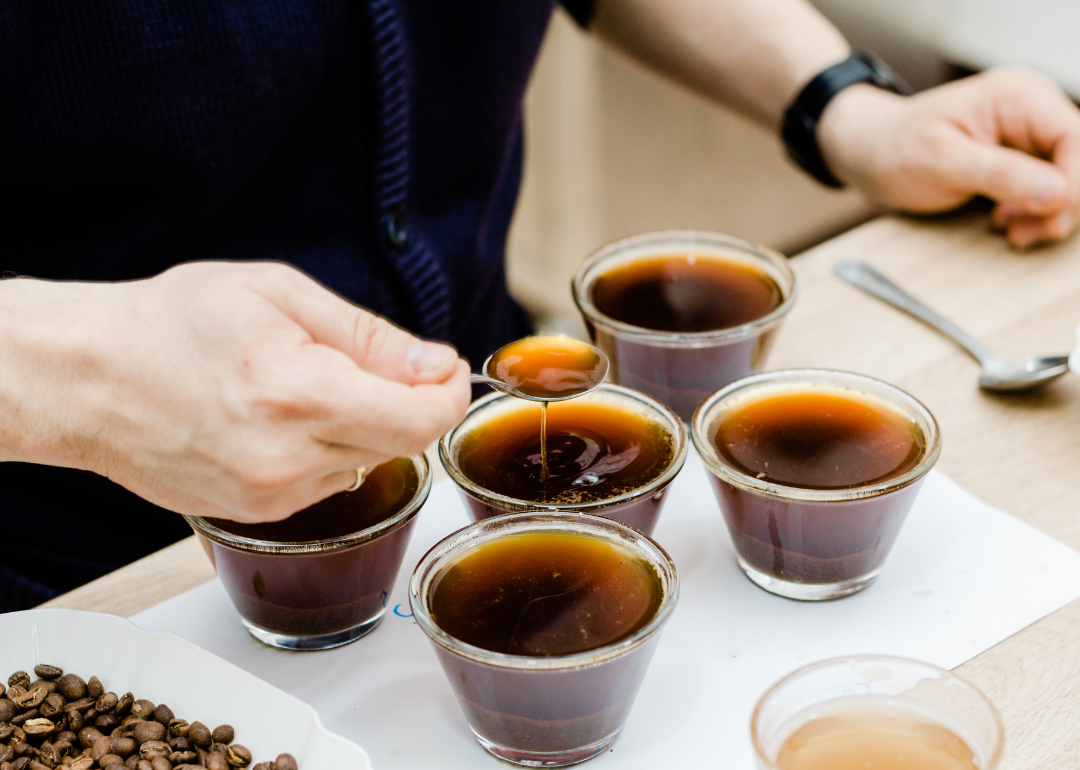 Canva
This cafe handpicked their unique blends the old-fashioned way—by drinking a ton of coffee and then choosing the brews that leave them craving a second or third cup. They love blends that have complex flavors that balance acidity with sweetness.
Connecticut: Giv Coffee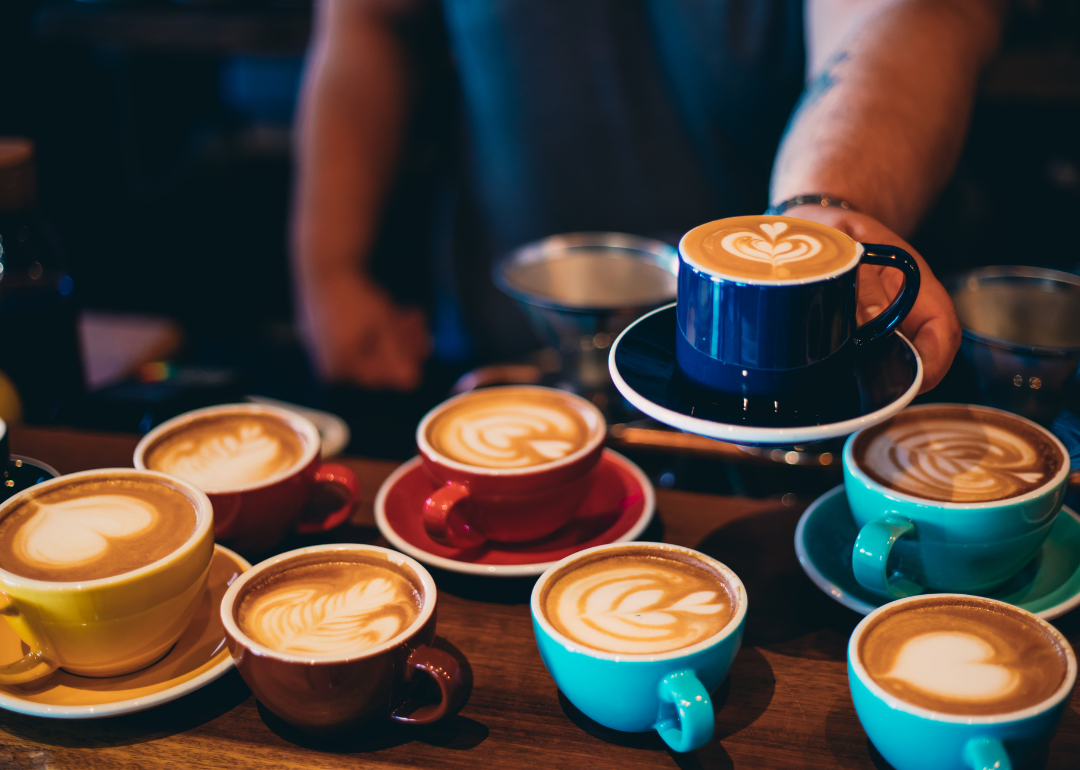 Canva
Giv Coffee is a collective that focuses on using coffee influence to inspire and create change among coffee communities, consumers, and people in need. By acknowledging each step of the coffee process, they've successfully developed award-winning roasts and blends that should be in any coffee lover's cabinet.
Delaware: Brandywine Coffee Roasters
Canva
Whether you're a fan of deep dark roasts or lightly caffeinated brews, Brandywine Coffee Roasters has a blend for every palate and nervous system. What makes this cafe such a joy is its commitment to accessibility via roasting. It works closely with producers to find lower-acidity beans from previous crops that may be difficult to place on the market and roast them to perfection.
Florida: Lineage Coffee Roasting
Canva
What started with a makeshift roaster fitted over an ice cream motor has since grown into three cafes and an education program for aspiring roasters. The team at Lineage Coffee has sourced beans from all over the world, roasting them in a way that enhances their respective natural flavors.
Georgia: Docent Coffee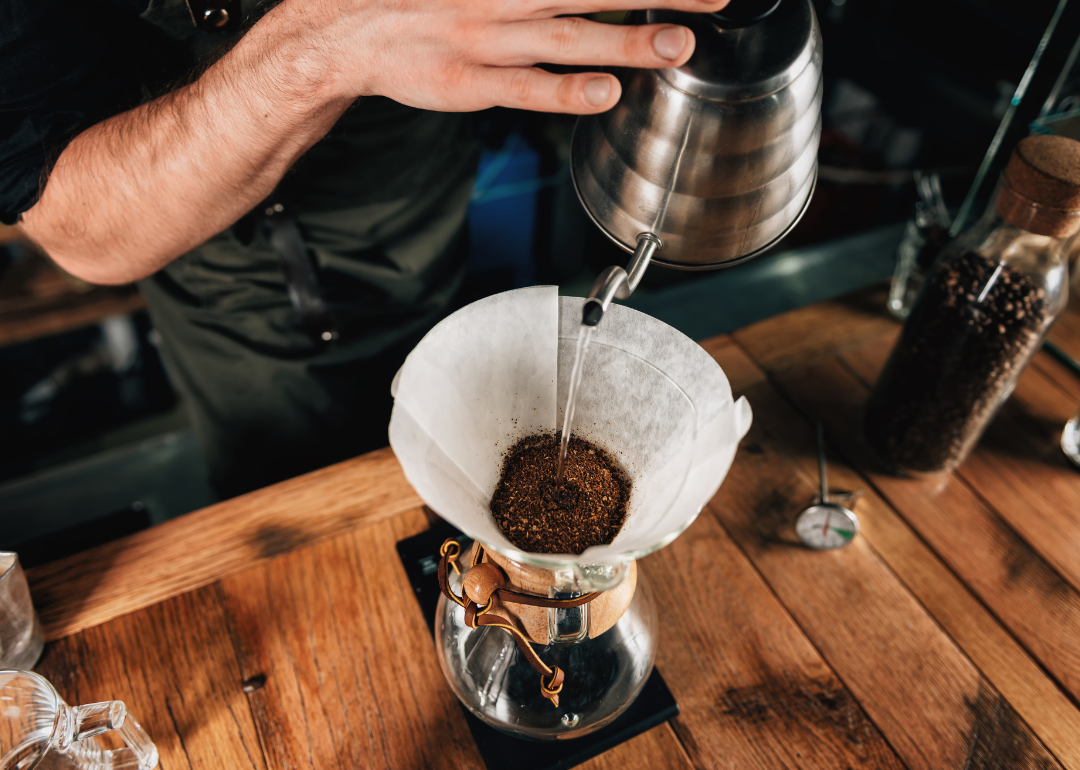 Canva
From Chemex and drip, to AeroPress and V60, or a French press, Docent Coffee will brew you the perfect cup every time. The team at Docent believes that sustenance is more important than style, so they stick to true and tested methods that will leave you wanting a second, third, or fourth cup.
Hawaii: Tradition Coffee Roasters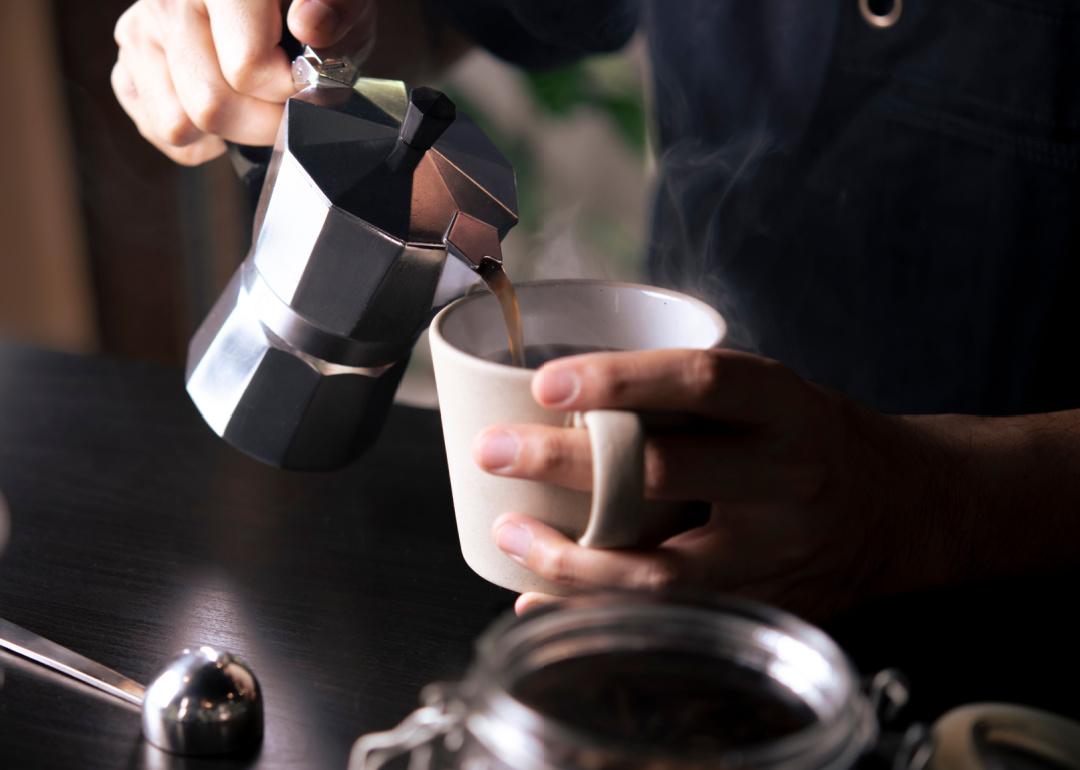 amenic181 // Shutterstock
Celebrated for brewing the perfect medium roast coffee, Tradition Coffee Roasters is the place to grab your morning or afternoon cup of joe, if you're in Hawaii. In addition to their medium roast, they also carry a limited-edition Guatemalan coffee with hints of toffee, butterscotch, and fig as well as a coffee blend with notes of key lime pie and macadamia nuts.
Idaho: Neckar Coffee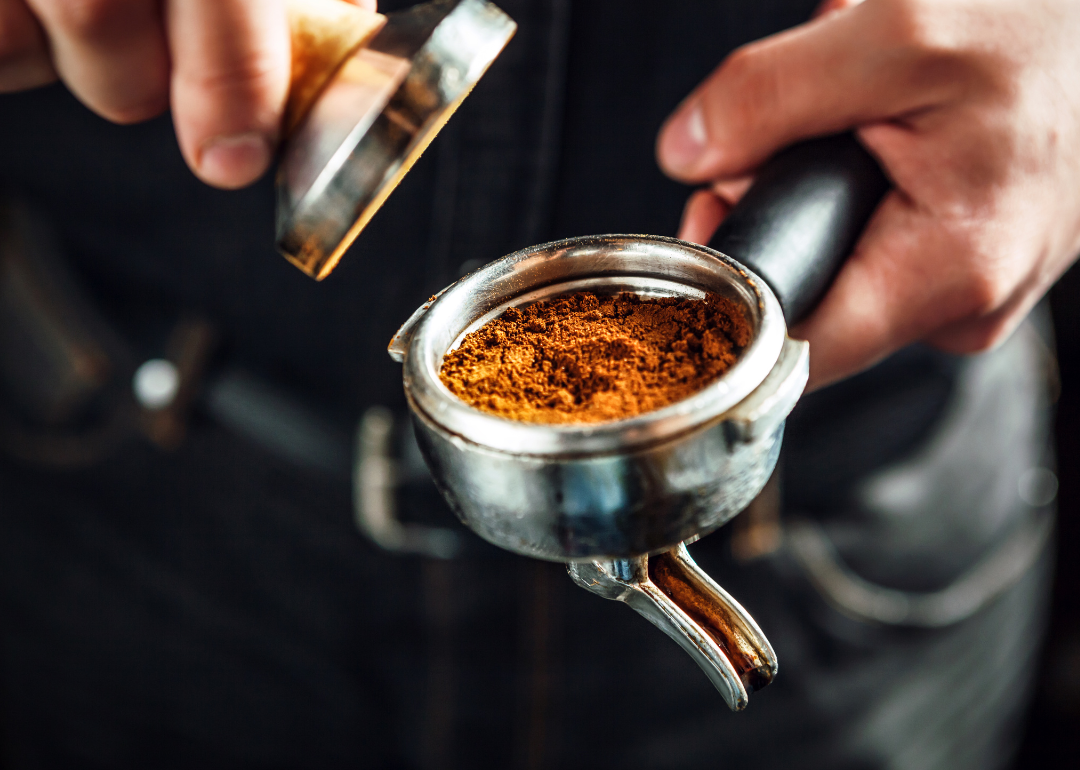 Canva
With coffee hailing from Ethiopia, Kenya, and Colombia, Neckar's blends are packed with flavor, richness, and history. Roasted in-house, coffee is served on handmade ceramics. One can even order a side of pastries from 2016 James Beard semifinalist Janjou Patisserie.
Illinois: Metropolis Coffee Company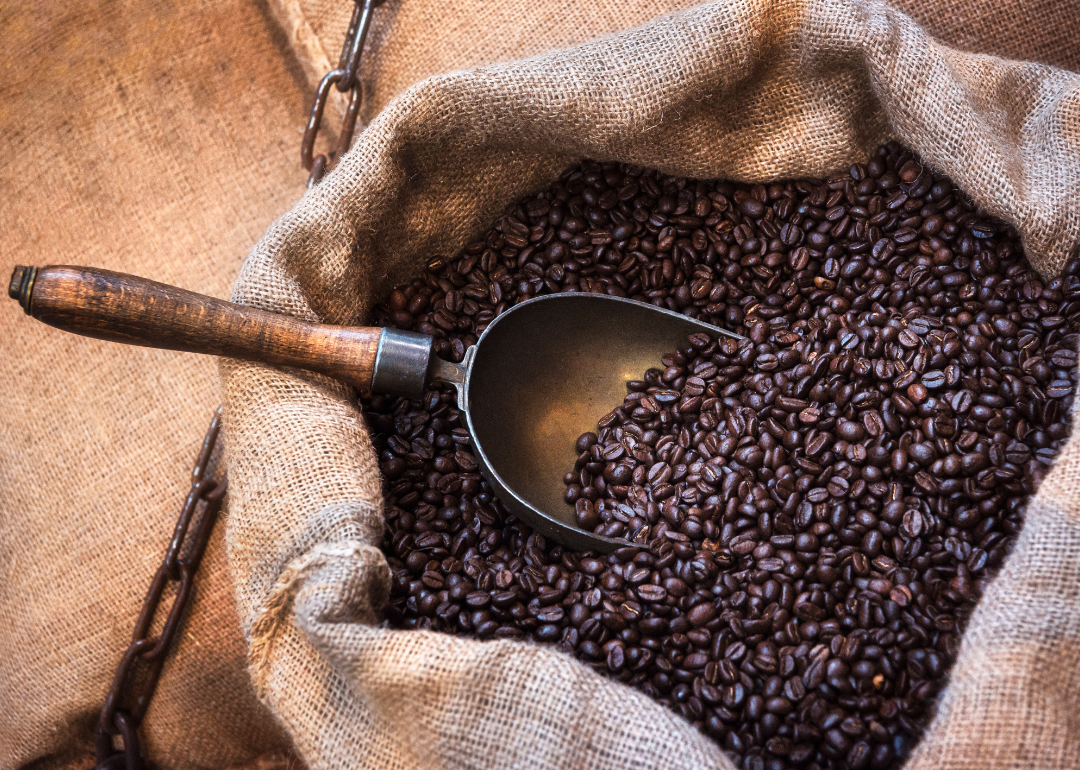 Canva
The coffee at Metropolis Coffee Company is purchased above fair trade price, triple certified for quality and consistency, and hand roasted to order each and every time. Their award-winning blends have won them several titles and accolades, including 2007's Roaster of the Year in Roast Magazine.
Indiana: Botz Coffee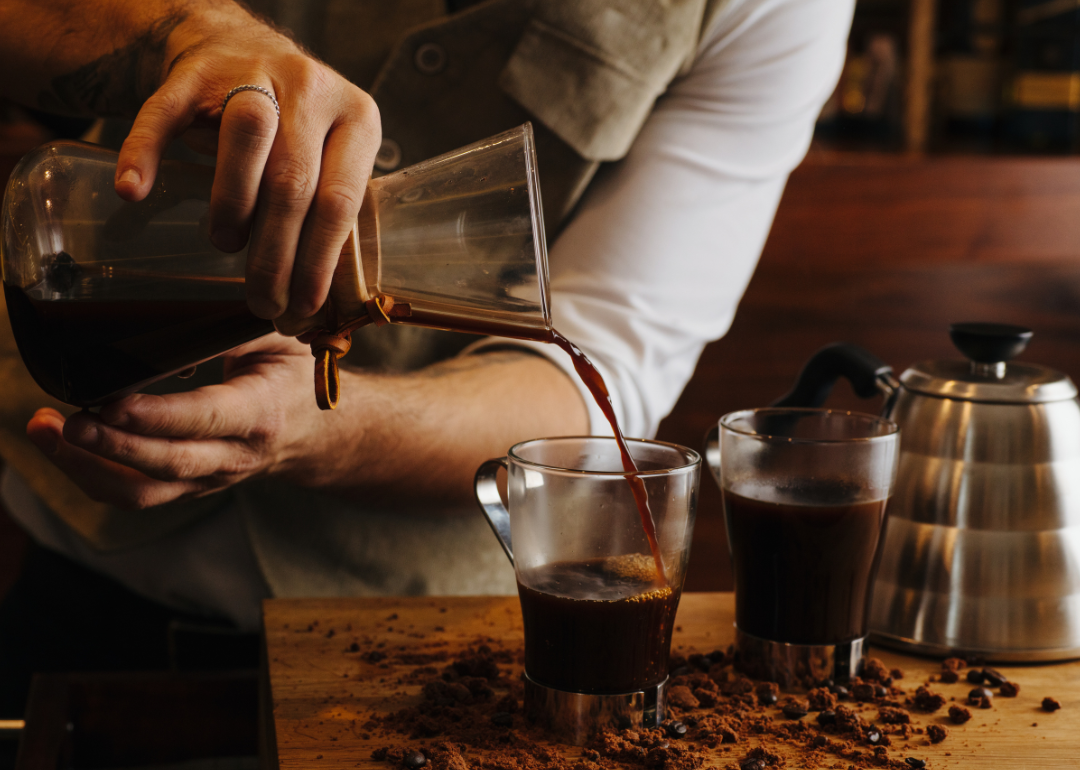 Canva
A small-batch roaster, Botz Coffee is loved for its quirky takes on classical blends. Each batch is taste-tested in-house to ensure quality and consistency every time. Botz is consistently celebrated for producing brews that are creative, bold, and fresh.
Iowa: Horizon Line Coffee
Canva
Started by two friends from Southern California, Horizon Line Coffee has cultivated a unique coffee culture that focuses on relationship-building through the supply chain, creating knowledge and experiences around coffee.
Kansas: Repetition Coffee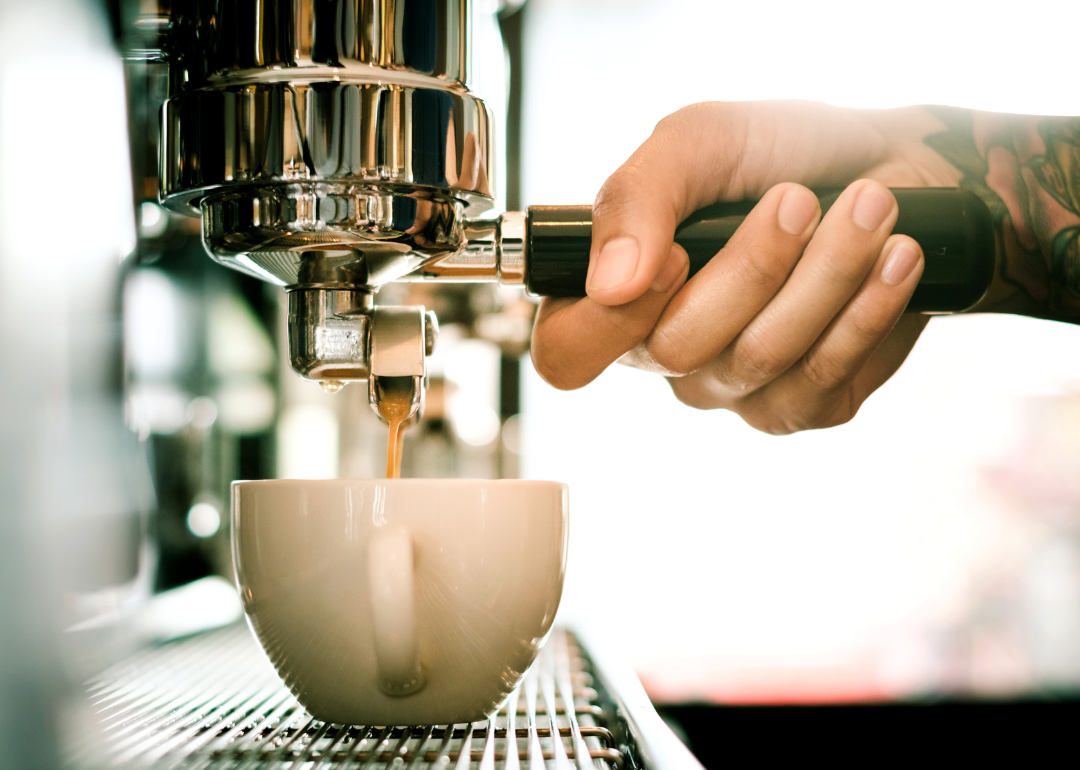 Canva
What started as a graduate student's dream in Paris has grown into a thriving and much-loved cafe. After Amy Pope learned all that she could from a Guatemalan expat in Paris, she realized that her international relations degree could be used to benefit coffee farmers all over the world. Every year, Pope travels to the countries of origin to build relationships and ensure that farmers are given a living wage.
Kentucky: Sunergos Coffee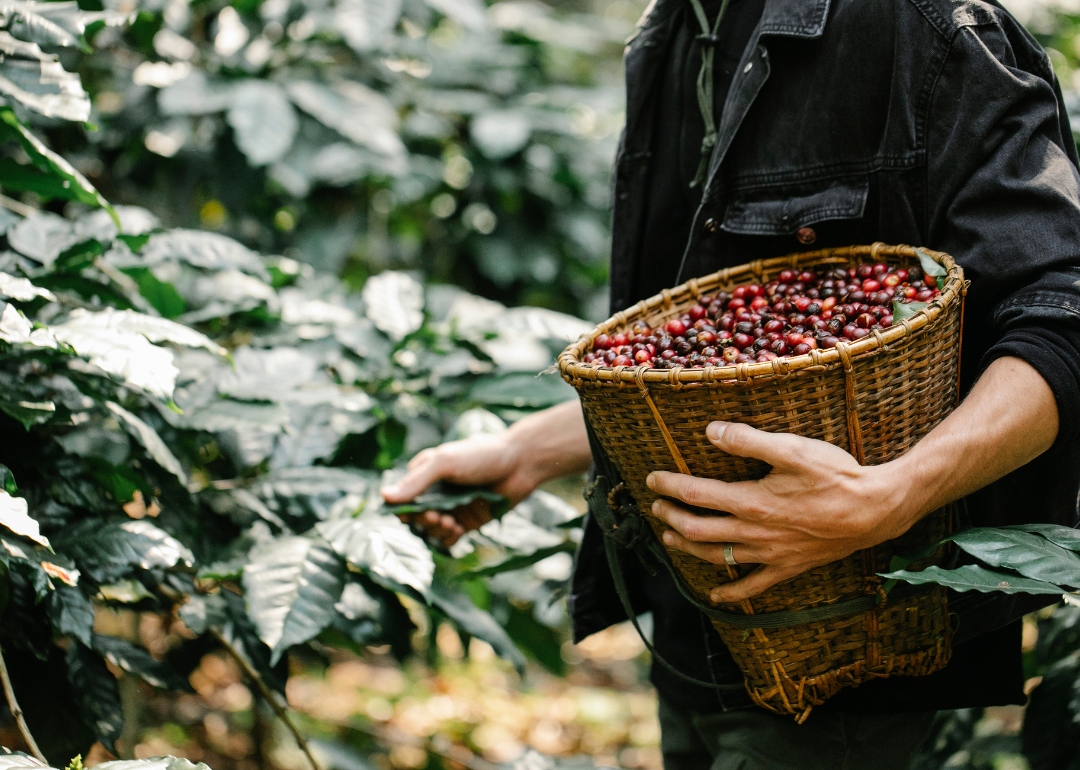 Canva
Offered year-round, the mainstay coffees of Sunergos emphasize caramelized sugars, spices, and nuttiness. Meanwhile, seasonal coffees are sourced from micro-lots and have a brighter, fruitier profile. In addition to owning three cafes, the team at Sunergos Coffee used their talents to open up an espresso-focused cafe for those interested in more experiential coffee.
Louisiana: Congregation Coffee Roasters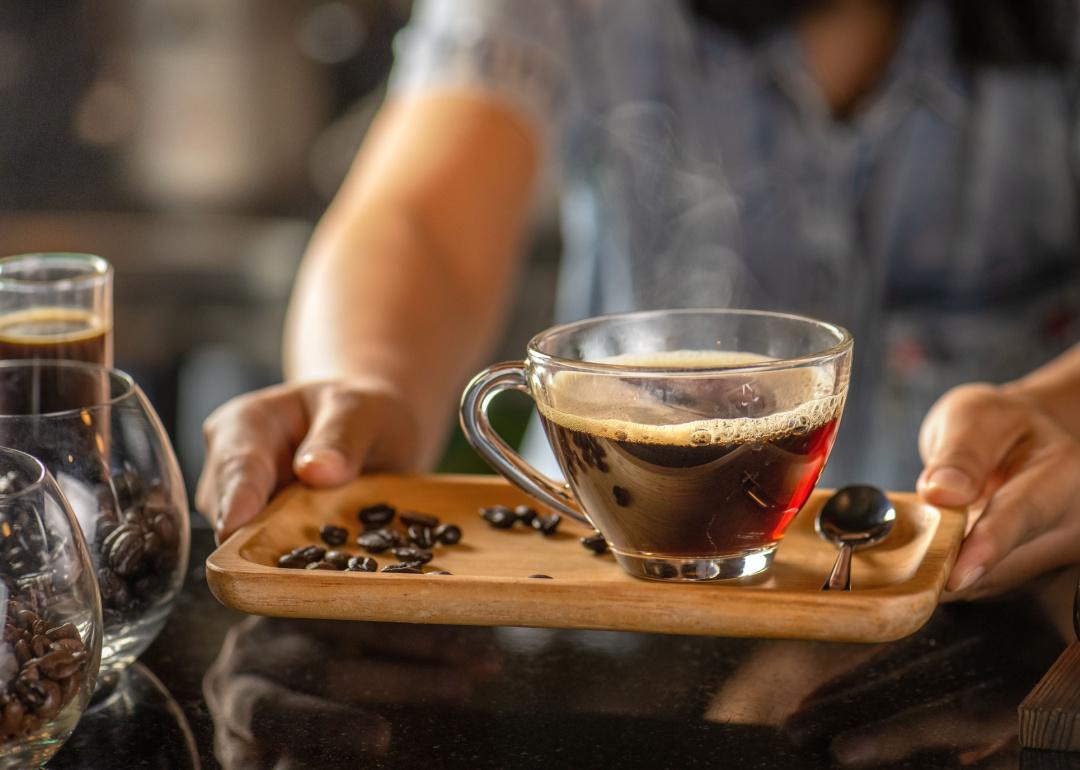 worradirek // Shutterstock
Have you ever wondered what exactly you like in a cup of coffee? Congregation Coffee Roasters has a wheel to help you understand exactly that. The coffee wheel helps tasters break down different notes and intensity of flavor to help them pick their perfect blend.
Maine: Tandem Coffee Roasters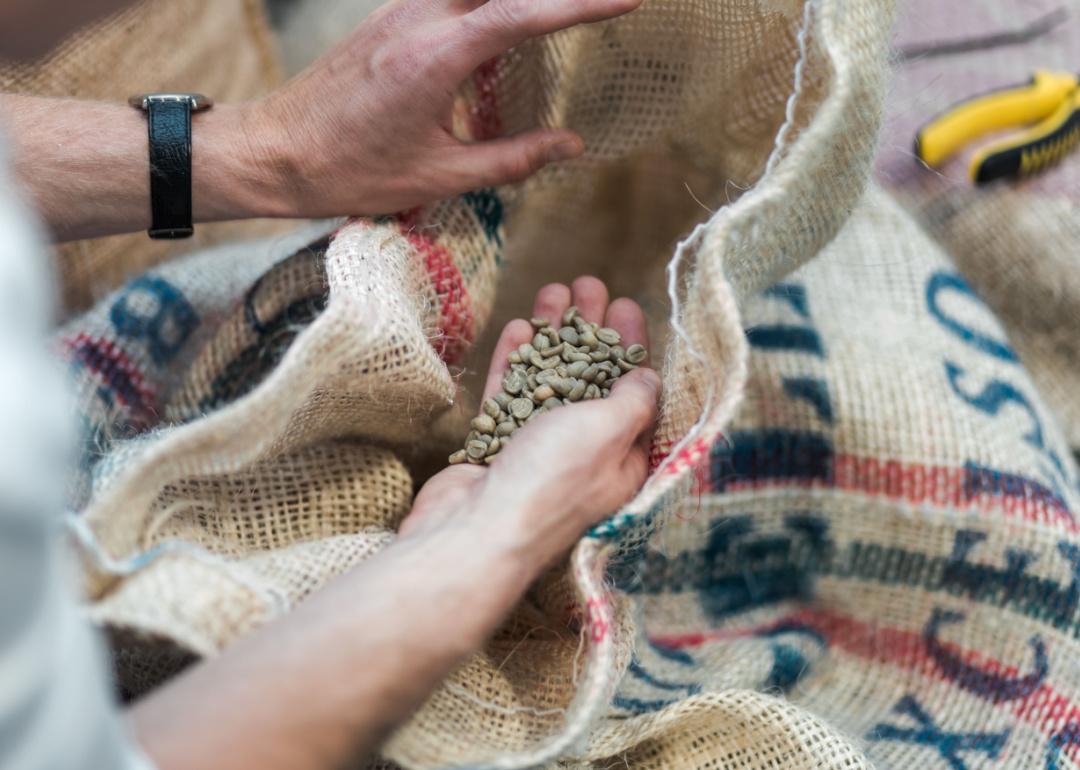 Jakub Tabisz // Shutterstock
Tandem is home to multiple single-origin coffee blends sourced from small farmers and specialty importers. They are Climate Neutral certified and donate 1% of their annual sales to environmental nonprofits.
Maryland: Vigilante Coffee Company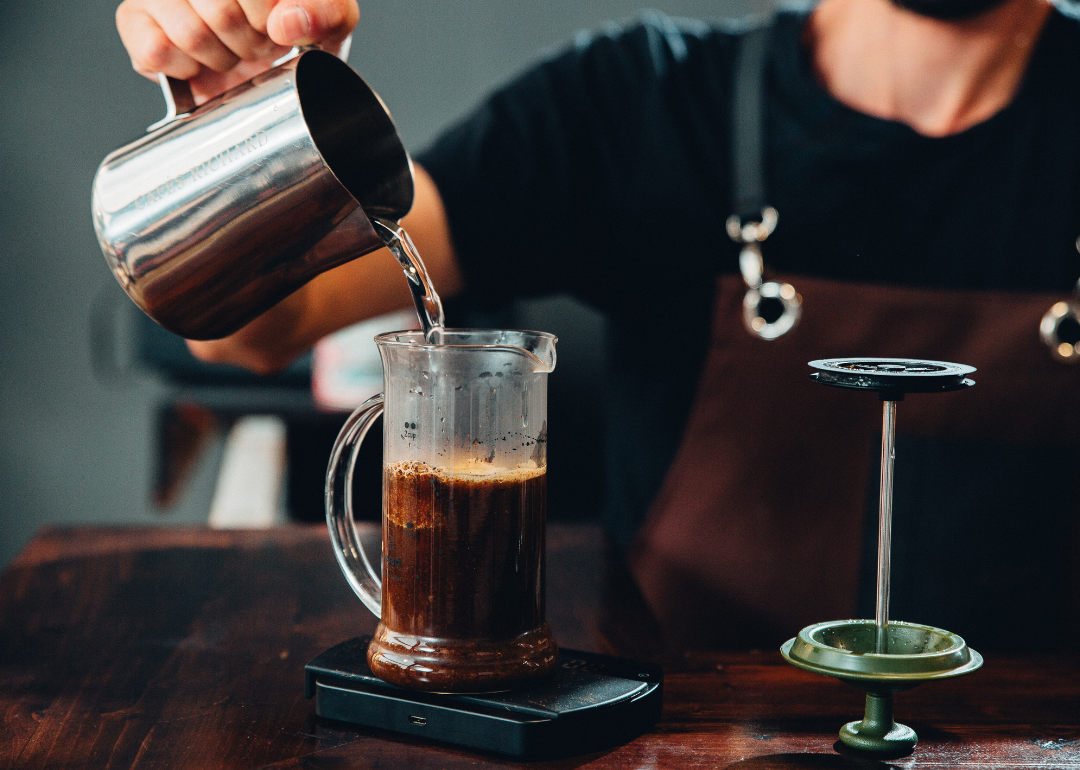 Canva
Vigilante started with a dream, a 5-pound roaster on a back porch, and funding from a surf/marijuana mogul. Now, Vigilante has three locations (including one all the way in San Diego) and a master roaster who rose up the ranks at the shop and spends his days perfecting brews.
Massachusetts: George Howell Coffee
Canva
George Howell is known for The Coffee Connection shop, which he eventually sold to Starbucks in 1994. After earning a Lifetime Achievement Award from the Specialty Coffee Association of America in 1996, Howell once again returned to his coffee roots, finding and roasting high-quality coffees, particularly single-estate regional ones. George Howell Coffees are lightly roasted, which allows their natural sweetness to shine.
Michigan: Madcap Coffee Company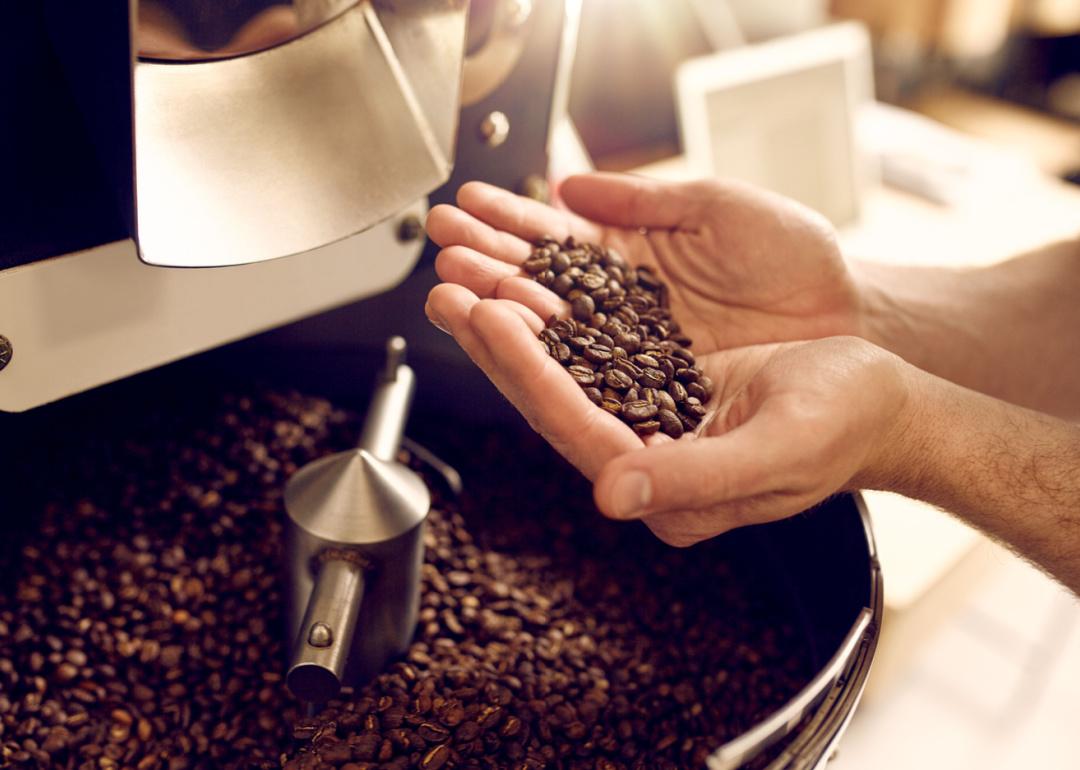 mavo // Shutterstock
Each brew and blend at Madcap is traceable, from planting to roasting and packaging. The company was founded by an award-winning and internationally recognized barista and trainer.
Minnesota: Dogwood Coffee Co.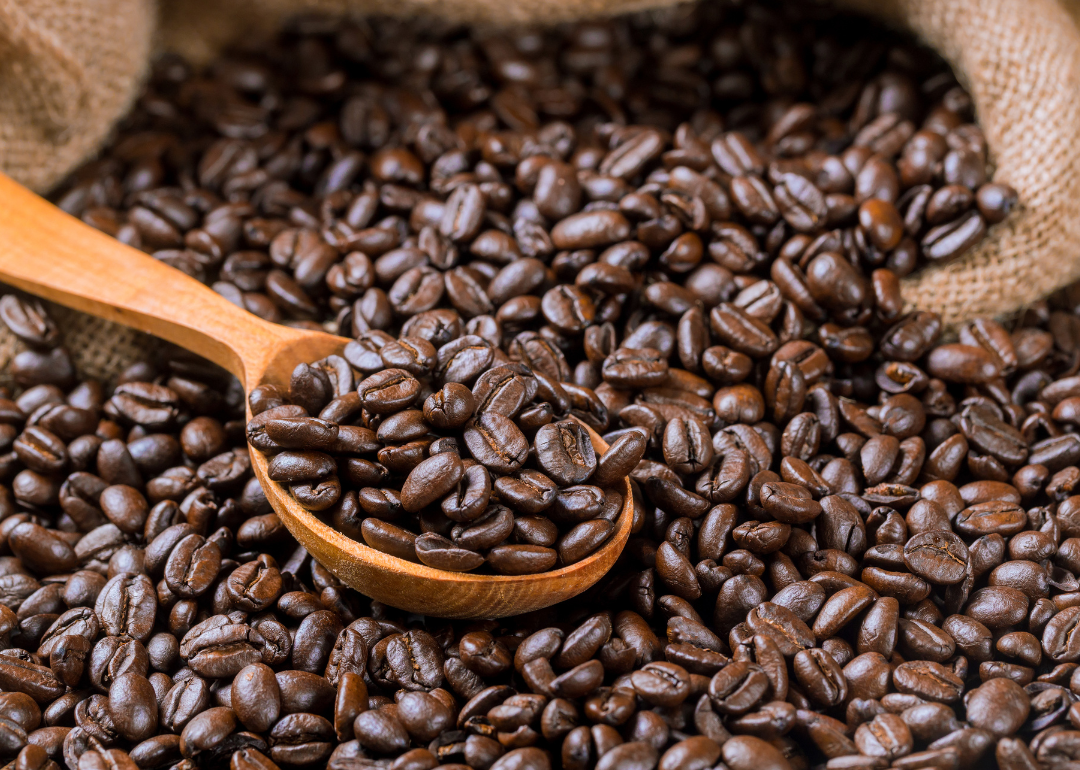 Canva
At Dogwood, you can find bold flavors in small-batch brews, from flat white espressos to lattes. Owner Dan Anderson started roasting using a popcorn maker above his stove and now oversees three shops all over Minnesota. Dogwood's beans are labeled by origin, but its best-known blend is Neon espresso—sweet and bright just like its namesake.
Mississippi: Meraki Roasting Company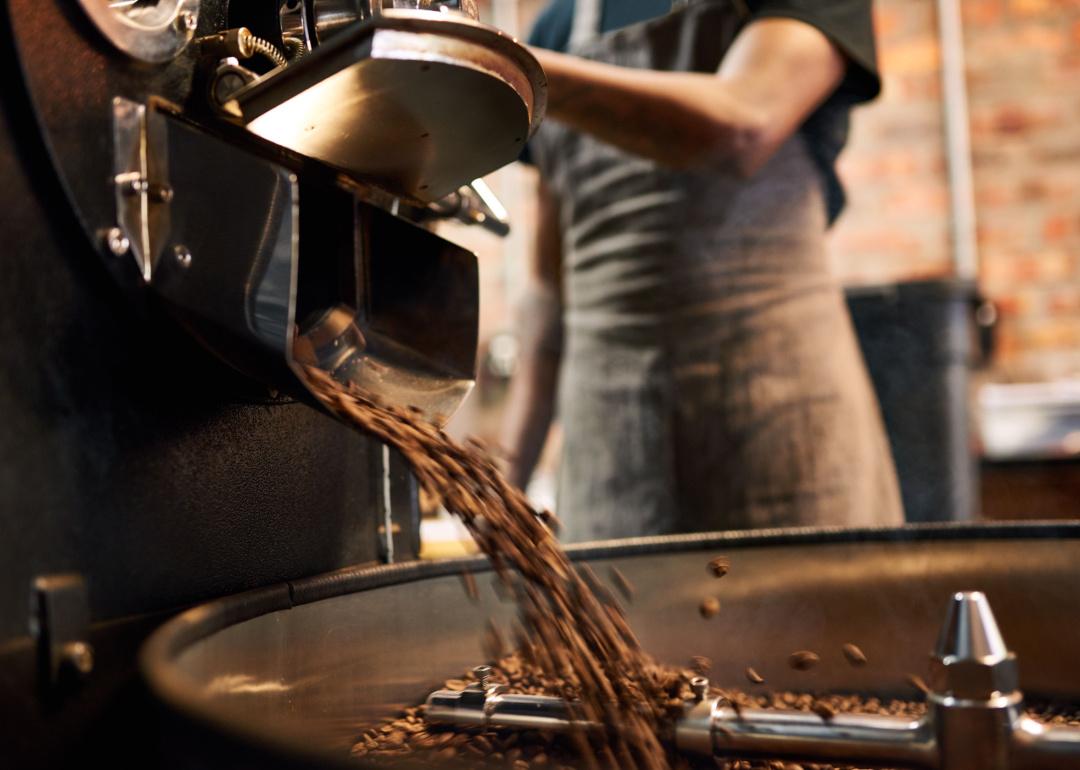 NakoPhotography // Shutterstock
Meraki Coffee Roasters is an innovative community hub that brings together social change, coffee, and a commitment to be better. Through its social programs, the cafe employs and mentors youth as a way of passing down innovative roasting practices.
Missouri: Coma Coffee Roasters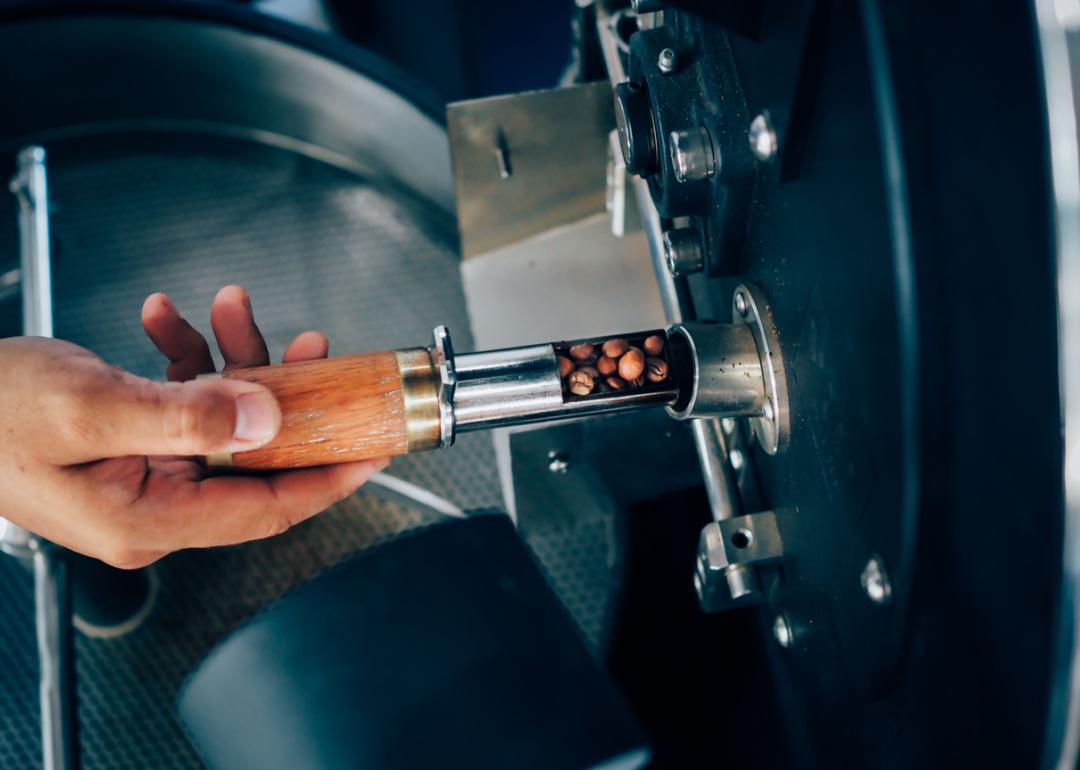 StudioByTheSea // Shutterstock
Coma Coffee roasts coffee in a way to honor the origin and history of the respective bean. A head roaster oversees a seasonal menu that features coffees for every palate—some more fruity and acidic, while others are nuttier and chocolatey.
Montana: Clyde Coffee
Canva
Clyde Coffee began as a college business project for Glenda Bradshaw, who now oversees a hip artist-centric spot that roasts coffee in-house. The shop offers a beautifully packaged medium roast blend with beans from Guatemala, Ethiopia, and Costa Rica called Irregular Jane and a dark roast blend from Mexico, Sumatra, and Honduras called It's Morning, among others.
Nebraska: The Coffee Roaster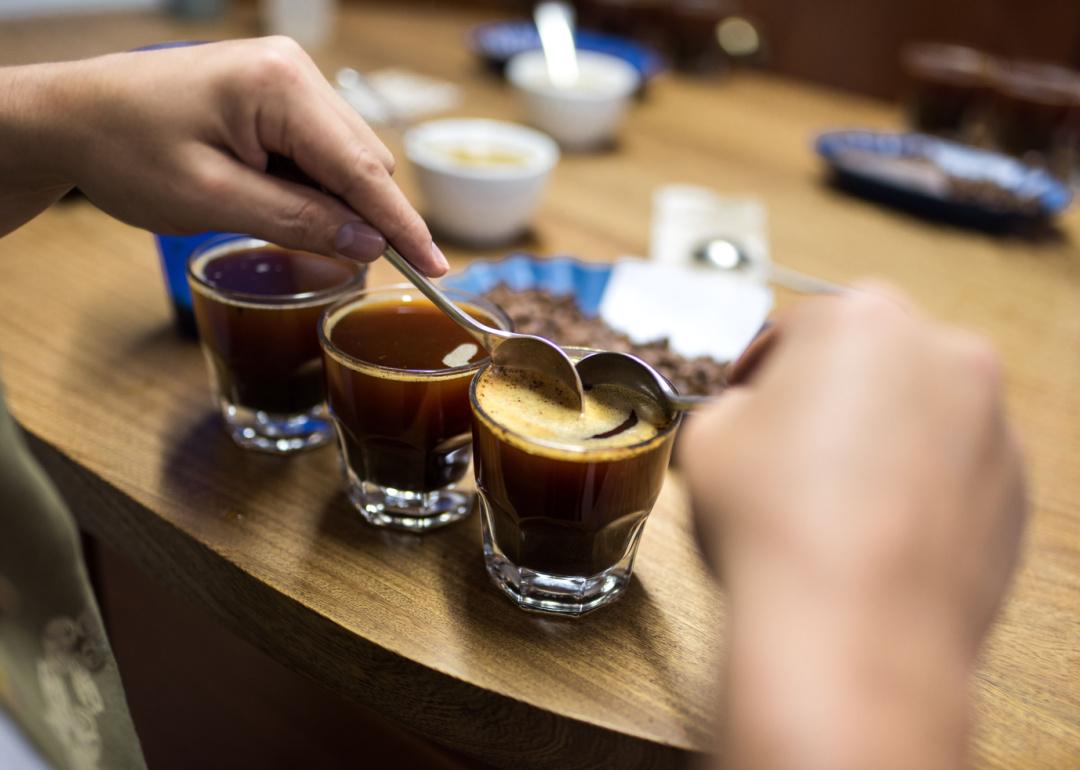 Benedict Kraus // Shutterstock
The Coffee Roaster has been around for almost 30 years. Renowned for its innovative rare blends, The Coffee Roaster is a must-visit for coffee enthusiasts in Nebraska who are looking to elevate their morning cup. Some beans offered are Colombian coffee rich with cocoa and caramel and Indian coffee low in acidity.
Nevada: Vesta Coffee Roasters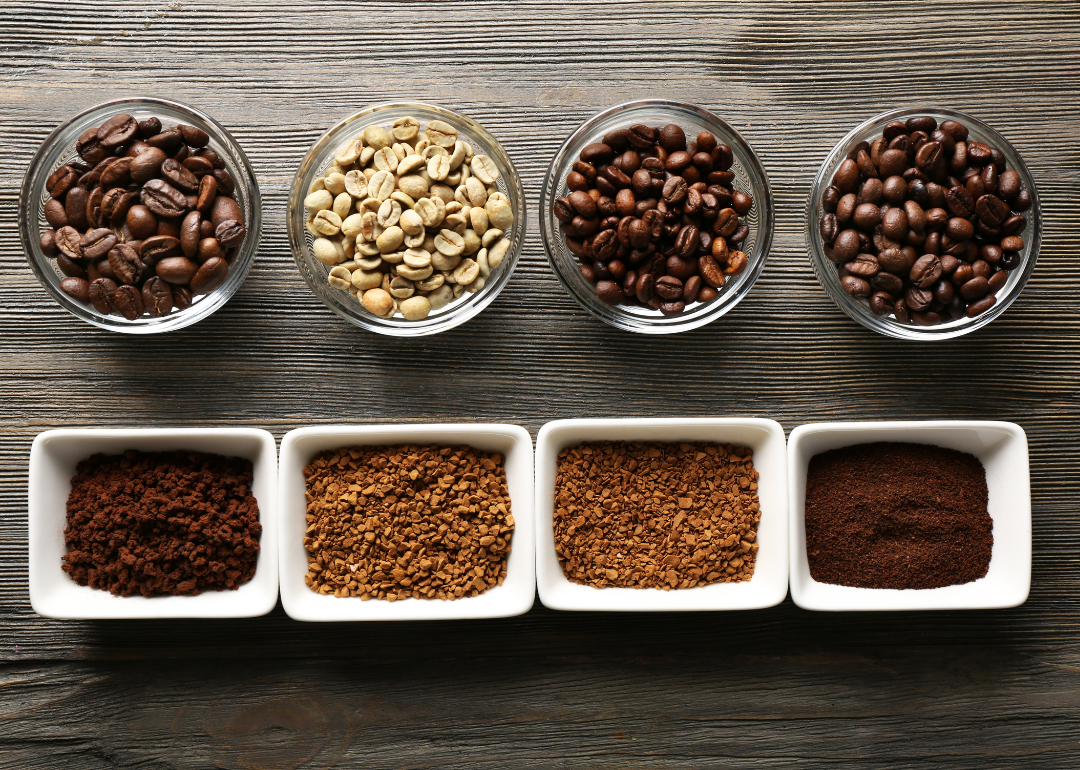 Canva
Vesta sources unique and tantalizing blends from all over the world. Each crop is roasted to its respective sweet spot. Recent inclusions from Costa Rica are anaerobic process coffees that have the shop buzzing.
New Hampshire: Mad River Coffee Roasters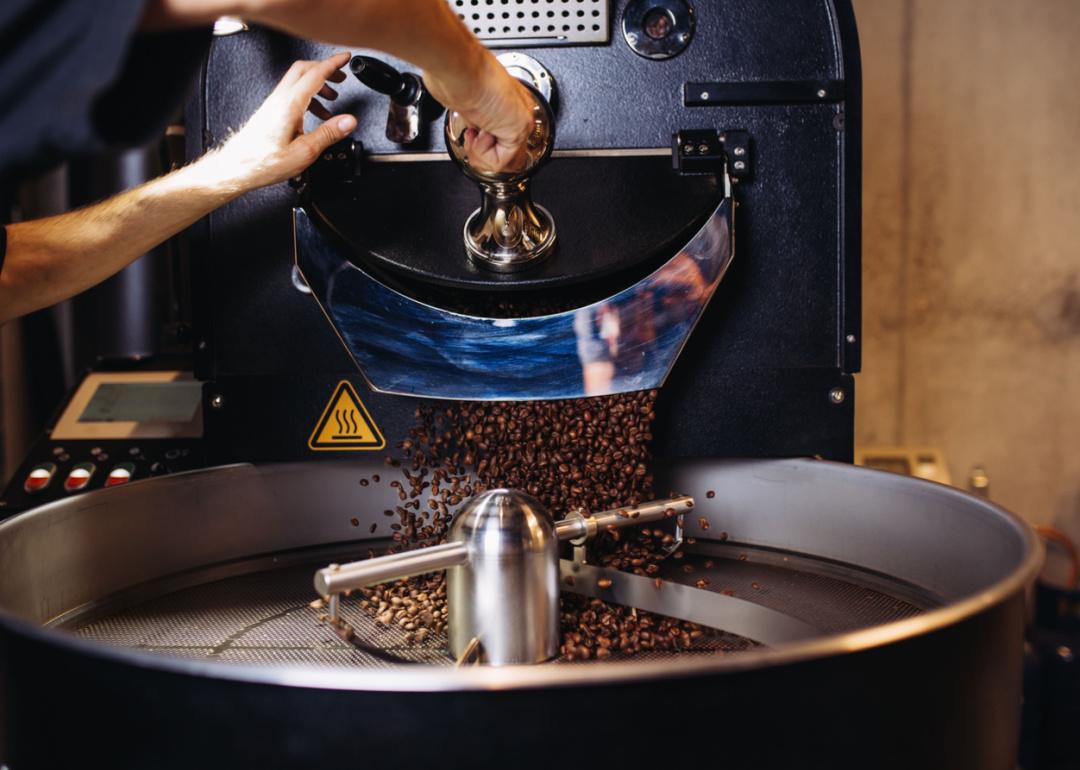 hedgehog94 // Shutterstock
Mad River Coffee was born out of a desire to brew the perfect cup of coffee. For owner David Levin, that meant a blend that was low in acidity and strong in flavor. Now, thanks to the in-house roaster, he's able to share his perfected brew with the world.
New Jersey: Penstock Coffee Roasters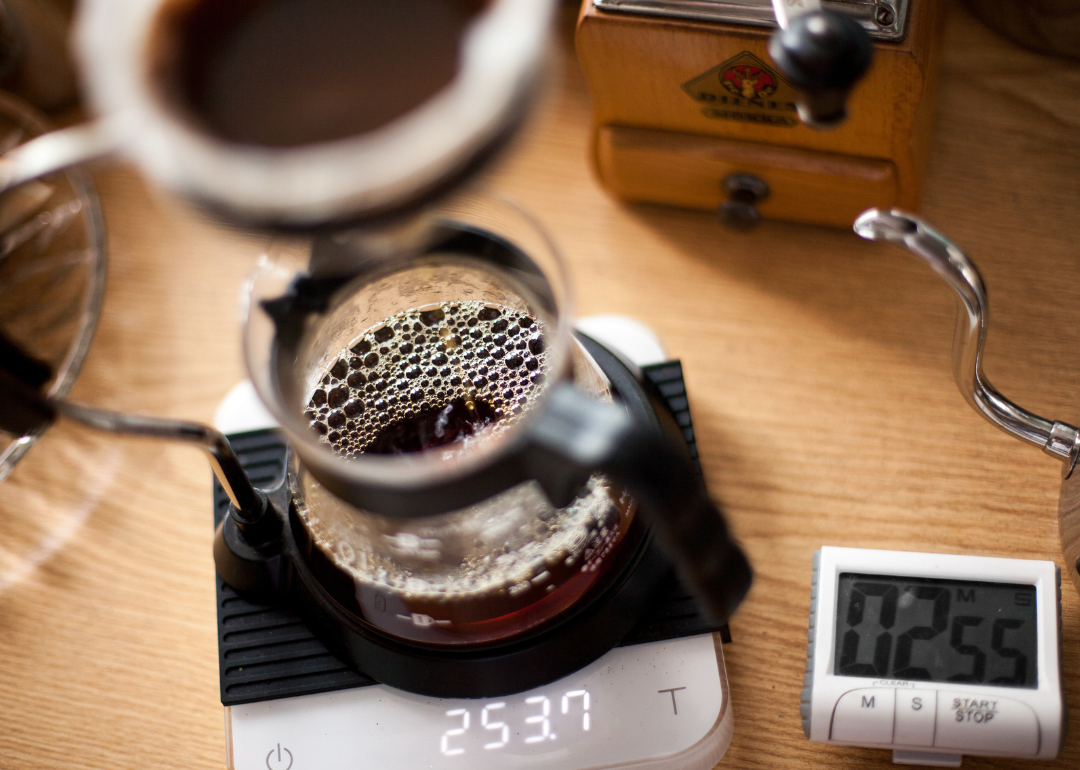 Canva
Specializing in farm-direct coffee (where they deal directly with the farmers or mill owners), Penstock Coffee will teach you how to brew each blend depending on its history. From the temperature, grind size, and time, you'll be able to get the perfect cup every time. The shop was a two-time finalist for the Good Food Awards in 2017 and 2018 and was selected New Jersey's best coffee by Food & Wine in 2019.
New Mexico: Subterra Coffee
Sergey_Bogomyako // Shutterstock
Full-flavored coffee that's smooth, earthy, and easy on the stomach: Whether you prefer light roast or dark roast, each blend at Subterra carries a high-level flavor. The roaster offers a satisfaction guarantee and sends coffee bags with air vents to ensure long-lasting flavor.
New York: White Noise Coffee Co.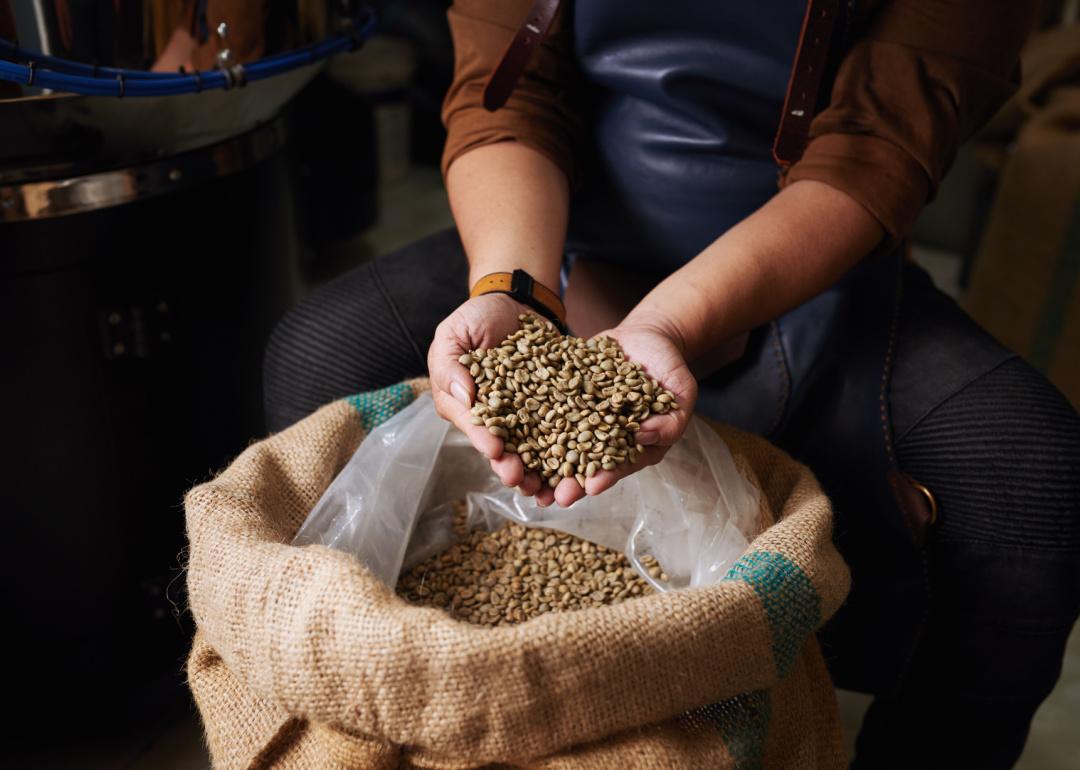 Dragon Images // Shutterstock
White Noise Coffee plays to the senses, with each blend being rich in flavor and scent. They are celebrated for offering small-batch roasted beans and some of the most unique coffees from around the world.
North Carolina: Black & White Coffee Roasters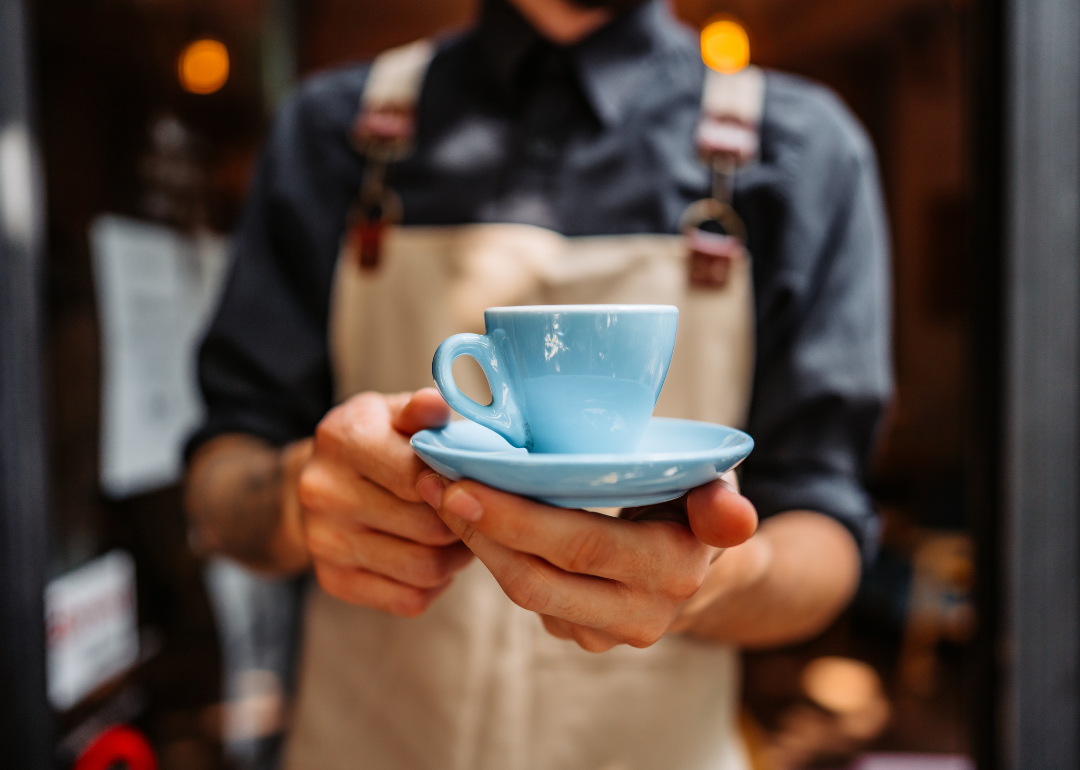 Canva
Founded on the principle that coffee should be simple, Black & White Coffee prides itself on easy blends for each type of coffee drinker. They offer seasonal and year-round blends for those looking for a no-frills cup and for those chasing an experience. The shop also turns some blends into instant coffee for no-nonsense drinkers.
North Dakota: Mighty Missouri Coffee Company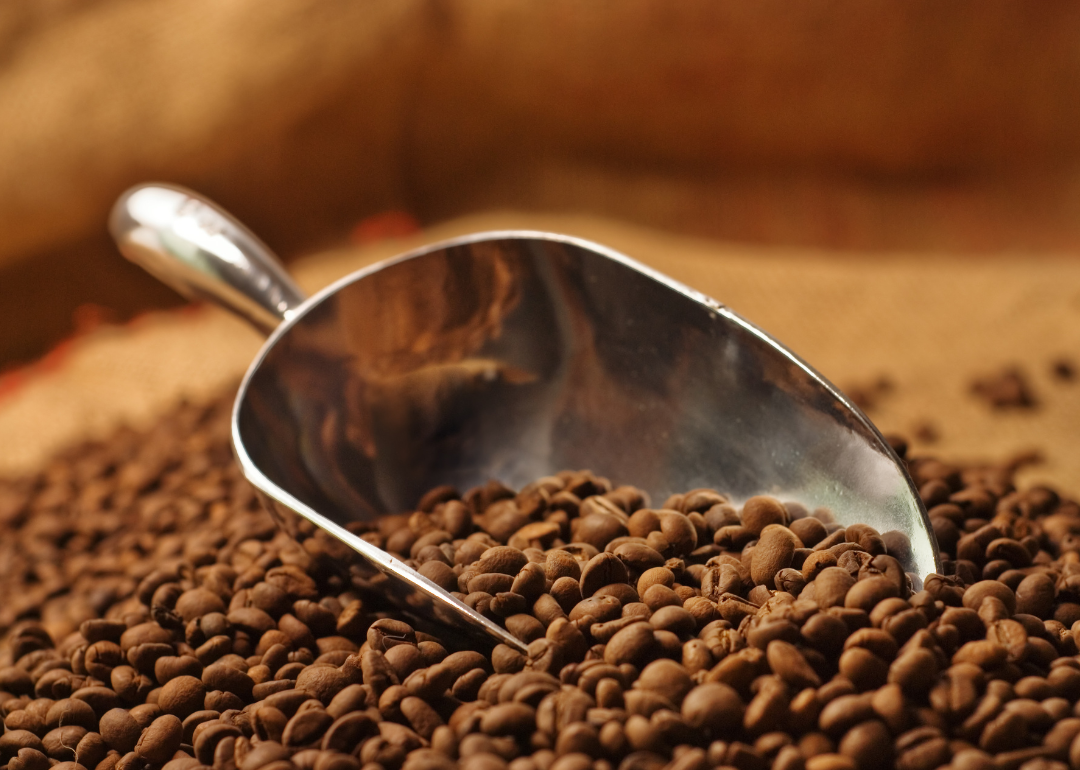 Canva
Mighty Missouri Coffee is produced with the adventurer in mind. With bold and crisp notes, its coffees are freshly roasted and veer toward classic and traditional coffee flavors.
Ohio: Hemisphere Coffee Roasters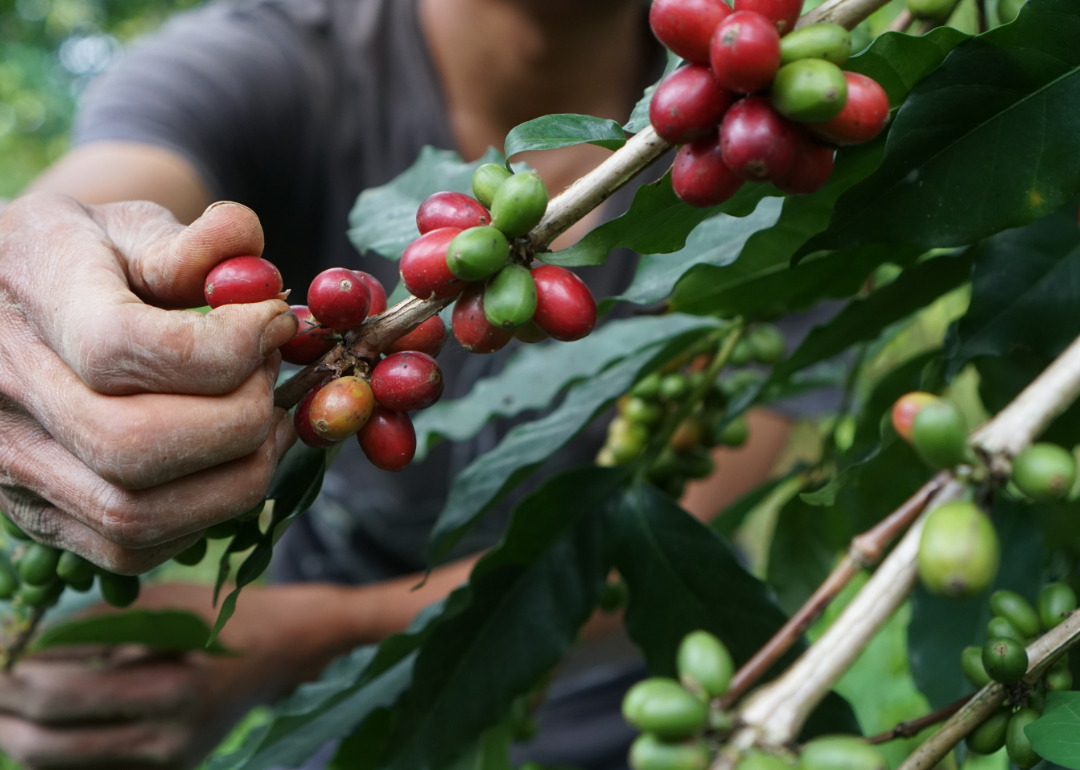 Canva
Hemisphere Coffee consistently produces the freshest blends that change lives. By working directly with farmers, Hemisphere Coffee is able to acquire exceptional beans and pay producers the best price. Their latest blend hails from Myanmar, where the coffee is processed through natural means and sourced from a small-acreage farm community called Myin Dwin.
Oklahoma: Coffee Slingers Roasters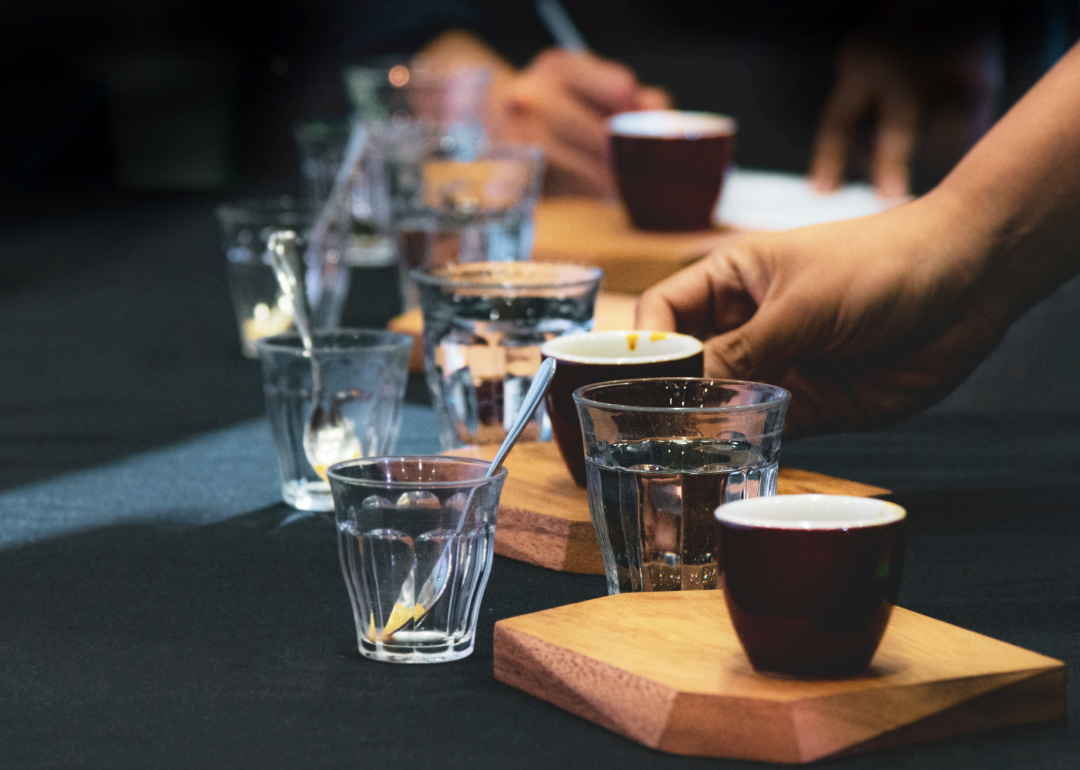 Canva
The team at Coffee Slingers is just as addicted to the process of roasting their coffee as they are drinking it. The shop intentionally avoids dark roasts, which allegedly nixes the nuances of each cup. Each coffee they make is tested using the Specialty Coffee Association standard cupping forms, ensuring consistency, flavor, and freshness with every sip.
Oregon: Proud Mary Coffee
Gumpanat // Shutterstock
Proud Mary has been sourcing their coffee directly from farmers since 2009. Their team is equipped with five Q-Graders, to ensure quality control with every cup. The shop made headlines early in 2023 for offering a $150 luxury pour-over cup of coffee from Panama. Beans are so limited the shop is only able to sell 22 cups in the United States.
Pennsylvania: Passenger Coffee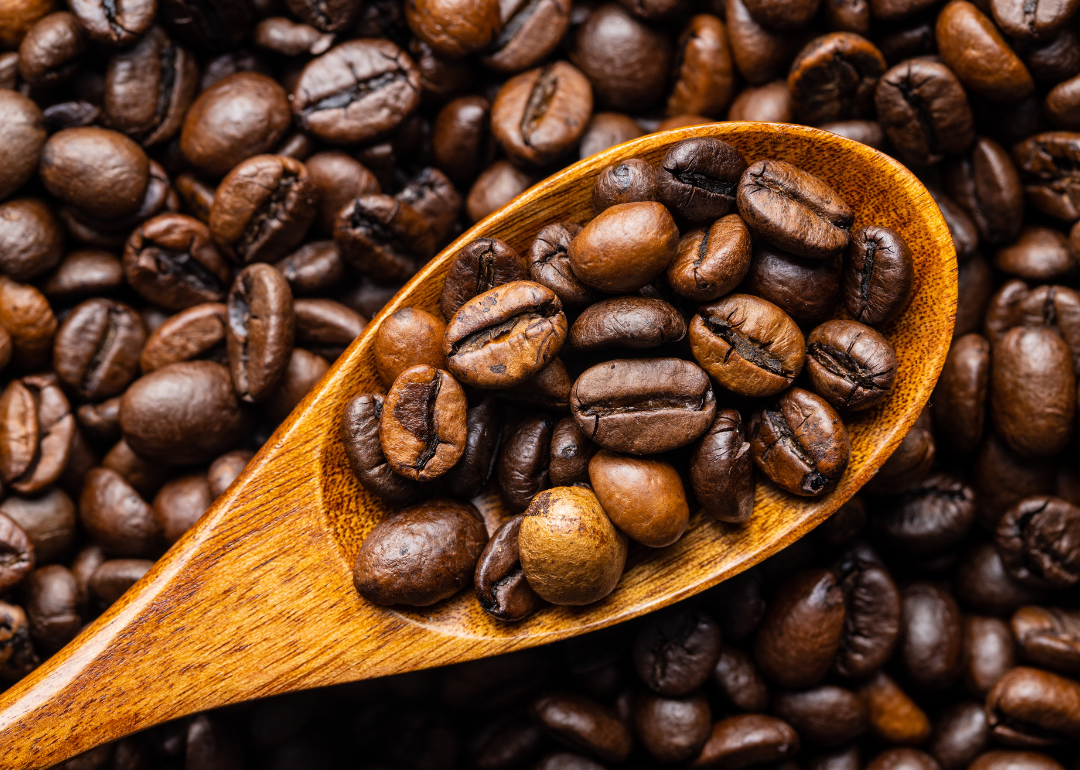 Canva
A certified B Corporation, Passenger Coffee's award-winning blends are famous for their unique flavors that shine when lightly roasted. The roaster has been recognized as the state's best roaster by Food & Wine in 2022.
Rhode Island: The Coffee Exchange
Canva
Roasting since 1984, The Coffee Exchange works daily in small batches. It works with The Coffee Trust to help Guatemalan coffee farmers in the community of San Gaspar Chajul improve their agricultural practices and incomes.
South Carolina: Methodical Coffee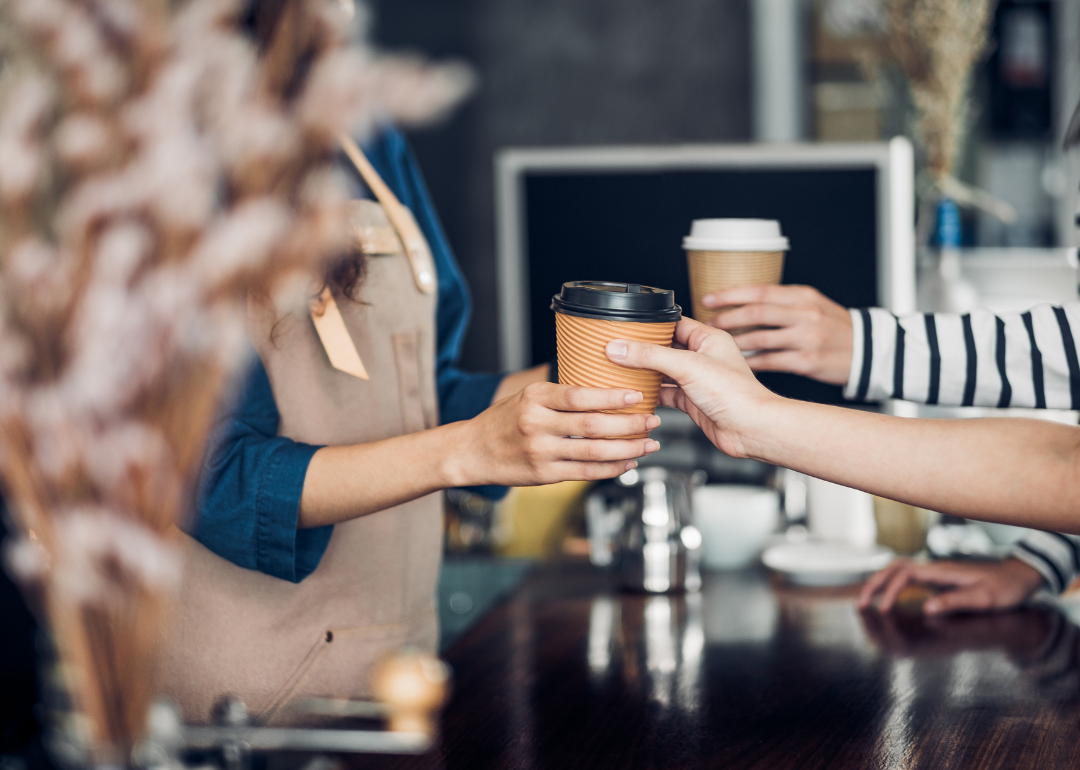 Canva
At Methodical Coffee, each blend is categorized by origin and process, allowing you to choose the perfect flavor for your palate.
South Dakota: The Breaks Coffee Roasting Co.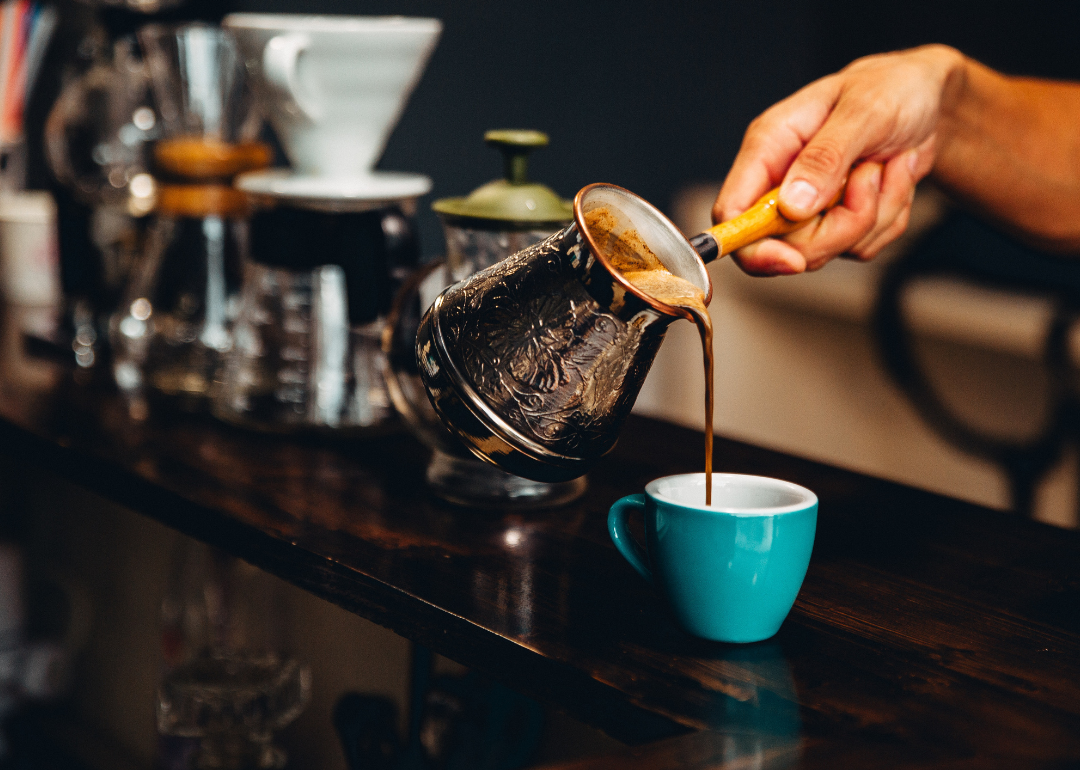 Canva
Serving artfully roasted arabica beans, The Breaks is committed to making each cup an experience you'll remember. They carry brews from Guatemala, Honduras, and Ethiopia, leaving your taste buds with a variety of options.
Tennessee: Osa Coffee Roasters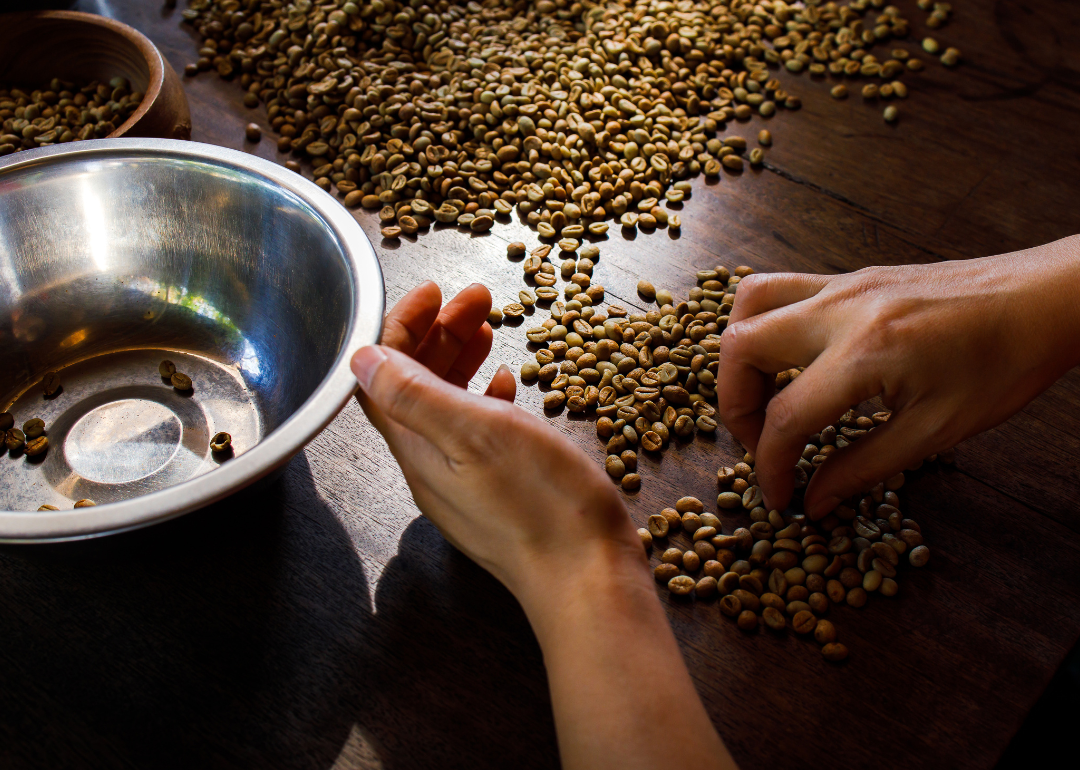 Canva
As a roaster and micro-cafe, Osa Coffee is all about keeping things minimal, so you can enjoy each bean in its most traditional state. The shop has no indoor seating but offers coffee from a window takeout with a few bar stools to perch on.
Texas: Pinewood Roasters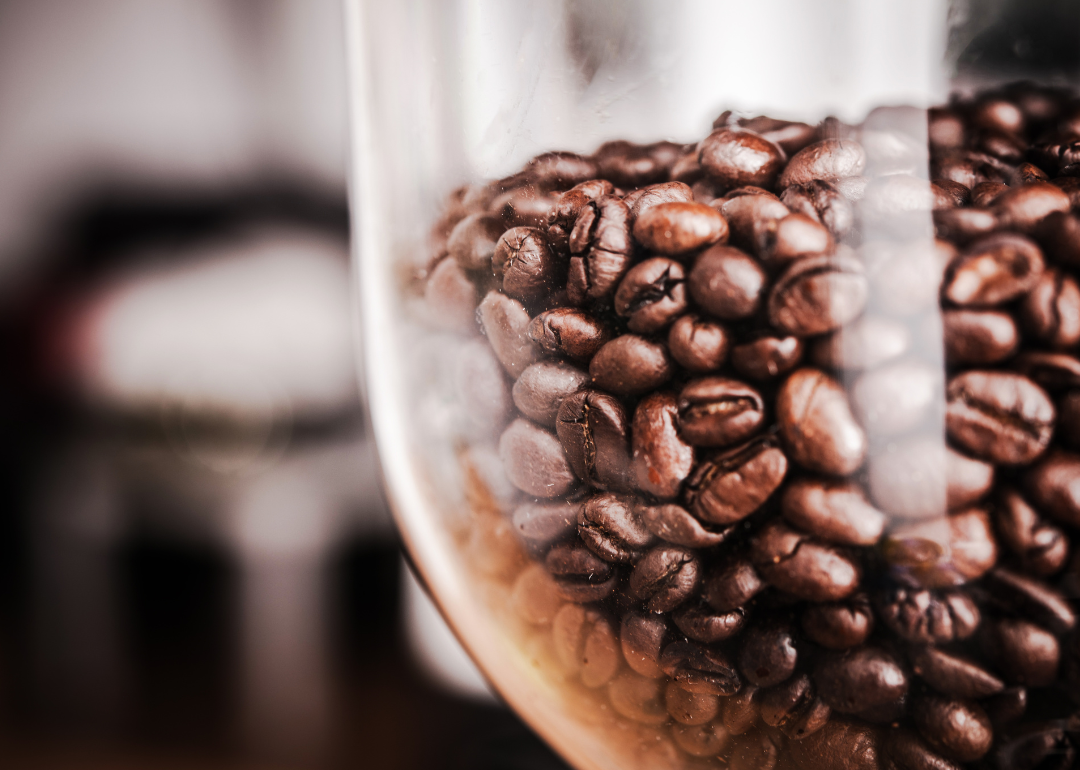 Canva
Pinewood Roasters specializes in your classic coffee beverages, with homemade sweeteners, and beans sourced from all around the world. The shop filters all of its doubtful Waco water into a reverse osmosis system before brewing a cup, ensuring the cleanest water and best flavor profile possible.
Utah: Blue Copper Coffee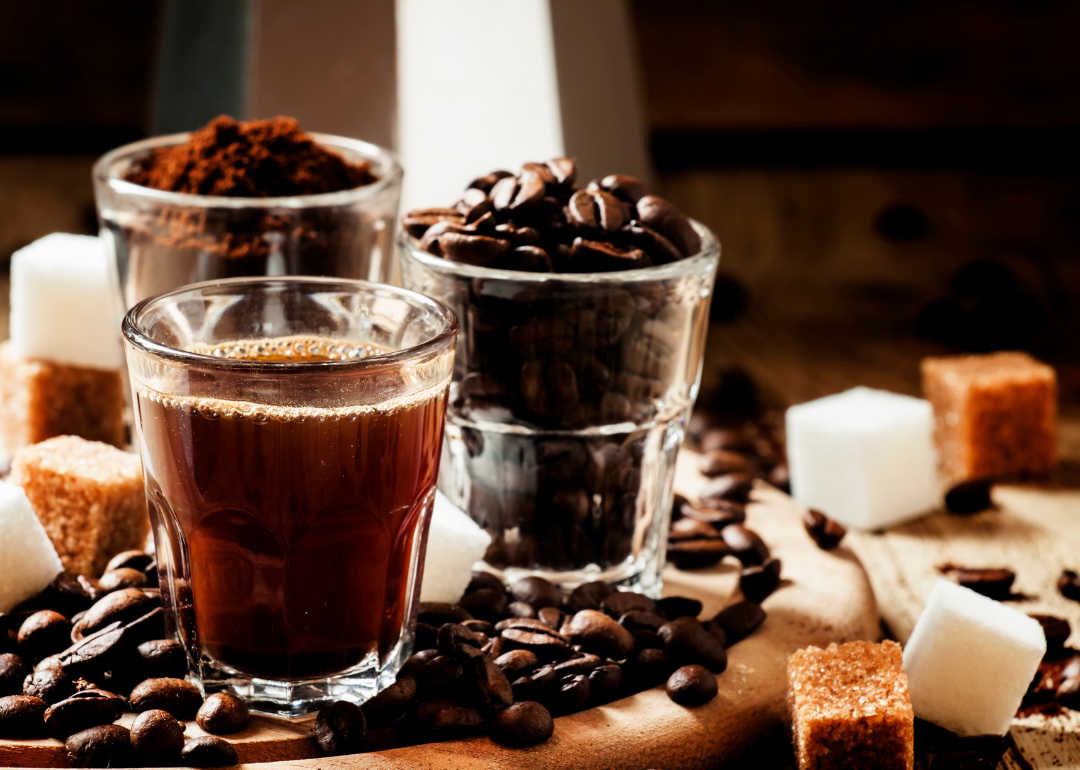 Canva
Home to a curated collection of complex, bold, and bright coffee blends, Blue Copper Coffee carries a variety of brews that will suit all your caffeine needs. If you've ever wondered how altitude or process affects the acidity and flavor of a brew, this is the perfect place to find out.
Vermont: Uncommon Coffee
Canva
All of the coffee served at Uncommon is roasted fresh in their Probat P-25 series roster. Advocates of unique flavor profiles, Uncommon's approach to coffee-making translates into satisfying brews.
Virginia: Lamplighter Coffee Roasters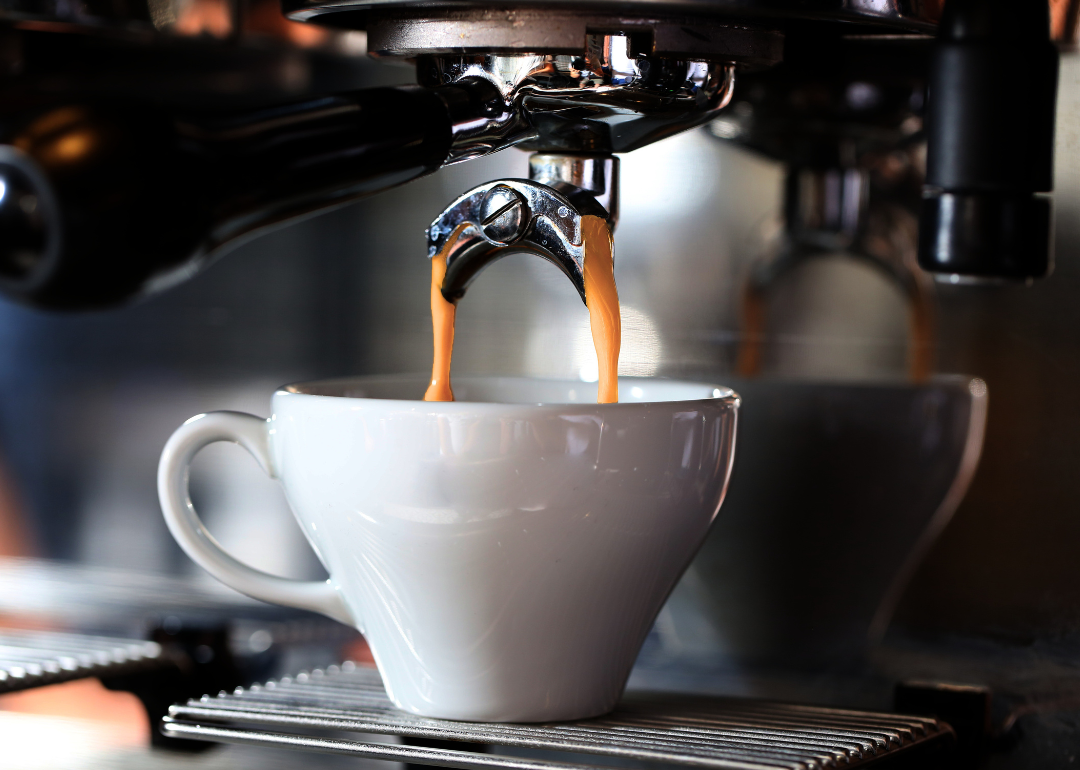 Canva
Lamplighter Coffee's espresso blend balances unusual tasting notes of red apple, milk chocolate, and caramel. With the blend being two parts Colombian and one part Ethiopian, it's a testament to just how creative flavors can be. Founded in 2009, the shop attracts coffee geeks to its Roast Lab, which offers single-origin coffees.
Washington: Q.E.D. Coffee
Canva
A small-batch specialty roaster, Q.E.D. Coffee sees pouring the perfect cup as a puzzle piece that begins long before the beans are roasted. By focusing on every detail, from the variety of the plant, the terrain, and the drying process, Q.E.D. is able to develop an intentional blend every time.
West Virginia: Koin Coffee Roasters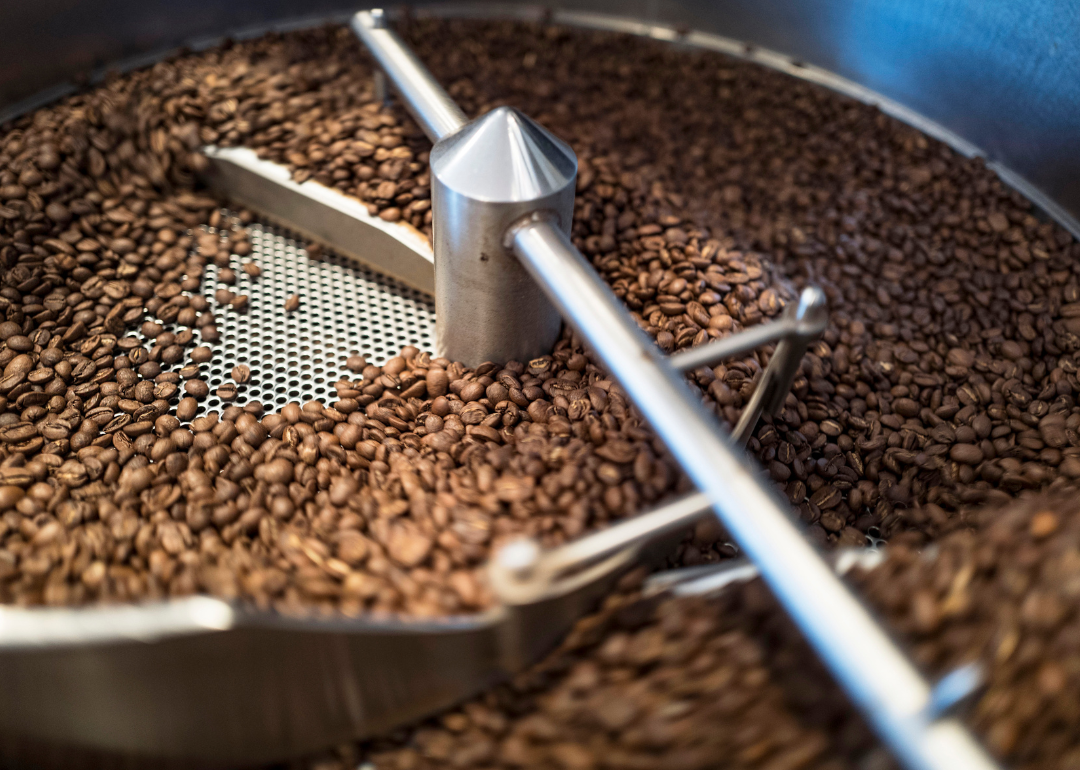 Canva
A much-loved micro-roaster tucked away in West Virginia, Koin Coffee has beans from Colombia, Costa Rica, and Peru. They are also known to collaborate with other roasters in the area, bringing decades of expertise into each batch.
Wisconsin: Valentine Coffee Roasters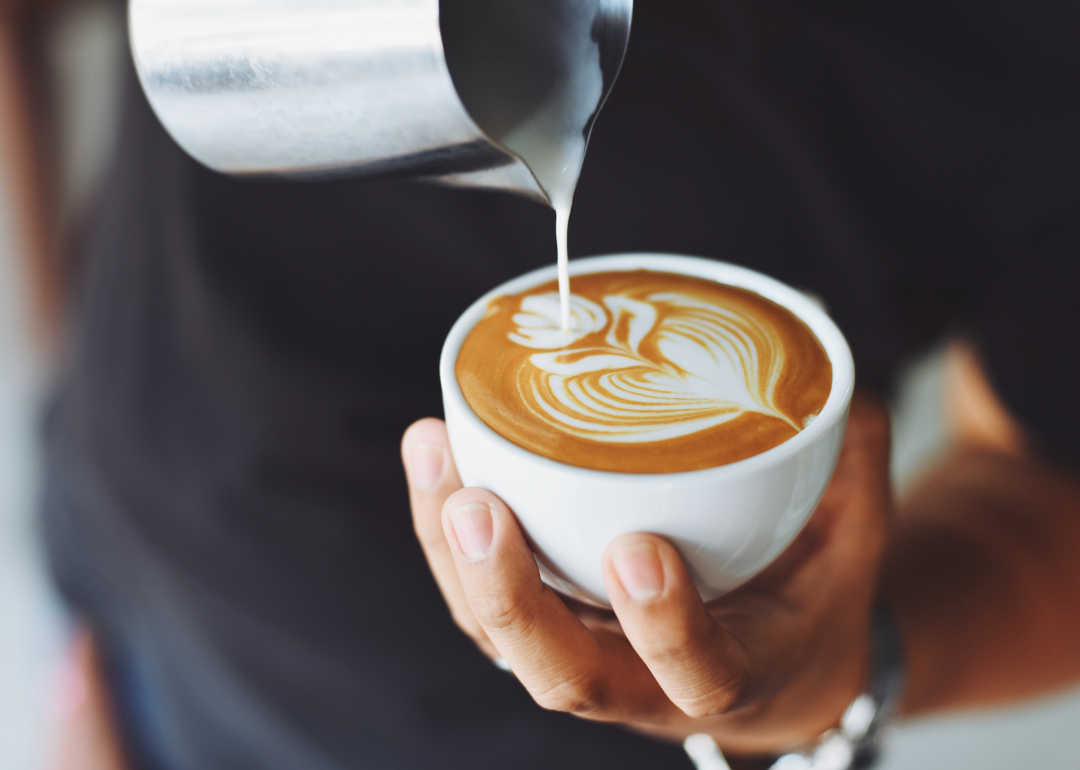 Canva
Valentine Coffee has long been committed to exclusively roasting beans that are traceable and ethically sourced. Roasted in small batches, each blend is a testament to the integrity of the relationship between the farmers and the cafe.
Wyoming: Snake River Roasting Company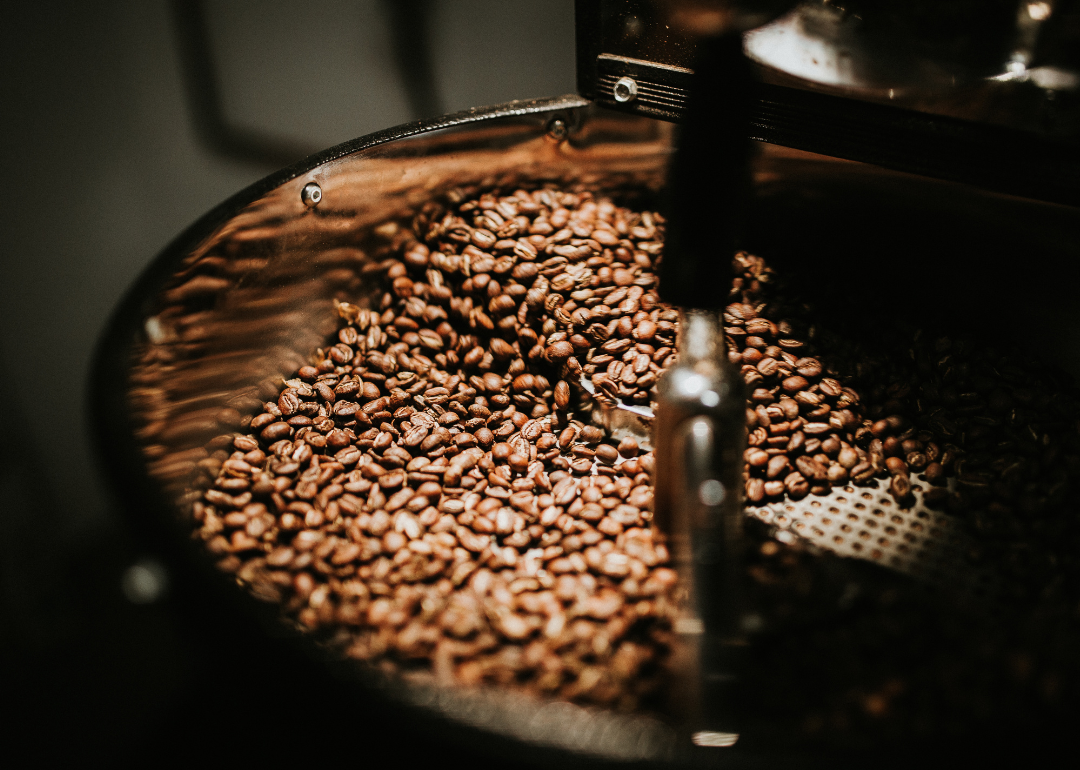 Canva
Founded in 2007, Snake River Roasting is celebrated for its premium coffee blend and small-batch roasting. Bestsellers have notes of lemon scones and blueberries (Wyoming Blend) or s'mores and dark chocolate (Kirby's First Tram). Their award-winning coffees are organic and some of the finest craft roasts in the U.S.
This story originally appeared on Homegrounds and was produced and distributed in partnership with Stacker Studio.