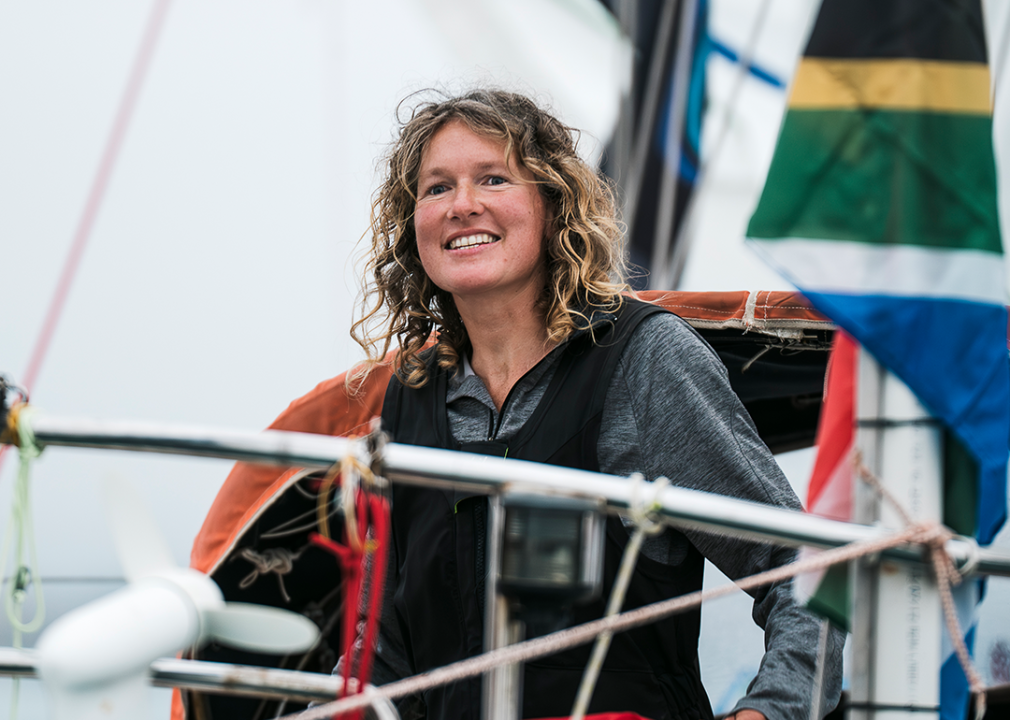 Olivier Blanchet/ALeA // Getty Images
As Kirsten Neuschäfer sailed toward Les Sables-d'Olonne, France, on April 27, 2023, she knew her nearly eight-month journey was almost complete. What she didn't know was that she was about to become the first woman to win the Golden Globe Race.
"I didn't know until I was about 7 miles from [Les Sables-d'Olonne] that I had won," the South African skipper said of the moment she realized she was in first place. "I only found out as the first boats approached to greet me. It was an amazing feeling because up until that point I still thought there was a good chance Abhilash was ahead of me."
For GetMyBoat, we spoke with the trailblazing skipper about her record-breaking feat and the challenges she overcame to win an arduous, single-handed sailing race around the globe.
A grueling, retro race
On Sept. 4, 2022, Neuschäfer and 15 other entrants, all of whom were male, set sail from Les Sables-d'Olonne with the goal of circumnavigating the globe nonstop via the five Great Capes (South Cape in New Zealand, South East Cape in Australia, Cape Leeuwin in Australia, Cape Agulhas in South Africa, and Cape Horn in Chile) before returning to the coastal town.
The competition is inspired by The Sunday Times' 1968-69 Golden Globe Race, which saw Robin Knox-Johnston become the first person to sail around the world nonstop without a crew. "It's the loneliest race in any sport: six to 10 months alone, with no electronics or communication with the outside world—just you, your boat, and the ocean," organizer Don McIntyre told Robb Report. McIntyre revived the race in 2018 on the 50th anniversary of that first Golden Globe Race.
This monthslong journey is meant to give no quarter. The 2018 and 2022 races required entrants to sail alone on yachts that were designed before 1988 without electronic equipment or autopilot. Sailors handwrote logs, determined weather events on their own, and talked to loved ones through long-range, high-frequency radios. For entertainment, cassette tapes, 35-mm cameras, and Super 8 film cameras were the only options.
"I read books and listened to cassette after cassette of classical music. It was wonderful," Tapio Lehtinen from Finland told Robb Report, recalling his 2018 voyage. This type of challenge, however, turned out to be too much for many, and by the time Neuschäfer crossed the finish line, only two other competitors were on pace to finish the race without making a stop. The 41-year-old's achievement is impressive by any means, and it's also historic as she's the first woman to win the around-the-world race.
Only men on the high seas?
Sailing is notorious for being a male-dominated sport, and Neuschäfer knows that all too well. Before registering for the Golden Globe, she worked for years as a delivery skipper for a catamaran company, where she never saw another female employee. She also worked for a 30-year-old charter company, and she was its only female employee—ever.
"I always felt I had to work harder, I had to go the extra mile to prove that I could do the job just as well as everyone else," Neuschäfer confessed, despite working as a professional skipper since 2006 and sailing for the first time when she was 8 years old.
When she signed up for the 2022 Golden Globe Race, Neuschäfer didn't want to feel like she was in a separate category because of her gender, or that she'd need extra help. "I just wanted to be there as an equal," the experienced sailor explained, and thankfully, that's how she felt. "I didn't want to beat the guys because they're guys and I wanted to prove a point … I wanted people to look at my achievement as a sailor, rather than as [if] it's special because I'm a woman."
That being said, Neuschäfer would be happy if her win inspired others to pursue their dreams despite a gender gap. "If it does motivate other women to do stuff they potentially wouldn't do because they feel like it's a man's domain, then that's all the better," she noted.
Blessings in disguise at Prince Edward Island
Feeling like she always had to work harder ended up benefiting Neuschäfer when it came to race preparation. She bought her boat, a 36-foot Cape George Cutter named Minnehaha, in Newfoundland and sailed it to Prince Edward Island. Neuschäfer's ship of choice was named after Hiawatha's beloved in Henry Wadsworth Longfellow's 1855 poem, "The Song of Hiawatha." In the poem, Minnehaha is said to mean "laughing water," but more accurately translates to "waterfall" in the Dakota Sioux language.
Because of the COVID-19 pandemic—and freezing winter weather conditions—Neuschäfer was stuck in the Canadian province, but what seemed like a setback ended up being a blessing in disguise.
When the locals saw a boat sailing into the bay in the dead of winter during a pandemic, they immediately jumped in to help. One of those Prince Edward Islanders was a machinist welder named Eddie Arsenault who became so captivated by the project that he helped Neuschäfer improve her boat, which first launched in 1988, to race shape. In his private shed, they rebuilt the deck, replaced the standing rigging, switched out the wooden mast for an aluminum one, and made more repairs to strengthen the yacht.
"Without his help, there's no way I could have had the quality of boat that I have today and that I had for the race because he's just amazing with his hands," Neuschäfer gushed. "He was able to custom-make a lot of parts from recuperated material that if I'd paid anyone else to do, it would have financially crippled me."
Once it was refitted, the skipper prepared for the 30,000-mile race by sailing Minnehaha 14,000 miles on her own: first trekking from Canada to South Africa, then from South Africa to Europe. When race day arrived, Neuschäfer felt such a connection to her boat and belief in her sailing that she was confident she'd win despite never competing in a race before.
Just me and Minnehaha
Spending 235 days, 5 hours, and 44 minutes at sea by yourself also takes a lot of mental strength. Thankfully, Neuschäfer is comfortable in isolation. Sure, when she got frustrated she wished for someone to encourage her, and she missed her friends and family, but she was able to embrace her time at sea and read 80 books—something she'd never be able to accomplish in eight months on land. She also got to experience unforgettable moments, like humpback whales swimming right next to her boat as she sailed past Cape Town. She also had her share of dolphin and seal sightings. "It was an amazing wildlife experience," Neuschäfer said.
Neuschäfer also technically didn't go the whole race without another person on her boat. When she received emergency communication that competitor Lehtinen's boat sank in the southern Indian Ocean, she diverted from her route without hesitation to save him.
"Who would want to win the race if someone else's life is in peril?" she said. "It would mean absolutely nothing to sit there with your trophy, but you let someone else go down."
By the time she reached the Finnish skipper, he'd been stranded for 24 hours in a life raft. They drank rum together while awaiting the rescue ship, toasting the fact that Lehtinen was safely aboard Minnehaha.
Prince Edward Island, the rescue, and the win were just a few instances of the luck Minnehaha awarded her captain, and Neuschäfer often found herself speaking to the boat during her once-in-a-lifetime journey, taking out frustration when things weren't going according to plan and expressing praise when it was flying. For eight months, the boat was her only companion, and as she approached the finish line Neuschäfer felt herself mourning the end of her adventure.
That's not to say she wasn't also eager to see loved ones and eat fresh food again. In fact, the first foods Neuschäfer ate when she returned to land were blueberries and oranges to up her vitamin C. She paired the fruit with some well-deserved Ben & Jerry's cookie dough ice cream—she did just win one of the world's most challenging races, after all.
Story editing by Carren Jao. Copy editing by Tim Bruns.