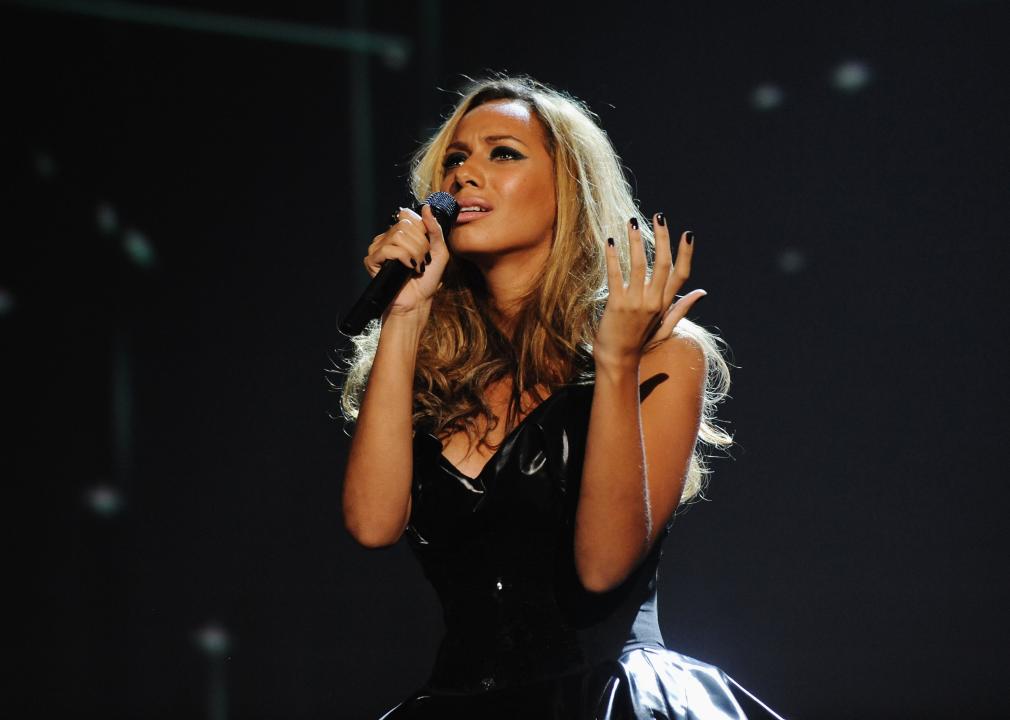 Dave M. Benett // Getty Images
There were a lot of repeat-worthy hits throughout the 2000s, but many of the artists who made them only reached the charts once. Some during that decade spent years working in the studio and selling albums long before their records ever played on MTV or appeared on pop radio stations. Others were fortunate enough to find success beyond their most popular song.
Some songs are even larger than the artist or band who brought them to life, becoming an inescapable earworm even as the musician responsible for the hit hardly rings a bell. Listeners are more likely to know the next line after "'Cause I'm just a teenage dirtbag, baby" from the adolescent anthem "Teenage Dirtbag" than the name of the band who sings it. Visit almost any karaoke bar in America, and chances are you'll hear someone yodeling every word to the chorus of "I Believe in a Thing Called Love" performed by, err, whatstheirname.
That's the power of a one-hit wonder.
Rewinding it to the 2000s, Stacker compiled 20 of the best one-hit wonders from the decade, citing Billboard chart data and music industry news from the time. As you go through the list, don't be surprised if a few of these tracks have climbed the charts again thanks to a new generation of Coachellagoers.
'Teenage Dirtbag' by Wheatus (2000)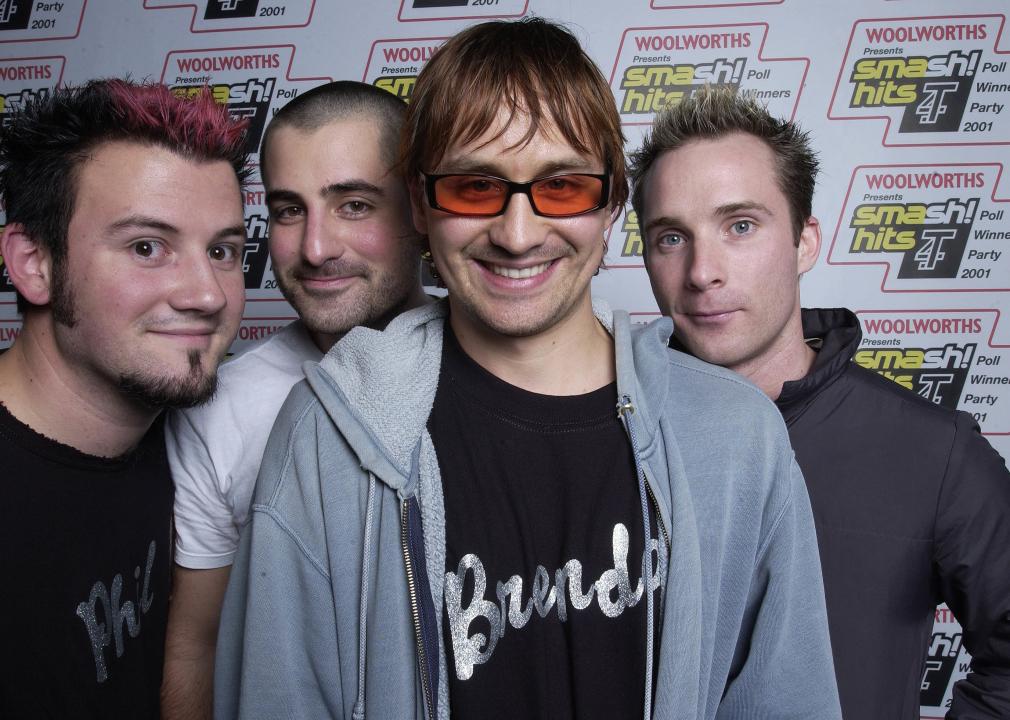 John Rogers // Getty Images
Released on Wheatus' self-titled album, "Teenage Dirtbag" was an unlikely hit, having been recorded in the basement of frontman Brendan Brown's mother. The song rose to popularity at the beginning of the new millennium partly because it appeared in the 2000 film "Loser," starring Mena Suvari and Jason Biggs, who both appear in the song's music video.
"Teenage Dirtbag" is one of the many songs of years past that has made a resurgence due to TikTok, having been used as the backdrop to videos of users showing their younger, teenage "dirtbag" selves versus now.
'Who Let the Dogs Out' by Baha Men (2000)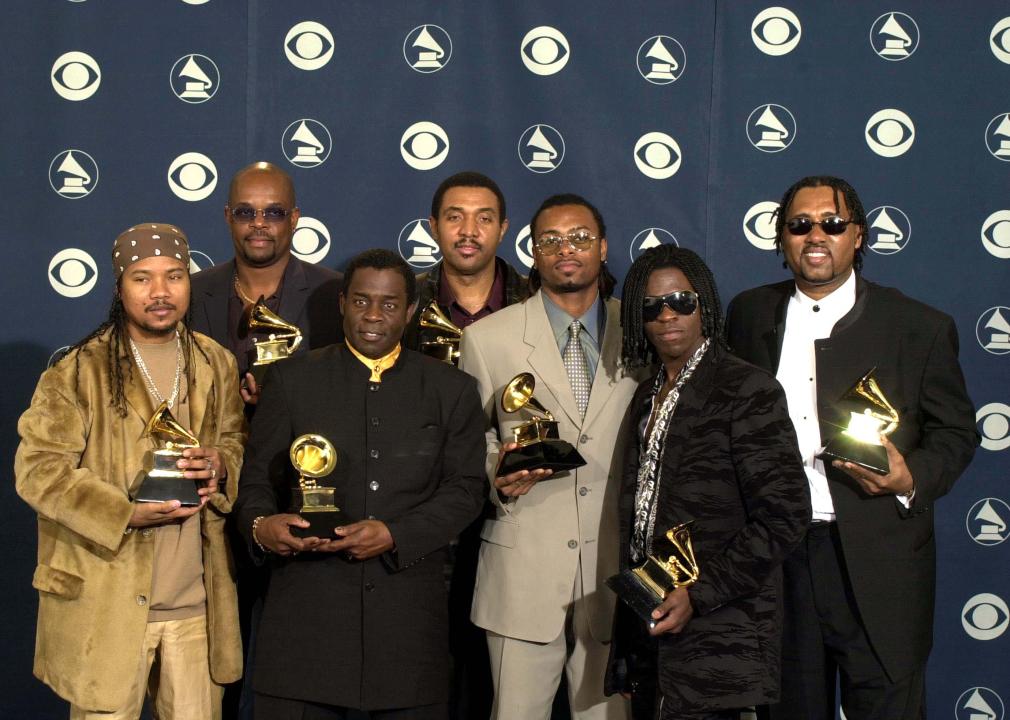 David McNew // Getty Images
Baha Men's single rose to popularity when it was featured in Nickelodeon's "Rugrats in Paris: The Movie." Funnily, the song—a cover of Anslem Douglas' "Doggie"—isn't actually about animals at all, nor was it written for the cartoon like many initially thought. Douglas shared that it was actually meant to be a feminist anthem that highlighted the way men catcalled women. While the song reached #40 on the Billboard Hot 100 in 2000, Rolling Stone dubbed it one of the 20 most annoying songs ever made.
'Back Here' by BBmak (2000)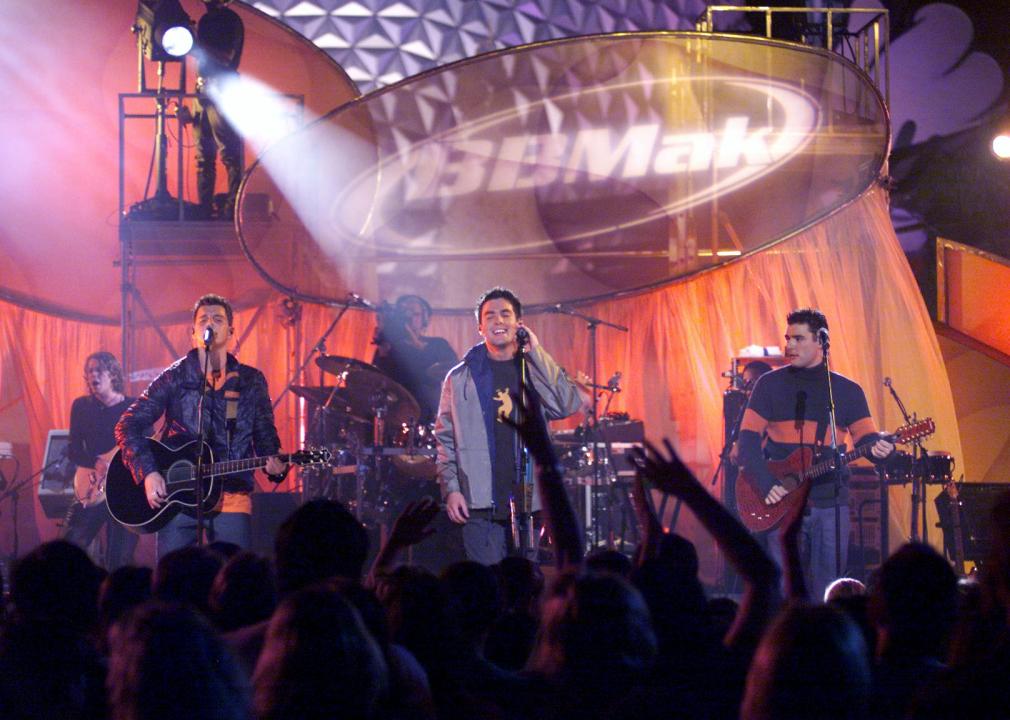 Scott Gries // Getty Images
Regarded as one of the greatest boy band songs of all time by Rolling Stone, BBmak released this single in the U.K. in 1999. The record, which appears on their 2000 debut album, "Sooner or Later," didn't find big success until it reached U.S. audiences that same year. Despite the catchy love-laden lyrics, BBmak hasn't had much success breaking the Top 40 since then.
'Hit 'Em Up Style (Oops!)' by Blu Cantrell (2001)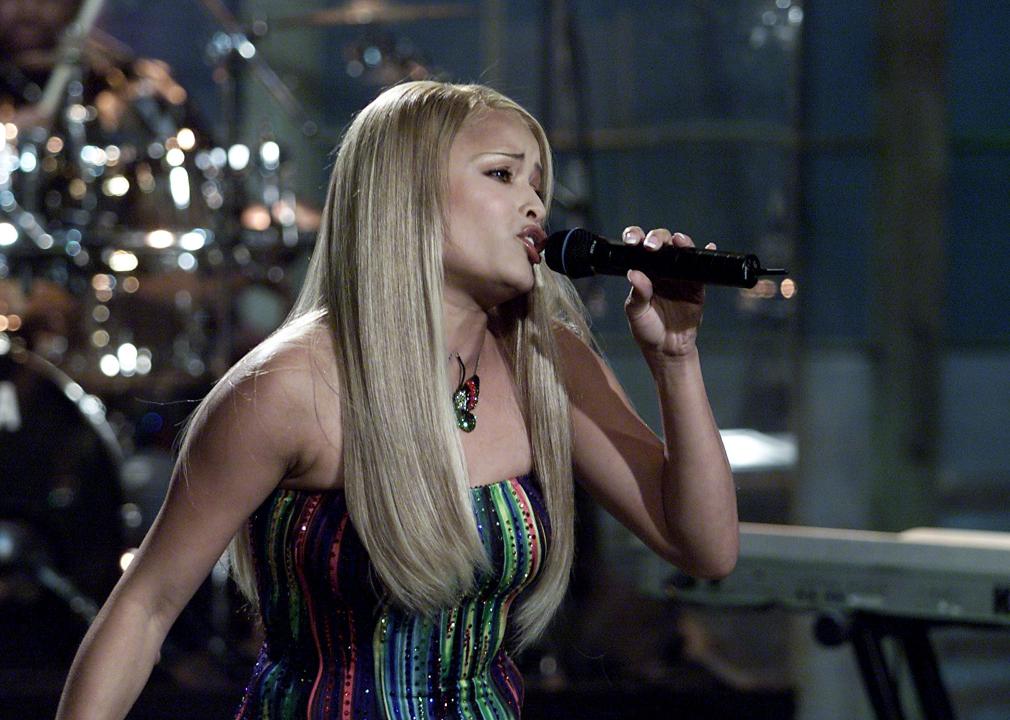 Kevin Winter // Getty Images
Blu Cantrell is known for encouraging other women to run up their cheating partners' credit cards with this R&B song with a swing feel. The track was so popular it reached #2 on the Billboard Hot 100 in 2001. She released the less-notable song "Breathe" a few years later, but it peaked at #70 on the Billboard Hot 100. Despite her lone hit, people still crank up the volume when "Hit 'Em Up Style (Oops!)" plays on the radio — and it still does, even 20 years later.
'The Middle' by Jimmy Eat World (2001)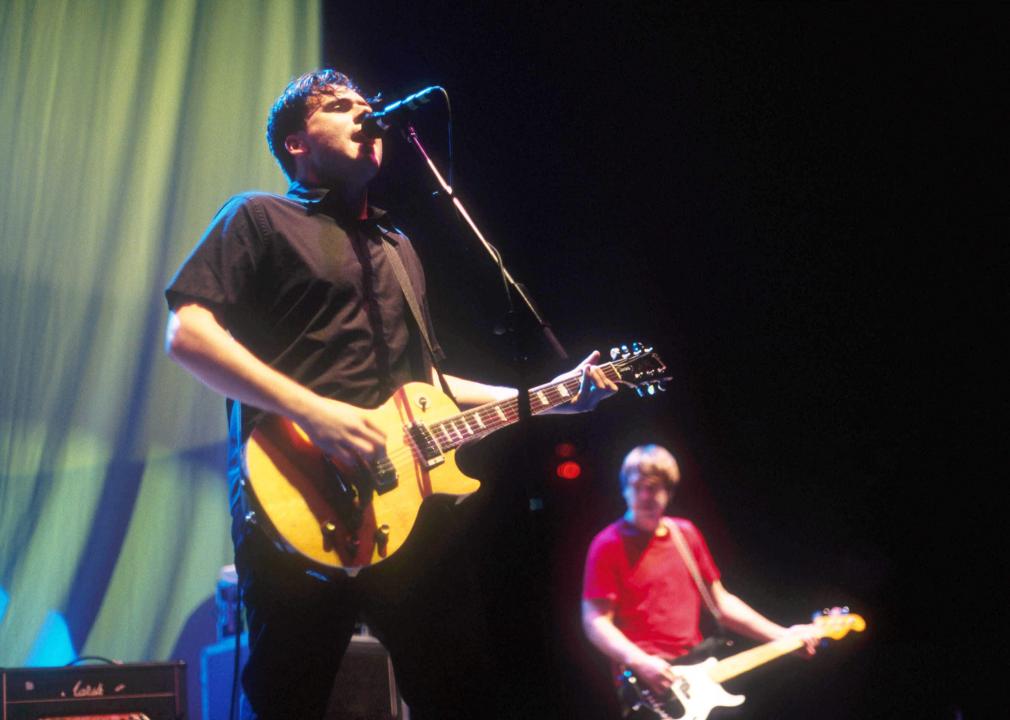 Martyn Goodacre // Getty Images
Jimmy Eat World's "The Middle" was their only single to break the Top 40 on the Billboard Hot 100. The band was in a tough position, though: They were dropped from Capitol Records, and the band was left to fund their fourth studio album. When Jimmy Eat World finally signed to DreamWorks, it had to succeed, all thanks to "The Middle."
'A Thousand Miles' by Vanessa Carlton (2002)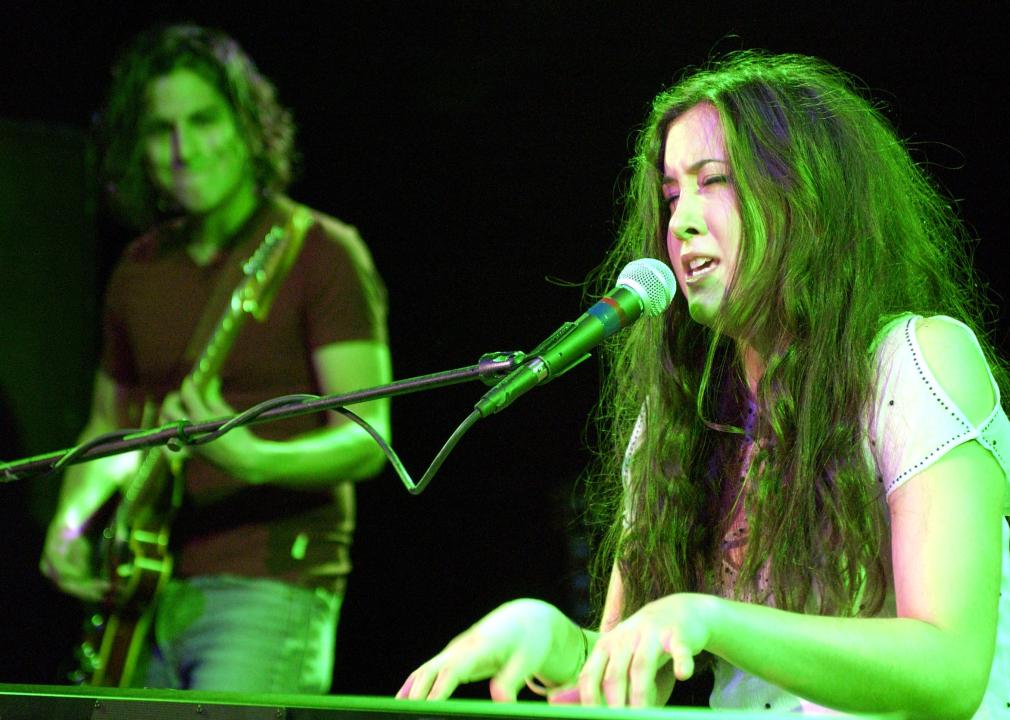 L. Cohen // Getty Images
Vanessa Carlton's piano playing across town in her "A Thousand Miles" music video would garner her decadeslong success. You can almost guarantee the sound of the first few chords alone will have half the room singing along to its narrative opening verse. A big part of its enduring popularity is thanks to the 2004 movie "White Chicks," wherein actor Terry Crews turns a memorable performance singing the song.
Carlton has continued to make and release music since then, and though some have garnered attention, like "White Houses" and "Big Yellow Taxi," no single has quite stuck around like "A Thousand Miles."
'Headstrong' by Trapt (2002)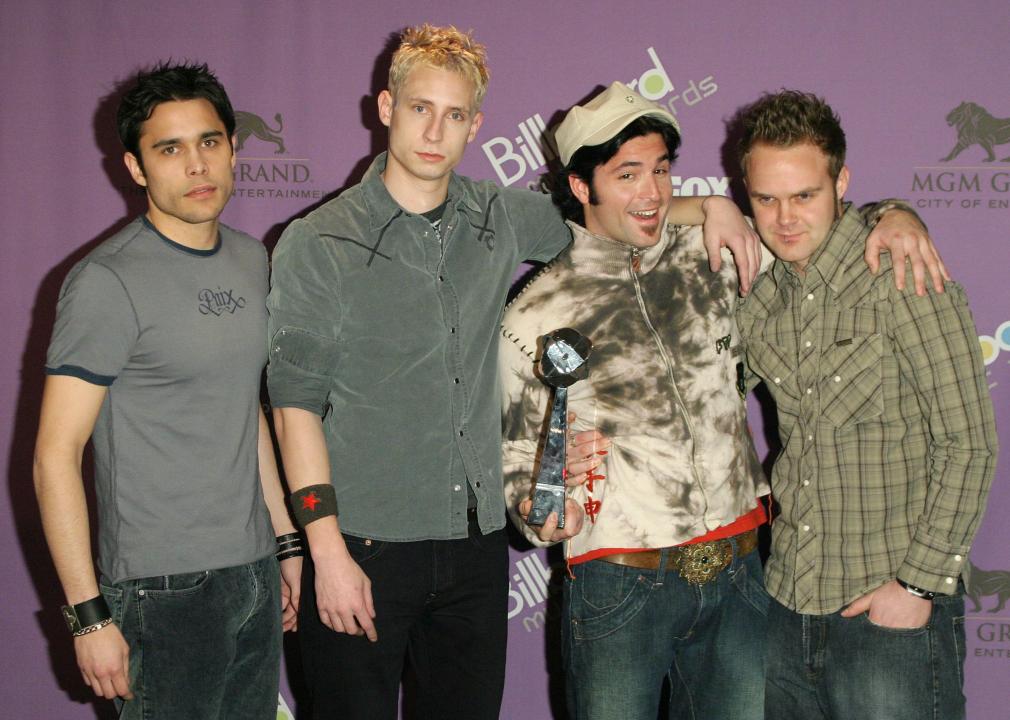 J. Merritt // Getty Images
It seemed like it was a requirement for any intense movie scene in the early 2000s to include Trapt's "Headstrong." The band's debut single reached #16 on the Billboard Hot 100 in 2003 and #1 on the Mainstream Rock and Modern Rock charts. It also won two Billboard Music Awards for Best Rock Track and Best Modern Rock Track that same year.
'Stacy's Mom' by Fountains of Wayne (2003)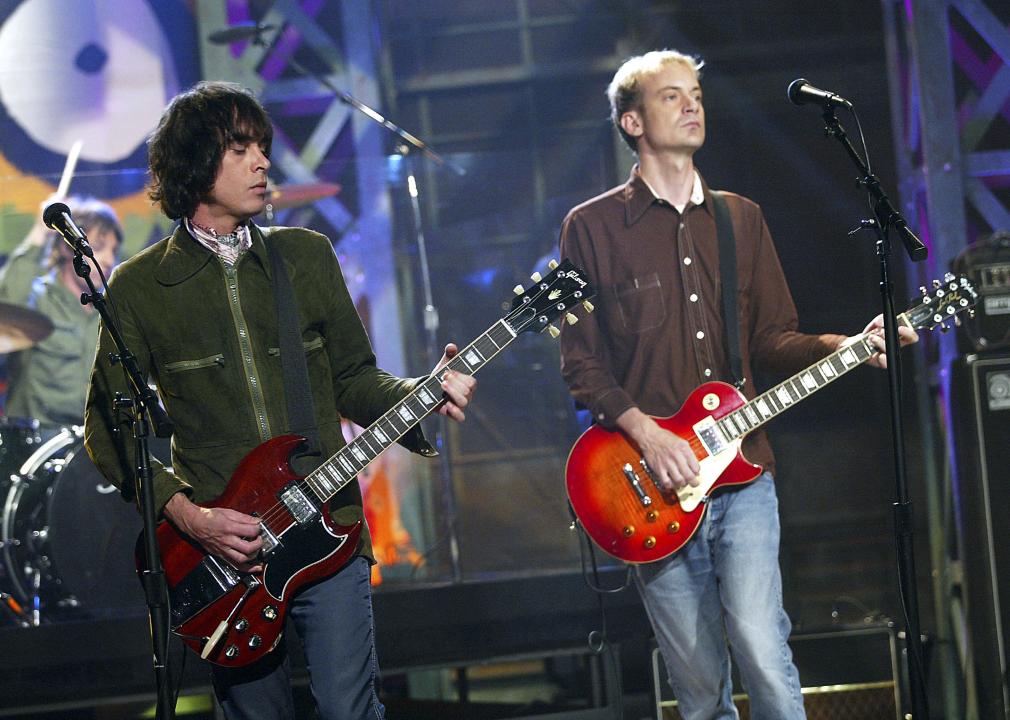 Kevin Winter // Getty Images
"Stacy's Mom" has had a generational impact on listeners—and apparently soothed the experience of having the hots for a friend's parent (or grandparent in Fountains of Wayne's case). The band, formed in 1995, released their first album the following year, though it didn't make a major impression with Billboard until "Stacy's Mom" landed in 2003. Despite recording and touring for another decade, it's the band's sole Billboard Hot 100 hit, reaching #21.
Frontman and "Stacy's Mom" writer Adam Schlesinger died from COVID-19 complications in 2020. Even so, with continued play in commercials and social media —the song has withstood the test of time.
'I Believe in a Thing Called Love' by The Darkness (2003)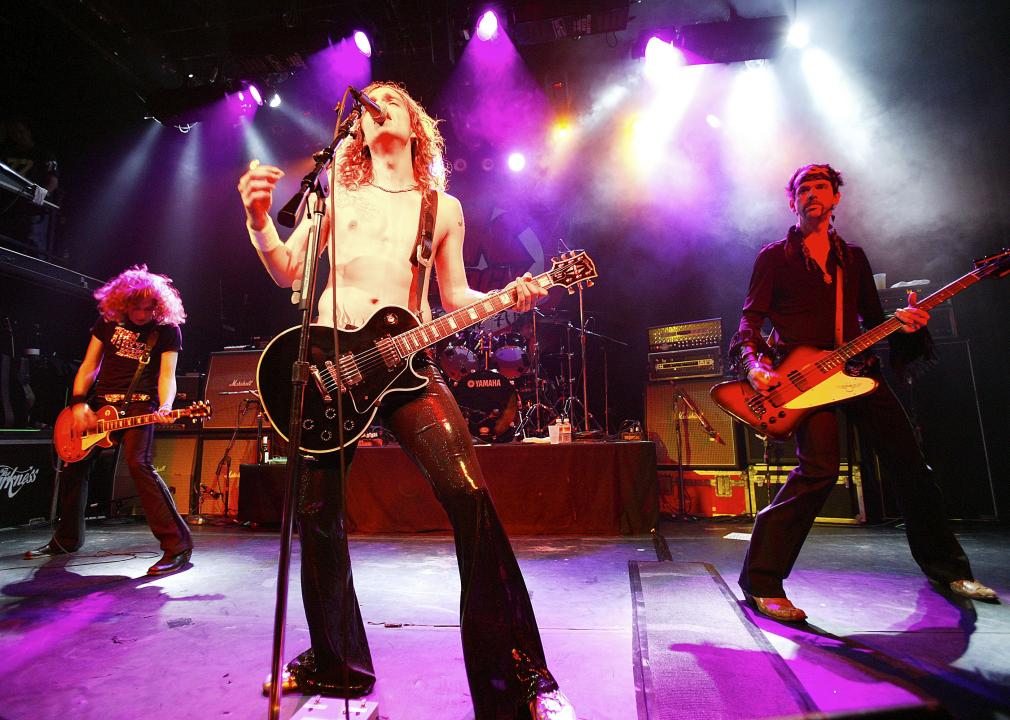 Scott Gries // Getty Images
"I Believe in a Thing Called Love" screams '80s even though it dropped in 2003. The third single from their debut album, "I Believe in a Thing Called Love" reached #2 on the U.K. singles chart and was #276 on Pitchfork's Top 500 Tracks of the 2000s list.
Known for its high notes (which lead singer Justin Hawkins belted naked in the studio), the song has become a staple at karaoke bars.
'Collide' by Howie Day (2004)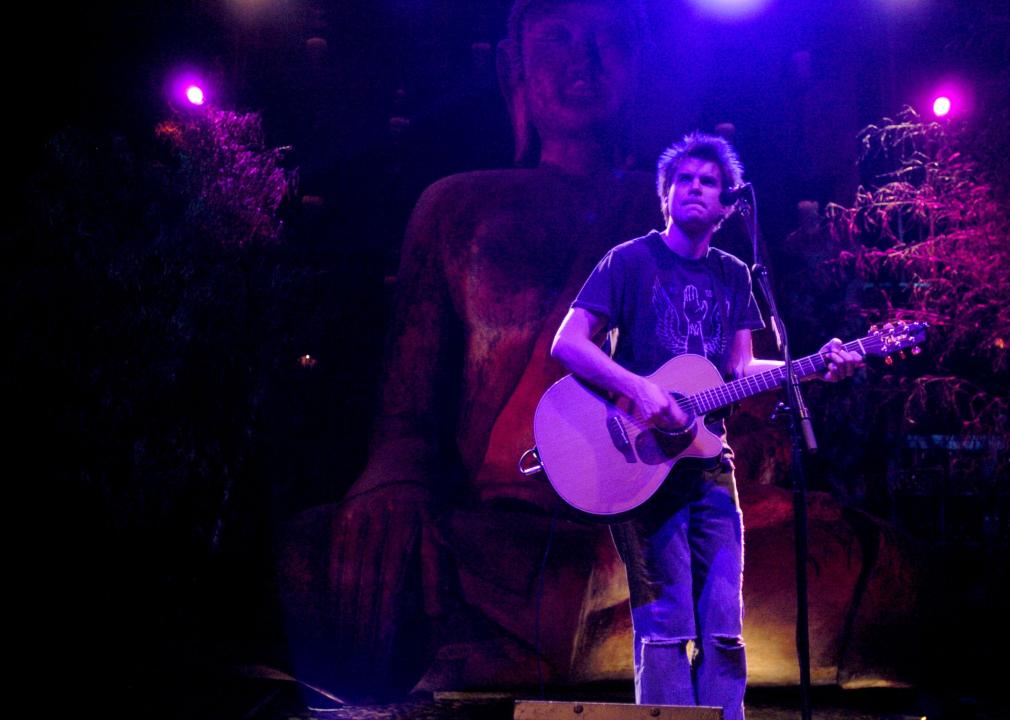 Dimitrios Kambouris // Getty Images
"Collide" is actually a single from singer Howie Day's second album, "Stop All the World Now." The emotional ballad discusses a relationship and its common challenges, with the music video showing vignettes of Day and his girlfriend. The song peaked at #20 on the Billboard Hot 100 and topped the charts in Canada, Australia, and New Zealand.
'1985' by Bowling for Soup (2004)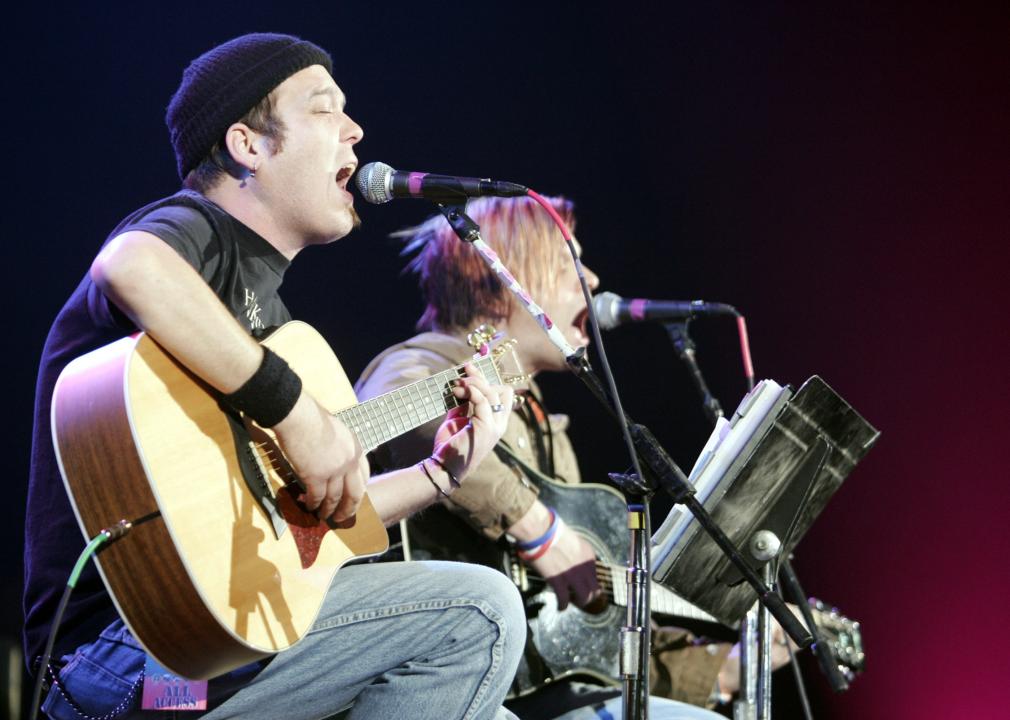 Michael Hickey // Getty Images
"1985" is another hit many know the words to, whether intended or not. The song focuses on nostalgia with mentions of MTV and Blondie and cites trends likely seen as Jurassic to a Gen Z population but hit a nerve with older generations. Peaking at #23, the Top 40 hit sold over a million downloads.
'Bad Day' by Daniel Powter (2005)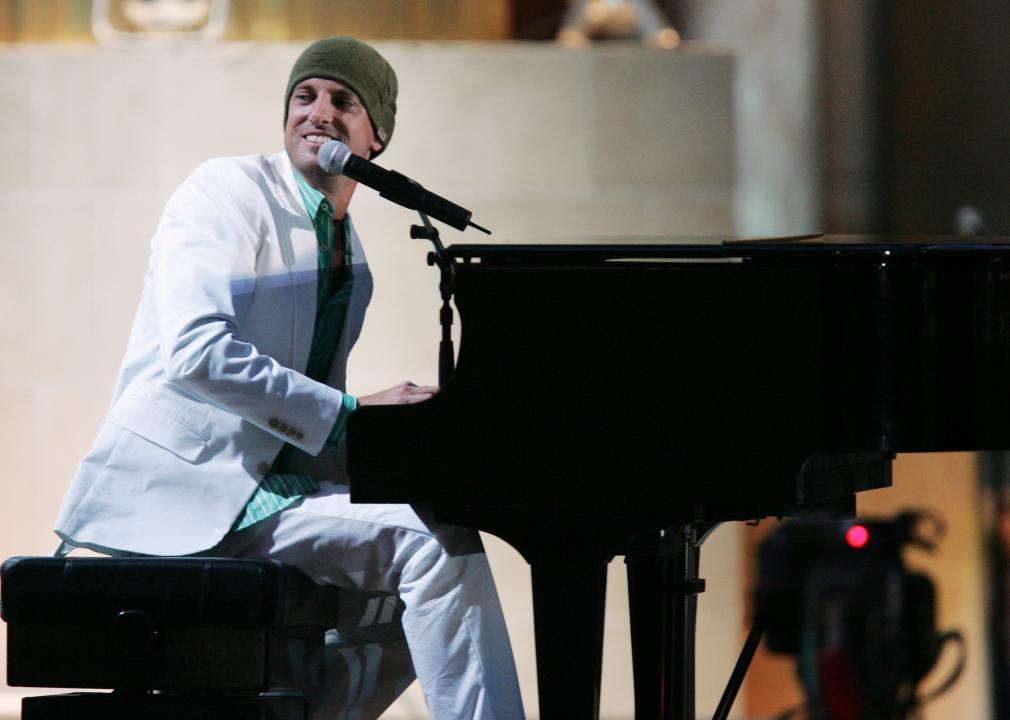 Toni Anne Barson Archive // Getty Images
During the fifth season of "American Idol," Daniel Powter's "Bad Day" was the song that played in the background when a contestant was voted off the competition show. This contributed to its success, holding the #1 spot on the Billboard Hot 100 for five weeks. Although Powter has continued making music, releasing an album with Warner Music in 2018, "Bad Day" remains his most memorable hit.
'Laffy Taffy' by D4L (2005)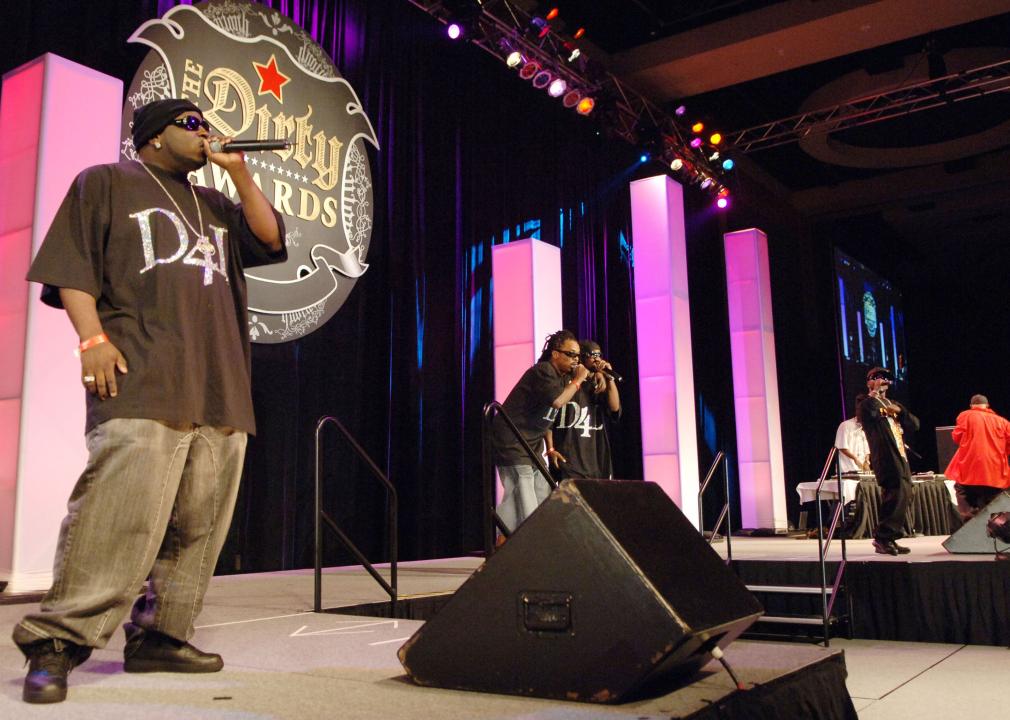 Rick Diamond // Getty Images
Hailing from Atlanta, D4L contributed to one of the songs that serves as a marker for a generation. "Laffy Taffy"—an infectious rap track that is less about candy than it is about rump shaking—hit #1 on the Billboard Hot 100 chart after its release in 2005. It also hit strides in the U.K., peaking at #26. According to the 2007 Guinness Book of World Records, the song also became the most downloaded in music history.
"Down for Life," the album on which "Laffy Taffy" appears, became the group's only release after D4L's breakup in 2006. Member Shawty Lo died in a fatal car crash a decade later.
'You're Beautiful' by James Blunt (2005)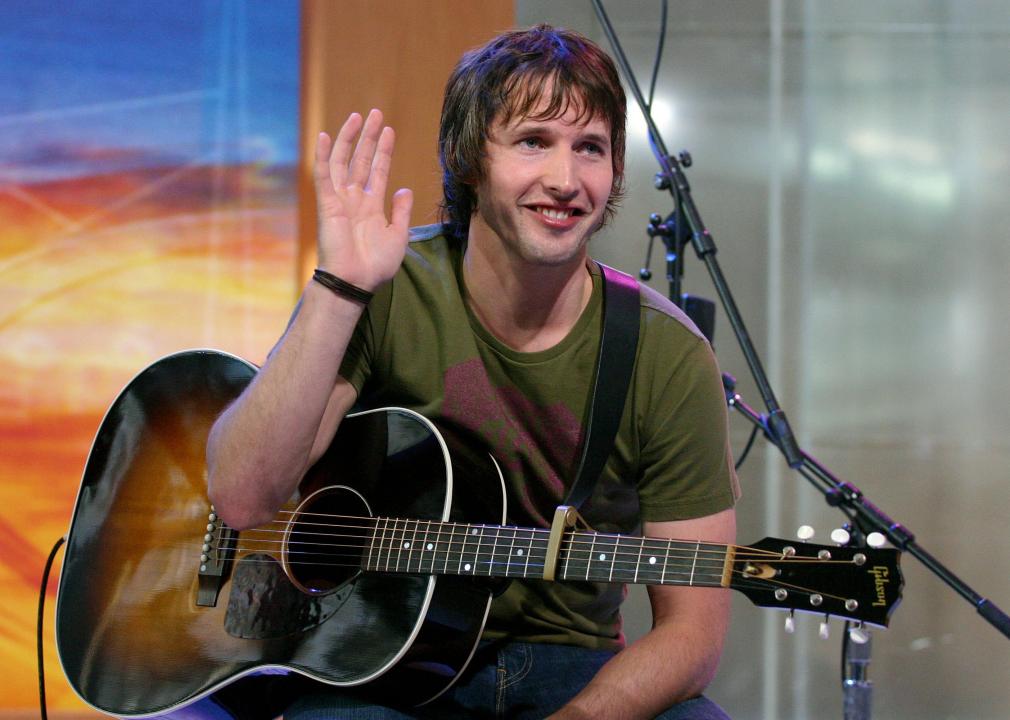 John Stanton // Getty Images
Three years after leaving the British Army, James Blunt released the 2005 hit that radio stations couldn't get enough of. While the title may hint at a happy romance, many who fell in love with the song tend to miss its darker undertones. "You're Beautiful" reached #1 on the Billboard Hot 100 and cemented the Blunt's place in U.K. music history by turning "Back to Bedlam" into the U.K.'s bestselling album of the 2000s.
'Chicken Noodle Soup' by Young B and Webstar feat. The Voice of Harlem (2006)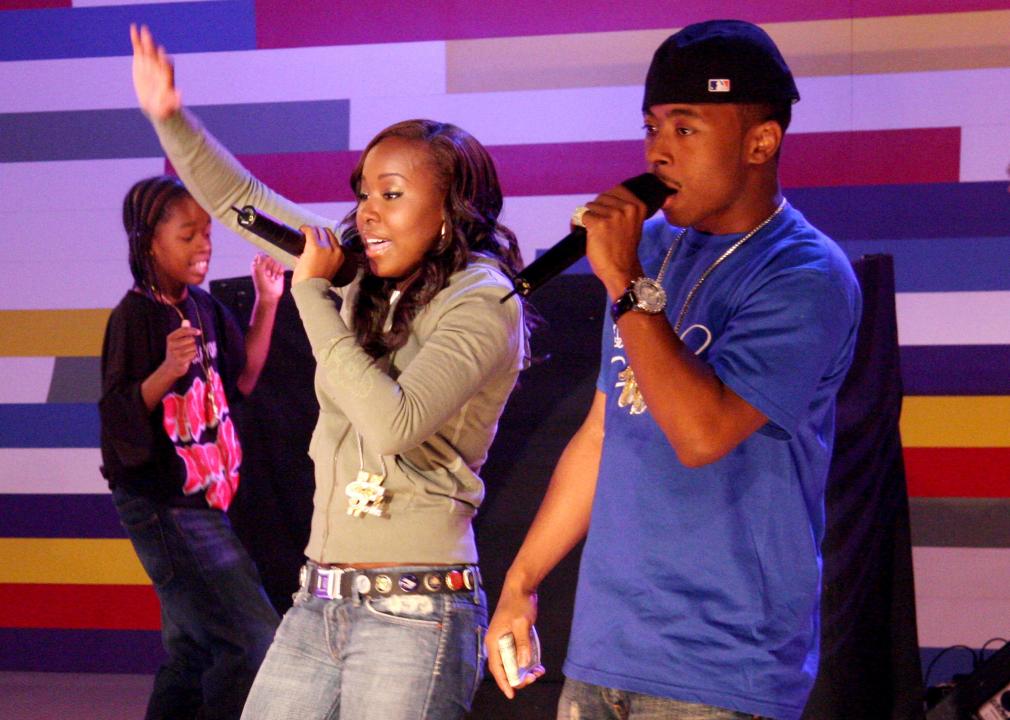 Johnny Nunez // Getty Images
Young B, Webstar, and AG (aka The Voice of Harlem) dropped this catchy rap track in 2006 with an accompanying dance that was just as unforgettable. "Chicken Noodle Soup" has made a resurgence in recent years, with artists like Becky G and BTS' J-Hope collaborating on a K-pop remake of the record in 2019. Young B still performs, and Webstar has released at least three albums, but none of their following singles have topped the craze of "Chicken Noodle Soup."
'Crazy' by Gnarls Barkley (2006)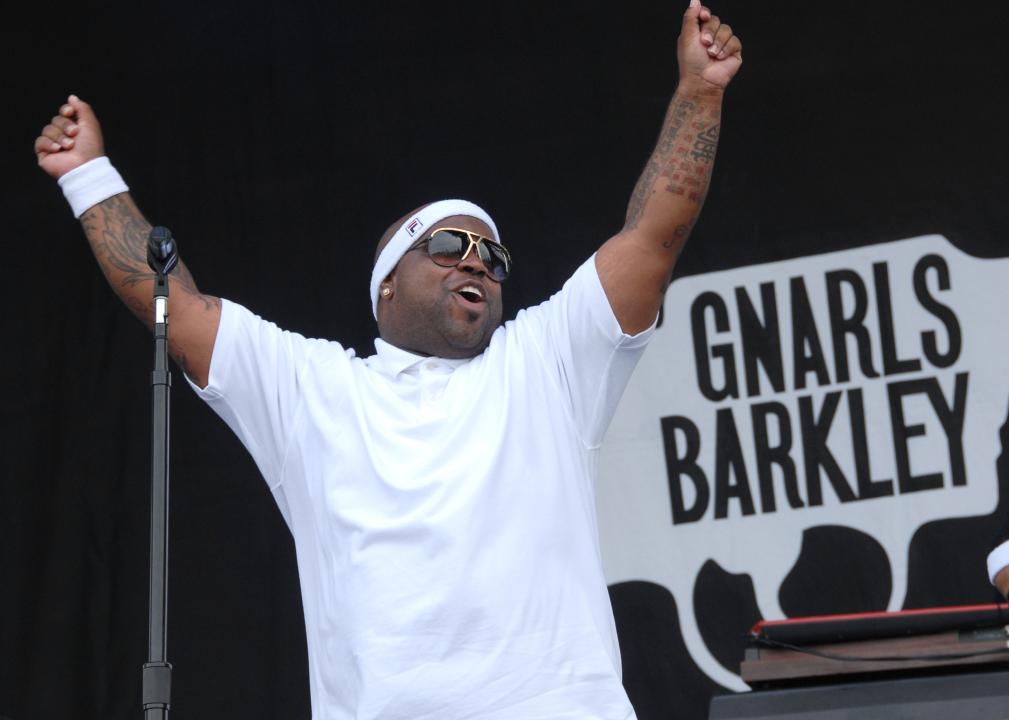 KMazur // Getty Images
"Crazy" was a smash hit in the mid-'00s, appearing on TV and in movies. But its rise in the U.K. came thanks to internet culture. The song was used in a radio show ad, which sparked over 31,000 downloads and earned it chart-topper status. "Crazy" also won a Grammy for Best Urban/Alternative Performance and was nominated for Record of the Year.
'Pop, Lock & Drop It' by Huey (2006)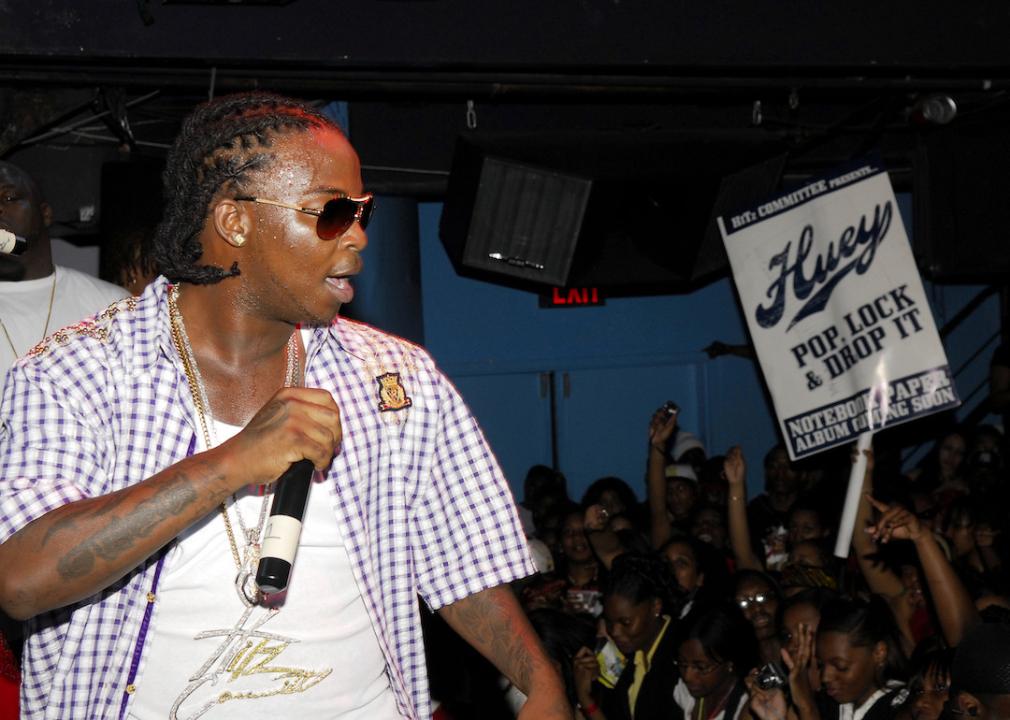 Chris Graythen // Getty Images
Rapper Huey released "Pop, Lock & Drop It" in 2006 as the first single from his album "Notebook Paper." The song reached #6 on the Billboard Hot 100 and peaked at #2 on Billboard's Hot Rap Songs chart. The dance record was Huey's only Billboard hit, though he did release a follow-up to "Notebook Paper" with 2010's "Redemption." He was killed in a shooting outside his family's home in 2020, but the song has earned him a place among St. Louis rappers like Nelly and Chingy.
'Bleeding Love' by Leona Lewis (2007)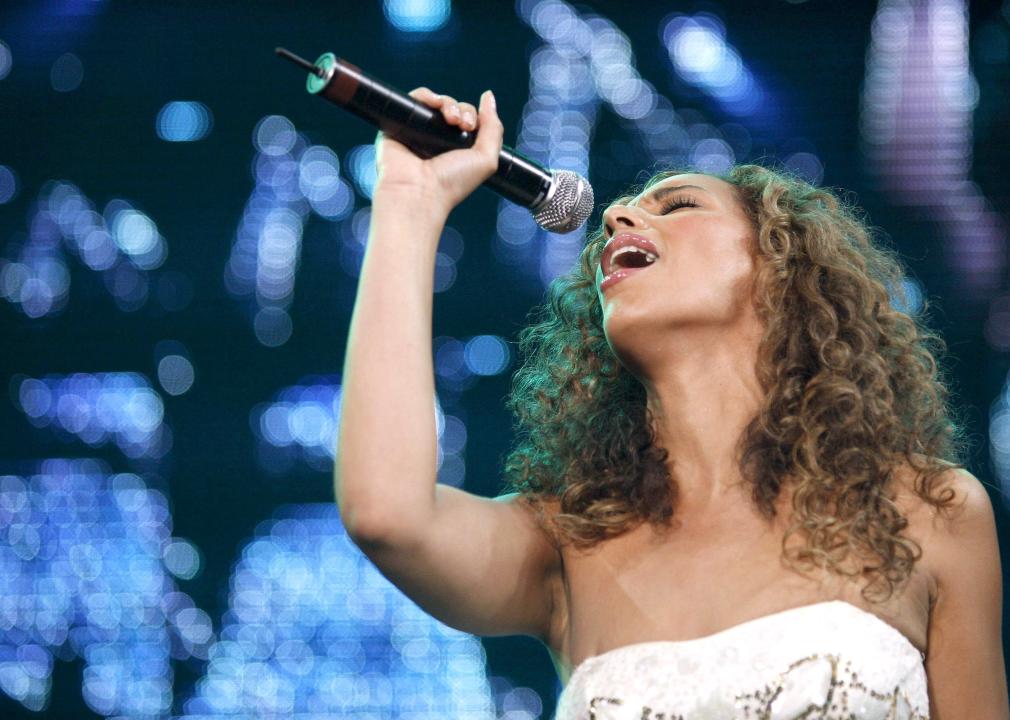 Gary Clark // Getty Images
Leona Lewis won "The X-Factor" in 2006, and her mentorship with Simon Cowell helped get her in front of producer and OneRepublic frontman Ryan Tedder. This acquaintance led her to record a chart-topping rendition of a song called "Bleeding Love." Lewis' debut single reached #1 on the Billboard Hot 100 in 2008 and became a hit in 35 countries.
Although "Bleeding Love" remains on people's playlists and Lewis has continued working on her craft, none of her follow-up singles have had the international impact of her debut. The closest was a pop ballad, "Better in Time," which reached #11 on the Billboard Hot 100 in 2008.
'Whine Up' by Kat DeLuna (2007)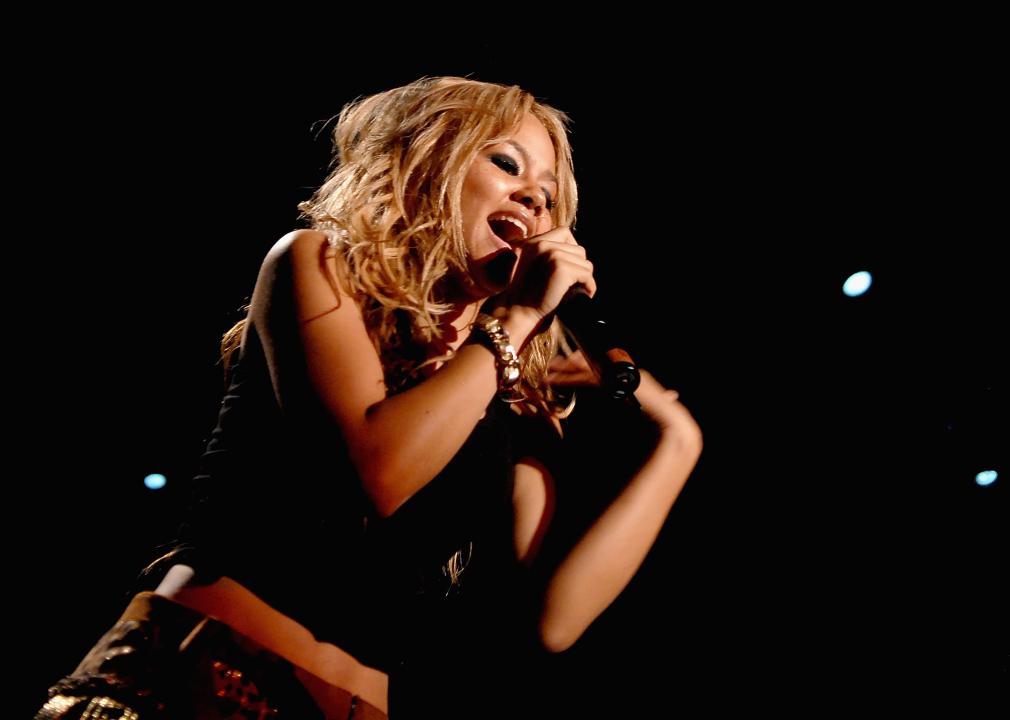 Jamie McCarthy // Getty Images
Released in 2007, Kat DeLuna's "Whine Up" was a popular upbeat club hit that followed the hot dancehall trend of the time. The song reached #1 on the Billboard Dance Club Songs chart and was a mainstay on MTV's "TRL." Coupled with becoming certified gold in 2008, the song bagged Latin Dance Club Play Track of the Year at Billboard's Latin Music Awards. DeLuna has continued making music since her wildfire of a debut, most recently releasing 2023's "Hottie with a Body," but none have yet to repeat the massive popularity of "Whine Up."
'Bulletproof' by La Roux (2009)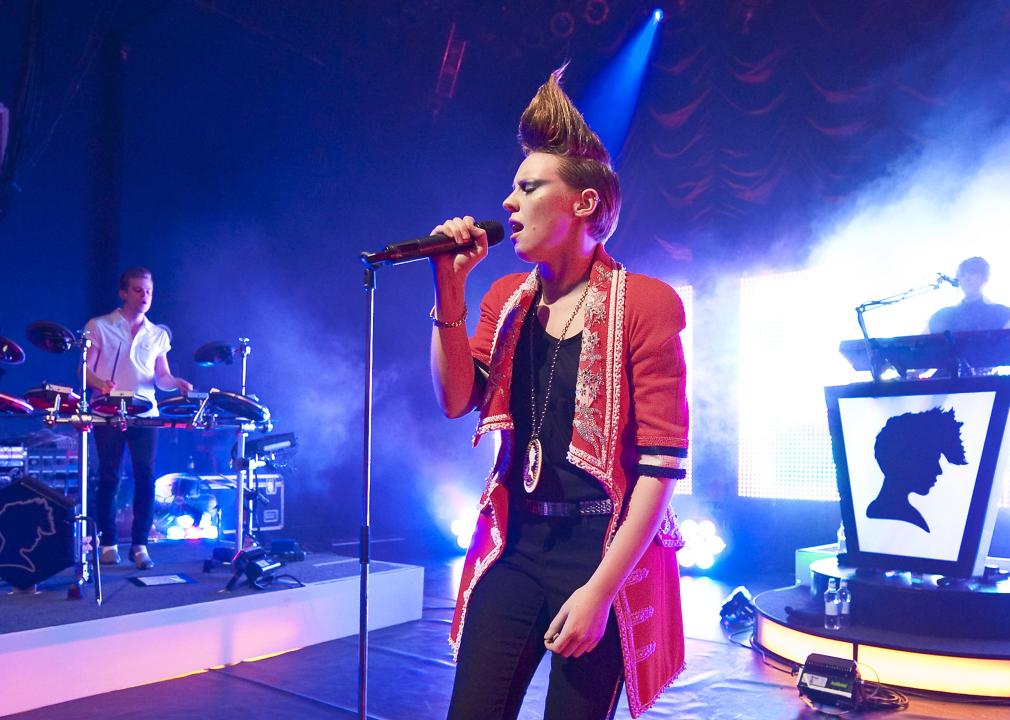 Neil Lupin // Getty Images
Released on the self-titled debut album by the British synth-pop duo of the same name, "Bulletproof" hit #1 in the U.K. after its release in 2009. A year later, it climbed to #8 on the Billboard Hot 100. The spike in popularity in the U.S. followed La Roux's performance on "The Ellen DeGeneres Show" in 2010, and to this day, the record has continued to get spins on playlists thanks to a "Pitch Perfect" mashup.
In 2023, La Roux collaborated with Canadian duo Chromeo to release an adaptation of the song. The new version, "Discoproof," was showcased during a Coachella set.
Story editing by Carren Jao. Copy editing by Paris Close. Photo selection by Clarese Moller.