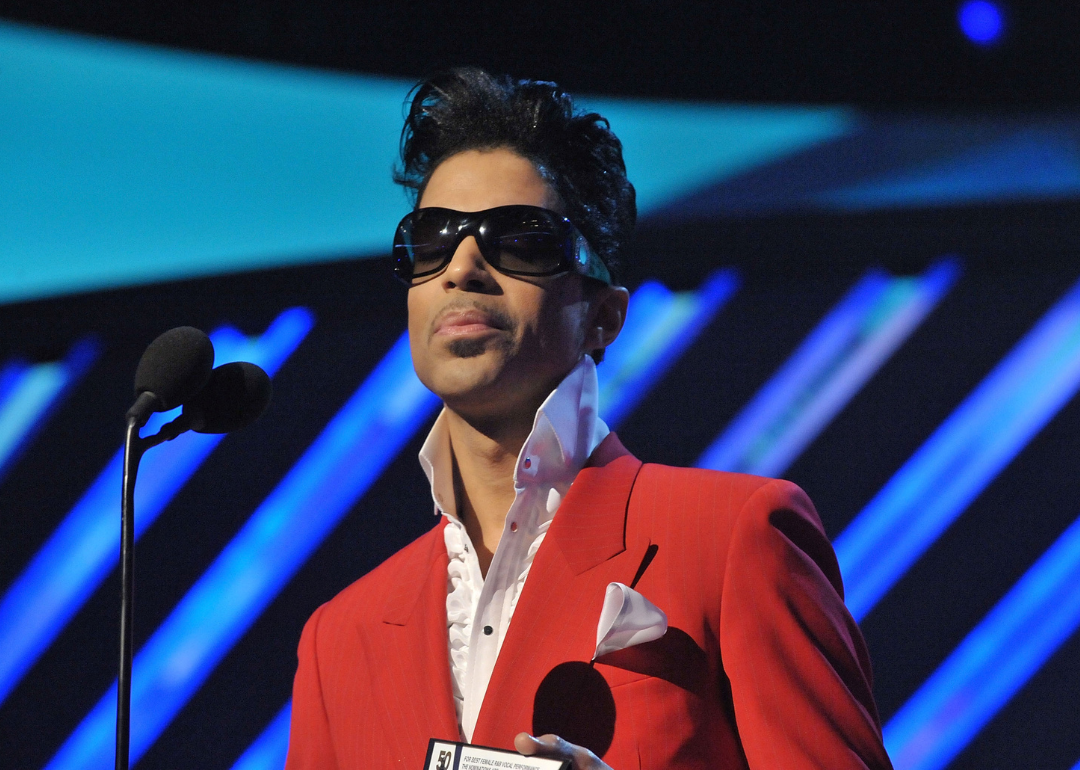 Lester Cohen/WireImage // Getty Images
Looking back at Prince's four-decade career, it's clear that when he signed his record deal with Warner Bros. at just 18 years old that he was destined to lead an influential trajectory. From a young age, Prince Rogers Nelson, better known mononymously as Prince, was certain of his talents. And once he hit the stage, so was the rest of the world.
His commitment, liberation, and vision came through in his Minneapolis Sound—a genre blending a sonically experimental mix of funk, synth-pop, and wailing electronic guitar riffs—that positioned him to become one of music's most respected and recognizable artists. Throughout his career, he would challenge how he presented himself to the world, whether that be with his androgynous style or his artistry that knew no bounds.
He was always striving for originality in his work. This was evident in his acting, writing, and production. His influence would go beyond music—the prolific musician and producer's sharp-eyed outlook on life and creative independence would make him one of the most iconic visionary geniuses of his time. To recognize his achievements, Stacker compiled a list of 25 things about Prince's life you may not know. To do so, we reviewed memoir accounts, newspaper articles, archives, and official documents.
You may also like: The richest rock stars
1958: Born in Minneapolis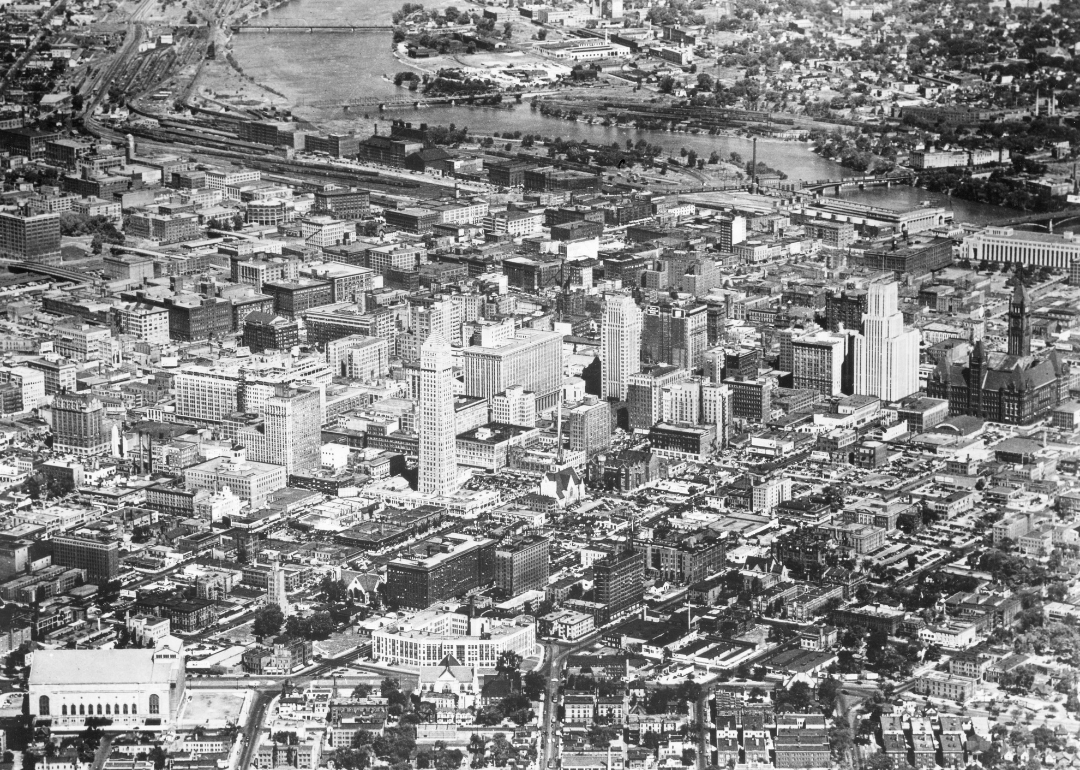 PhotoQuest // Getty Images
Prince Rogers Nelson, better known mononymously as Prince, was born on June 7, 1958, in Minneapolis. His father, John L. Nelson, was a jazz pianist in the Prince Rogers Trio, and his mother, Mattie Shaw, performed in the band as a singer. It was the band's name that inspired Prince's.
1977: Signs to Warner Bros. for debut album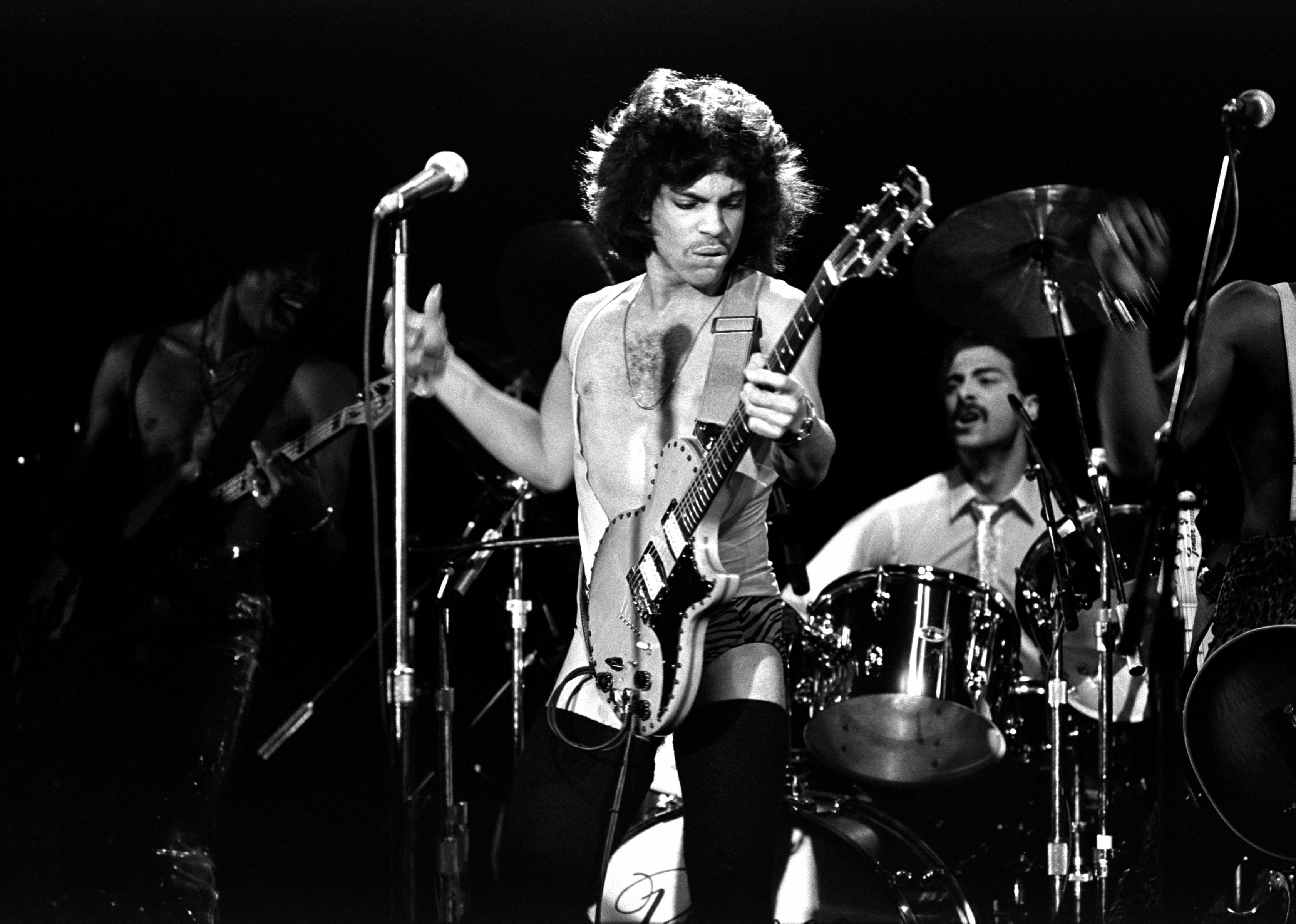 Richard E. Aaron // Getty Images
In 1977, Prince signed to Warner Bros. Records at 18 years old. The next year, Prince released his debut album, "For You." He is credited with writing and performing everything himself. The album peaked at #163 on the Billboard 200. After a long public dispute and split in 1996, he would later re-sign with the label in 2014 and obtain ownership of his classic catalog.
1983: Recording at First Avenue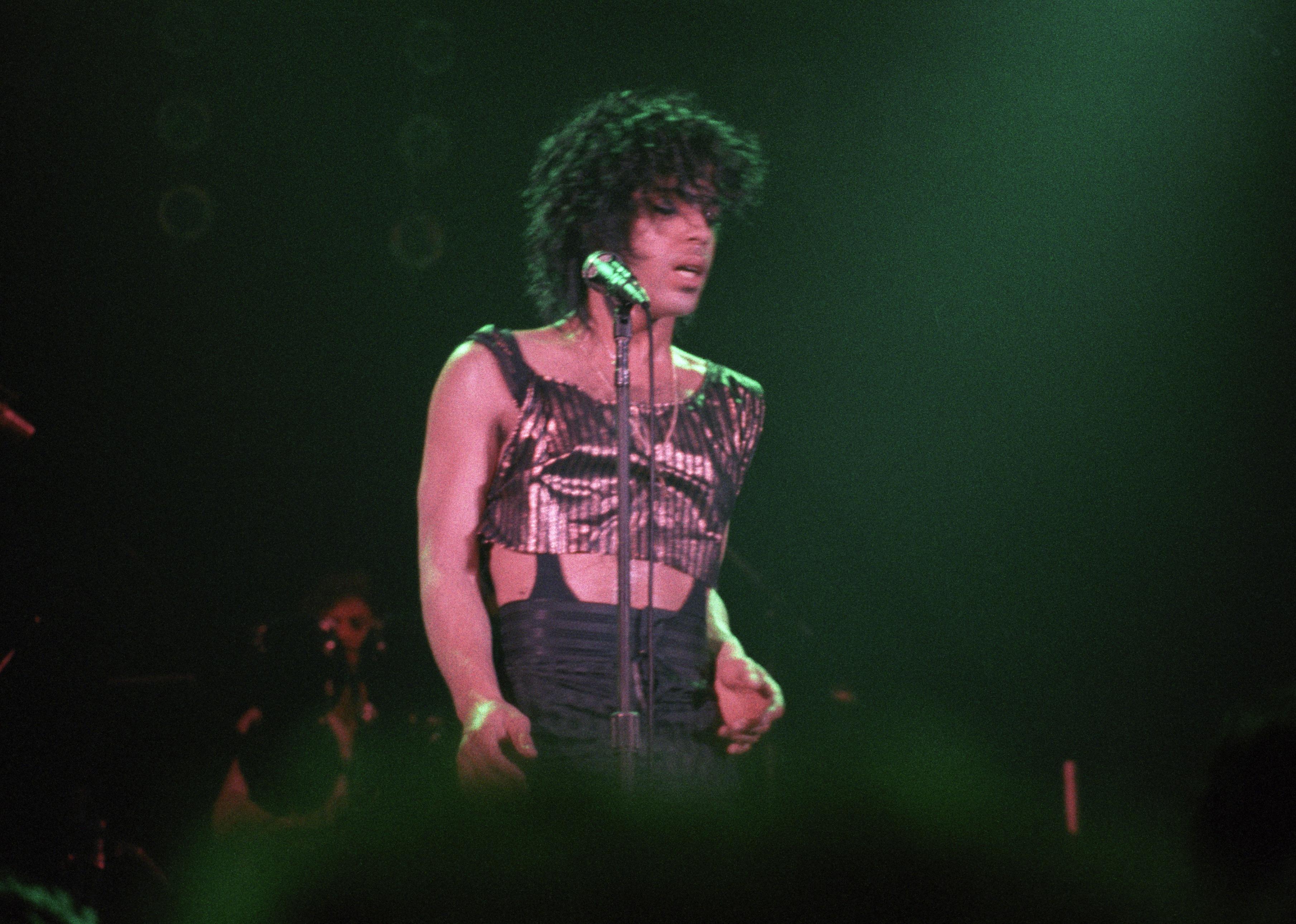 Jim Steinfeldt // Getty Images
In 1983, Prince and the Revolution recorded portions of the "Purple Rain" soundtrack live on stage at First Avenue nightclub in Minneapolis. The infamous recording occurred during a benefit concert for the Minnesota Dance Theatre.
1984: 'Purple Rain'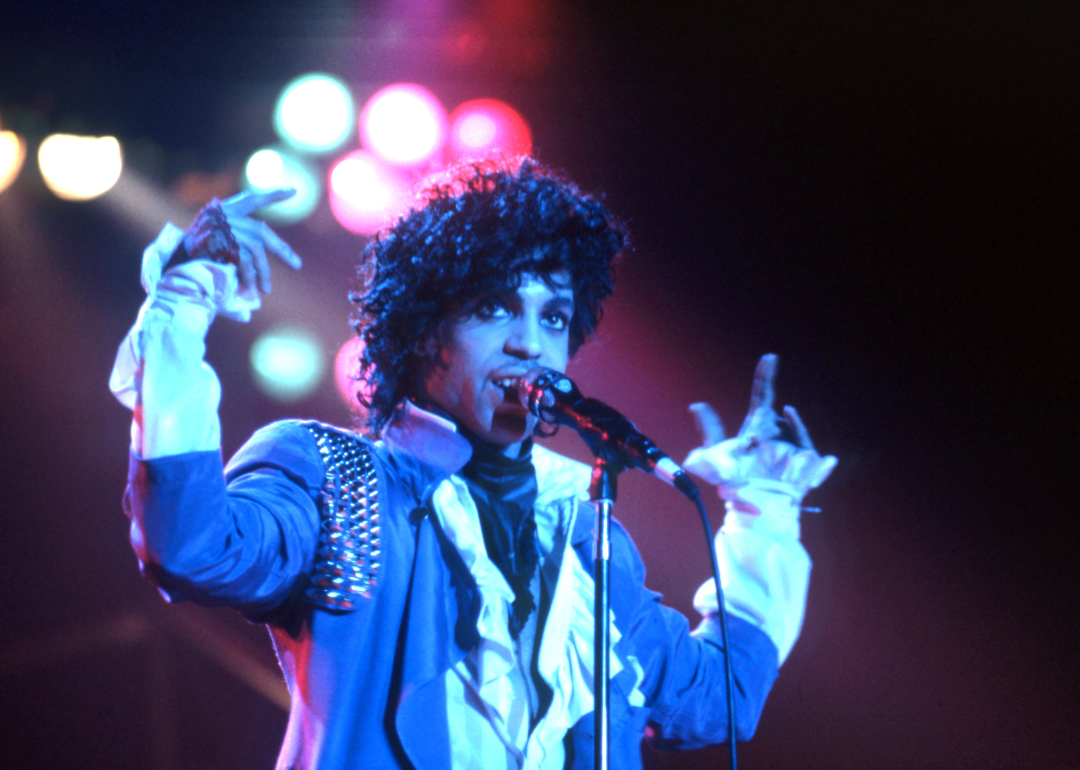 Ross Marino // Getty Images
In 1984, the film "Purple Rain," directed by Albert Magnoli and based on the Prince and the Revolution album of the same name, became a box-office hit. Prince played a loosely based character of himself in the cult musical drama. He also worked with ​​costume designers Louis Wells and Marie France to create his iconic androgynous looks in the movie.
1984: 'The Glamorous Life'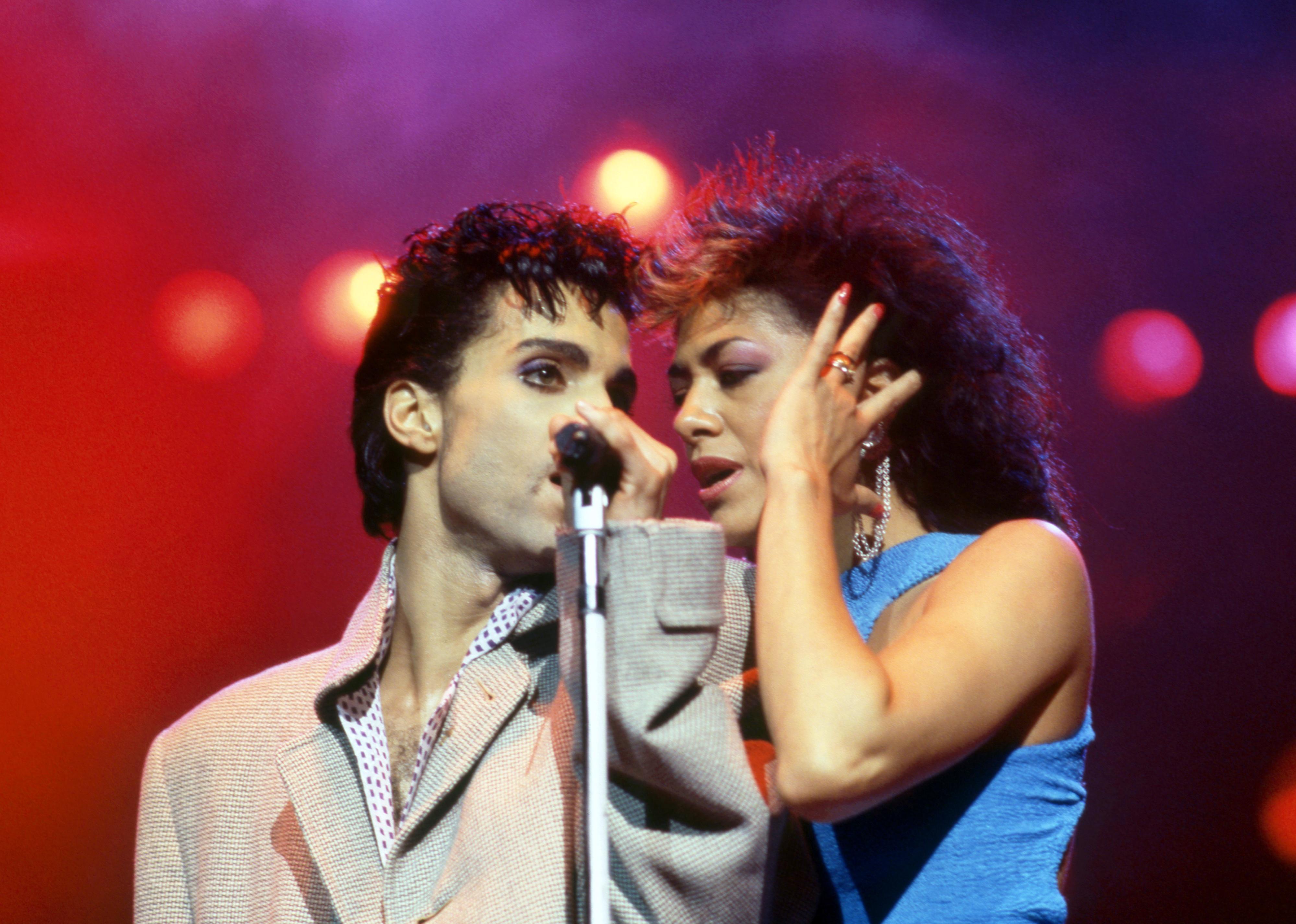 Icon and Image // Getty Images
Prince co-produced drummer and collaborator Sheila E.'s 1984 debut album, "The Glamorous Life." The entire album was recorded in a week at Sunset Sound in Los Angeles.
You may also like: 30 stars who hit their stride late in life
1985: Oscar win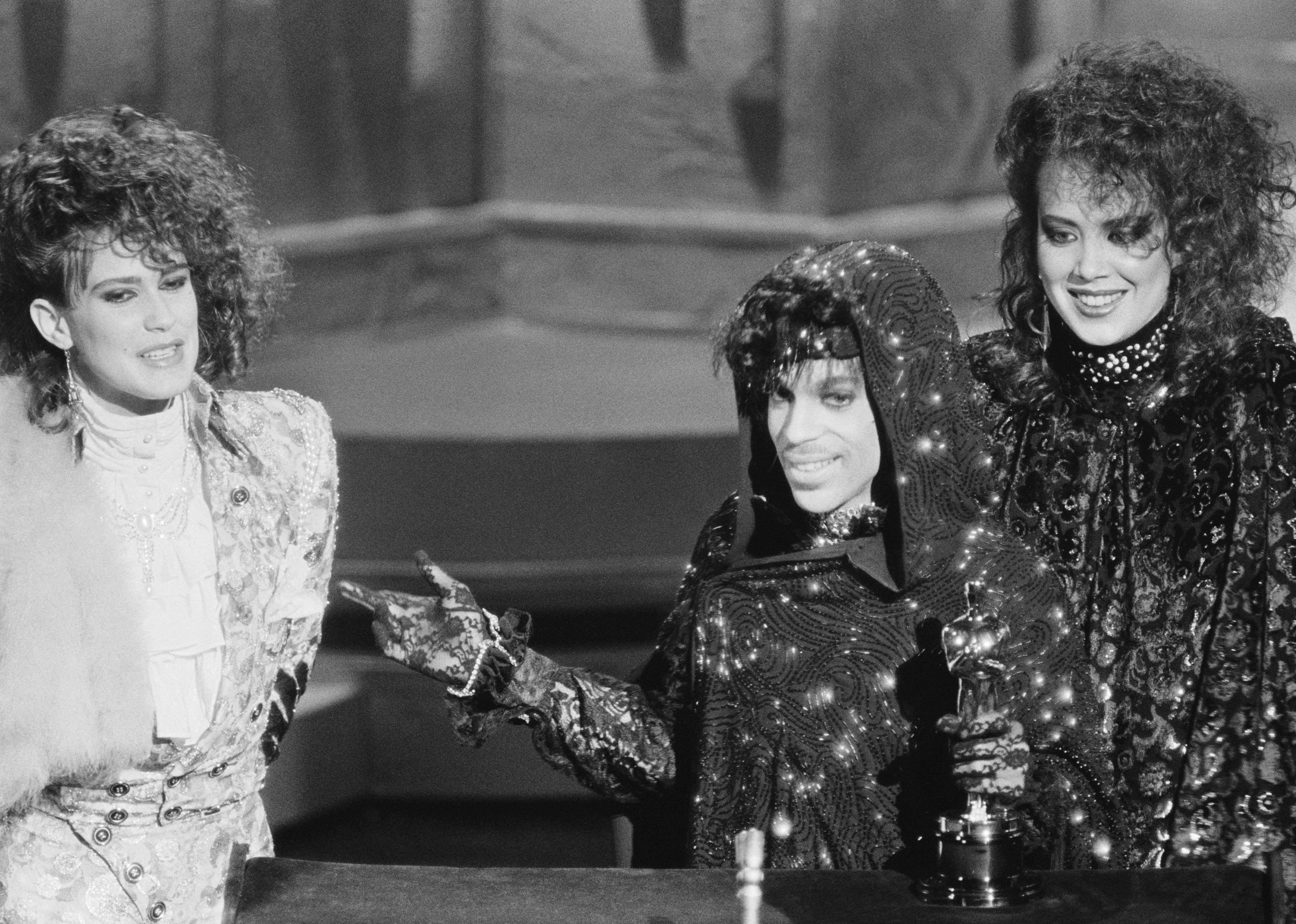 Bettmann // Getty Images
Prince's hit song "Purple Rain" won an Oscar for Best Original Song Score at the 1985 ceremony, making him the first and last Black person to win the award. The category was retired the next year. In his Oscar speech, Prince told the audience: "This is very unbelievable. I could never imagine this in my wildest dreams."
1985: Paisley Park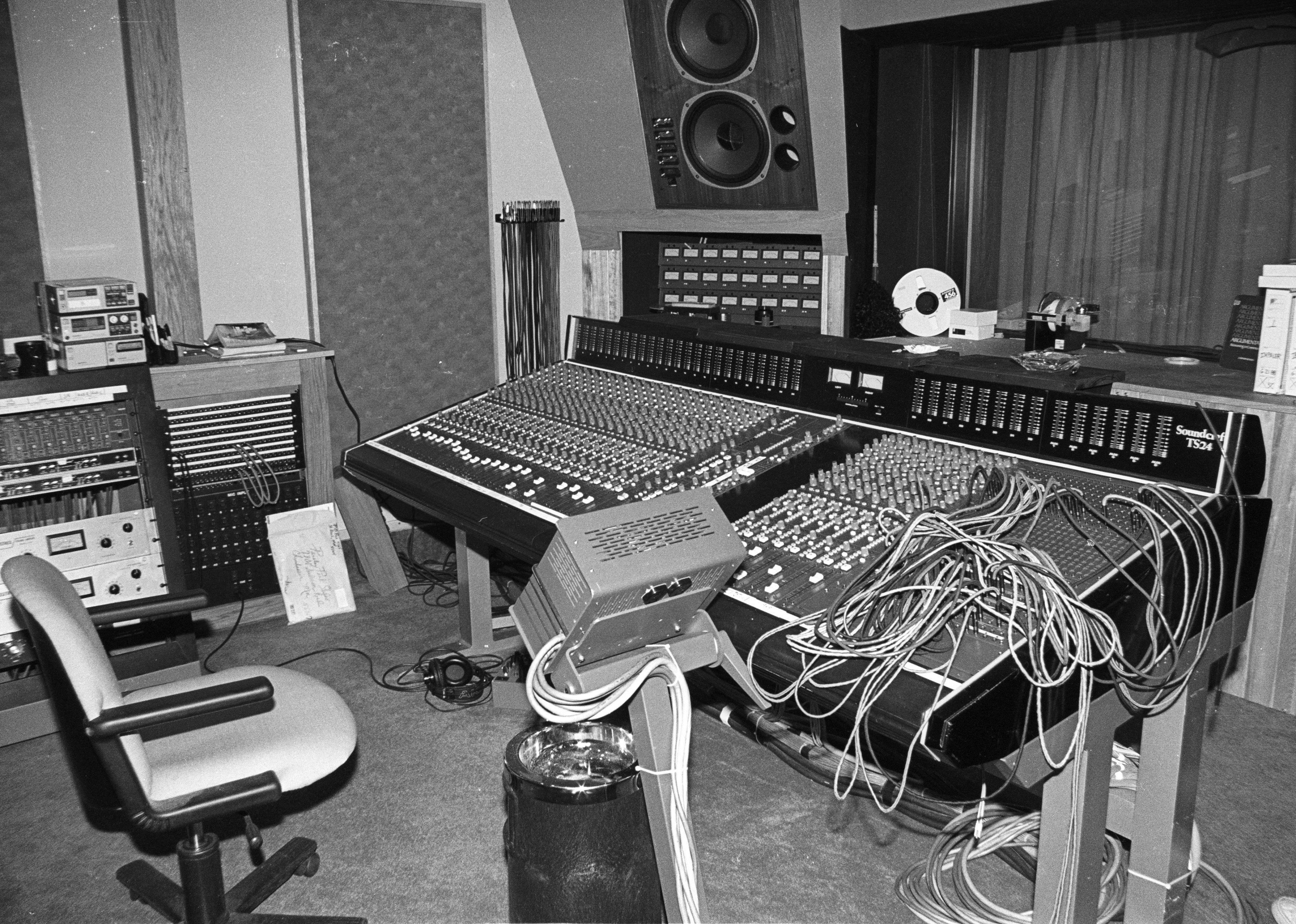 Jim Steinfeldt // Getty Images
In 1985, Prince commissioned architect Bret Thoeny to build Paisley Park—an artist compound located 22 miles outside of Minneapolis. In a 2016 interview, Thoeny told Billboard that the 55,000-square-foot creative complex was the first of its kind. It had two state-of-the-art recording studios, a 12,400-square-foot soundstage, a rehearsal room, a performance area, common areas, and offices.
1986: Forays into directing with 'Under the Cherry Moon'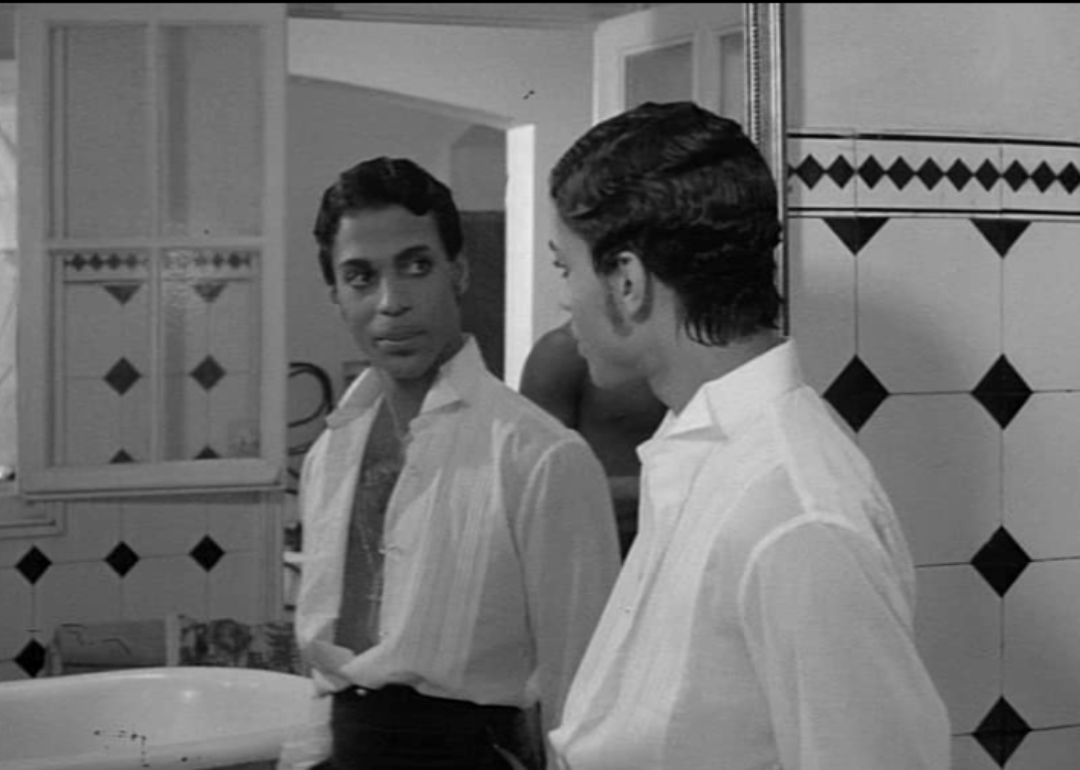 Warner Bros.
Prince made his directorial debut in 1986 with the musical dramedy "Under the Cherry Moon." The film, starring Prince himself, featured some of the artist's most celebrated songs, including "Sometimes It Snows in April" and "Kiss."
1989: 'Batman' soundtrack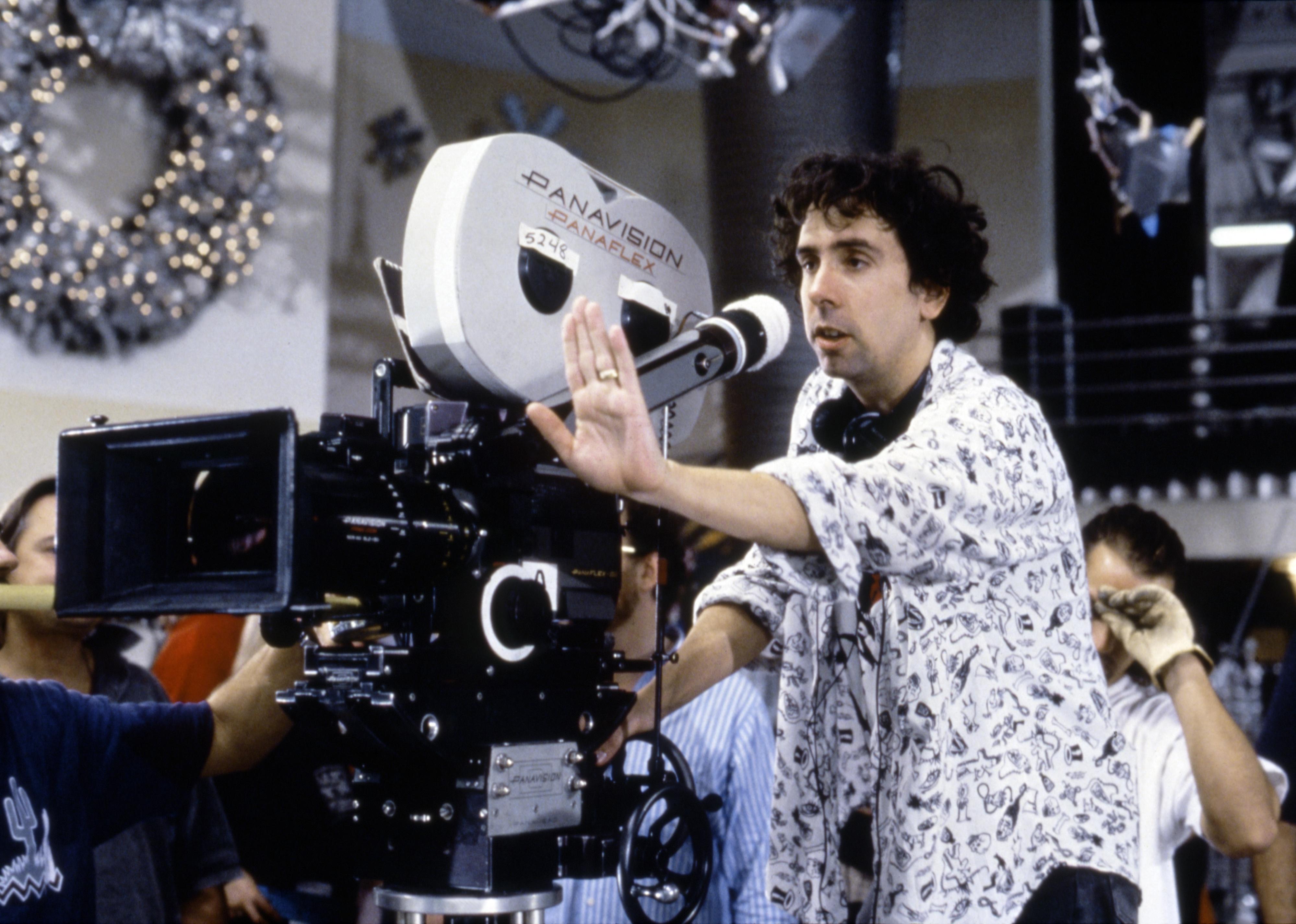 Sunset Boulevard // Getty Images
By the late '80s, Prince was already one of the most influential and successful pop artists of all time. He was also already in massive debt, according to Albert Magnoli, his manager at the time. When presented with the opportunity to produce the soundtrack to Tim Burton's "Batman," Magnoli convinced Prince it would make financial sense—and it did. The film grossed over $400 million at the box office.
1990: 'Purple Rain' gets a sequel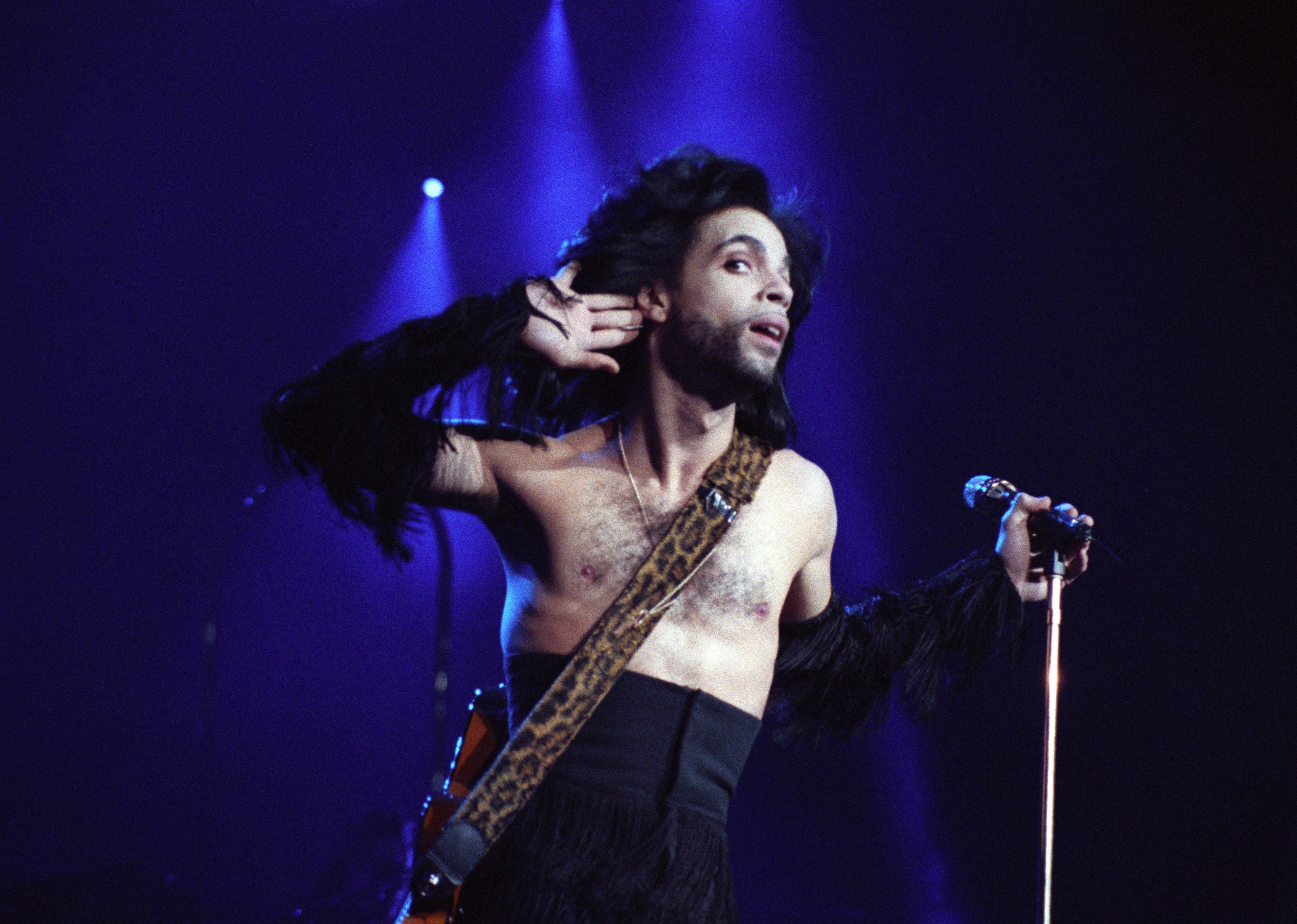 Jim Steinfeldt // Getty Images
Prince wrote, directed, and starred in "Graffiti Bridge," the sequel to "Purple Rain." The musical drama featured appearances by funk musician George Clinton and R&B singer Tevin Campbell.
You may also like: America's 50 favorite actors of all time
1993: 'Billboards' ballet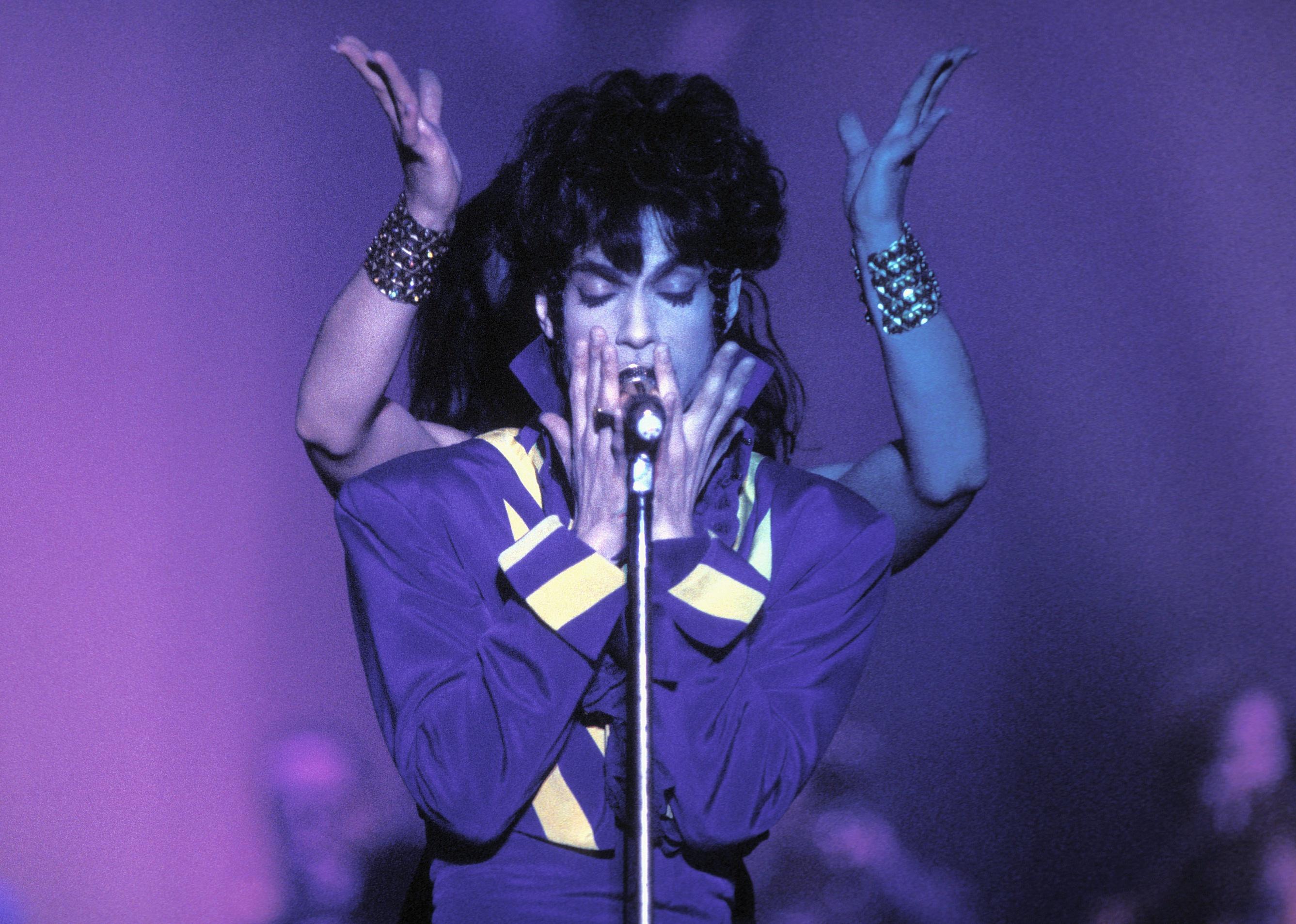 Frans Schellekens // Getty Images
Prince wrote the music for the Joffrey Ballet's "Billboards" in 1993. The show was a massive hit—and not just with the usual ballet crowd. According to The Washington Post, the show opened "new veins of creativity … choreographically, precisely because Prince's music brings new orders of rhythm, sonority, sensuality, and psychology within reach of ballet's horizons." Because of Prince's musical contribution, the company, which was close to shutting down, got a second chance.
1993: Changing his name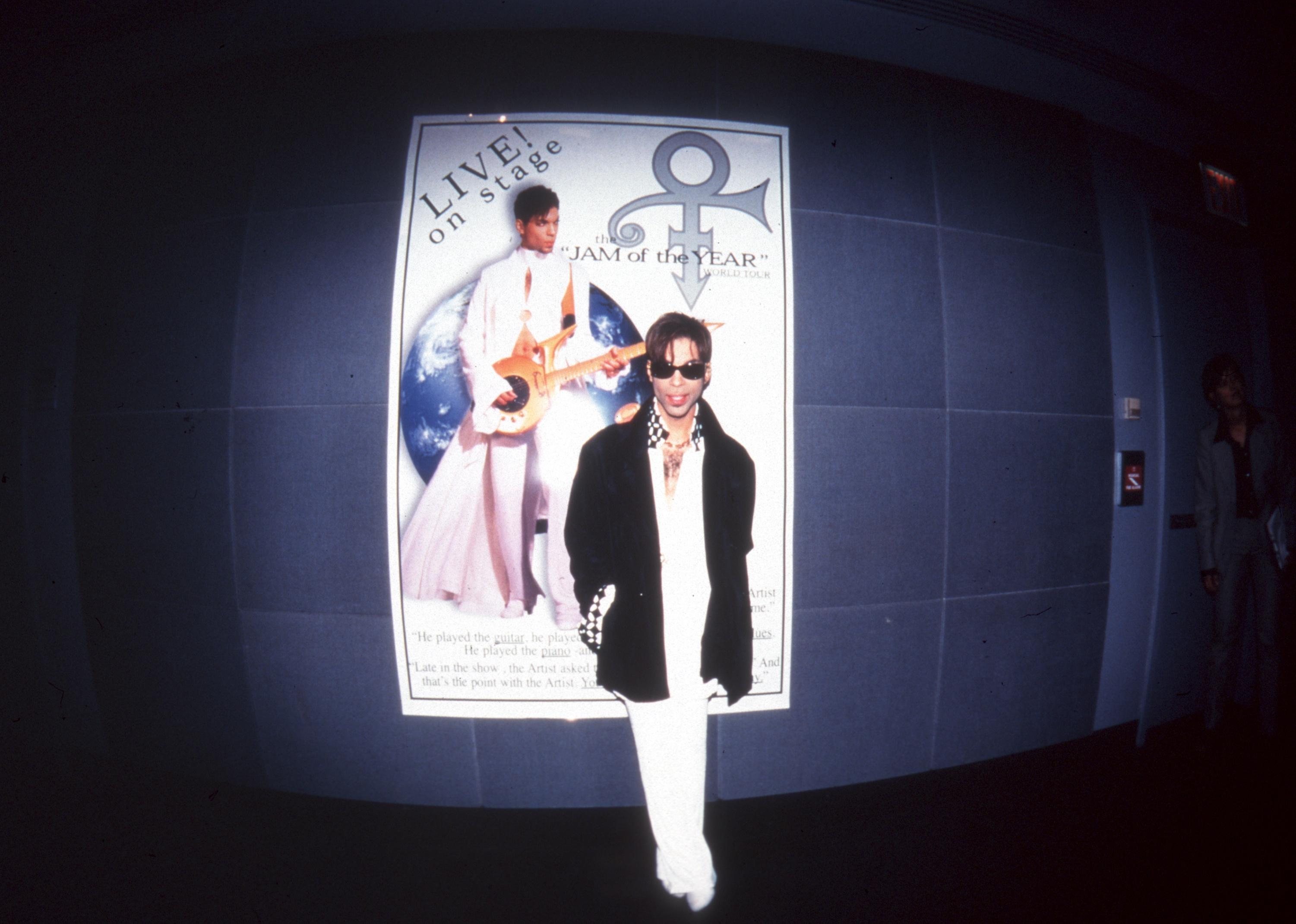 Al Pereira // Getty Images
In retaliation to his name and music being owned by Warner Bros., Prince changed his name ​​to an unpronounceable glyph in 1993. He would perform with the word "slave" written on his face, another act of protest in his quest to free himself of his contract.
1996: Death of his infant son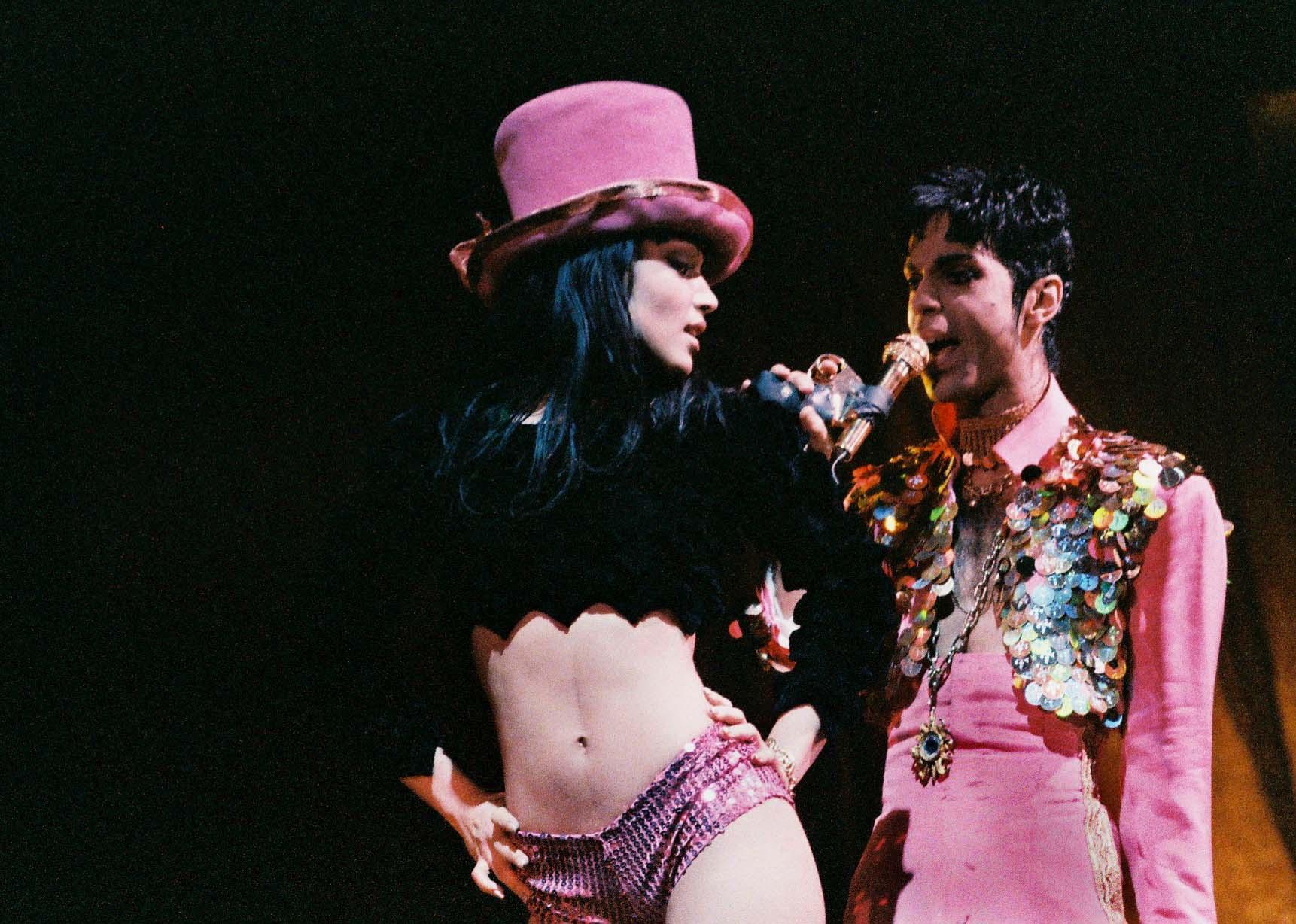 Pete Still // Getty Images
Prince married backup singer and dancer Mayte Garcia in 1996. The couple had a son, Amiir Nelson, who died six days after birth due to a rare genetic disorder, Pfeiffer syndrome type 2. The couple tried to conceive again but suffered a miscarriage. In 1998, Prince announced a planned annulment of his marriage to Garcia via press conference.
1996: His music and arts philanthropy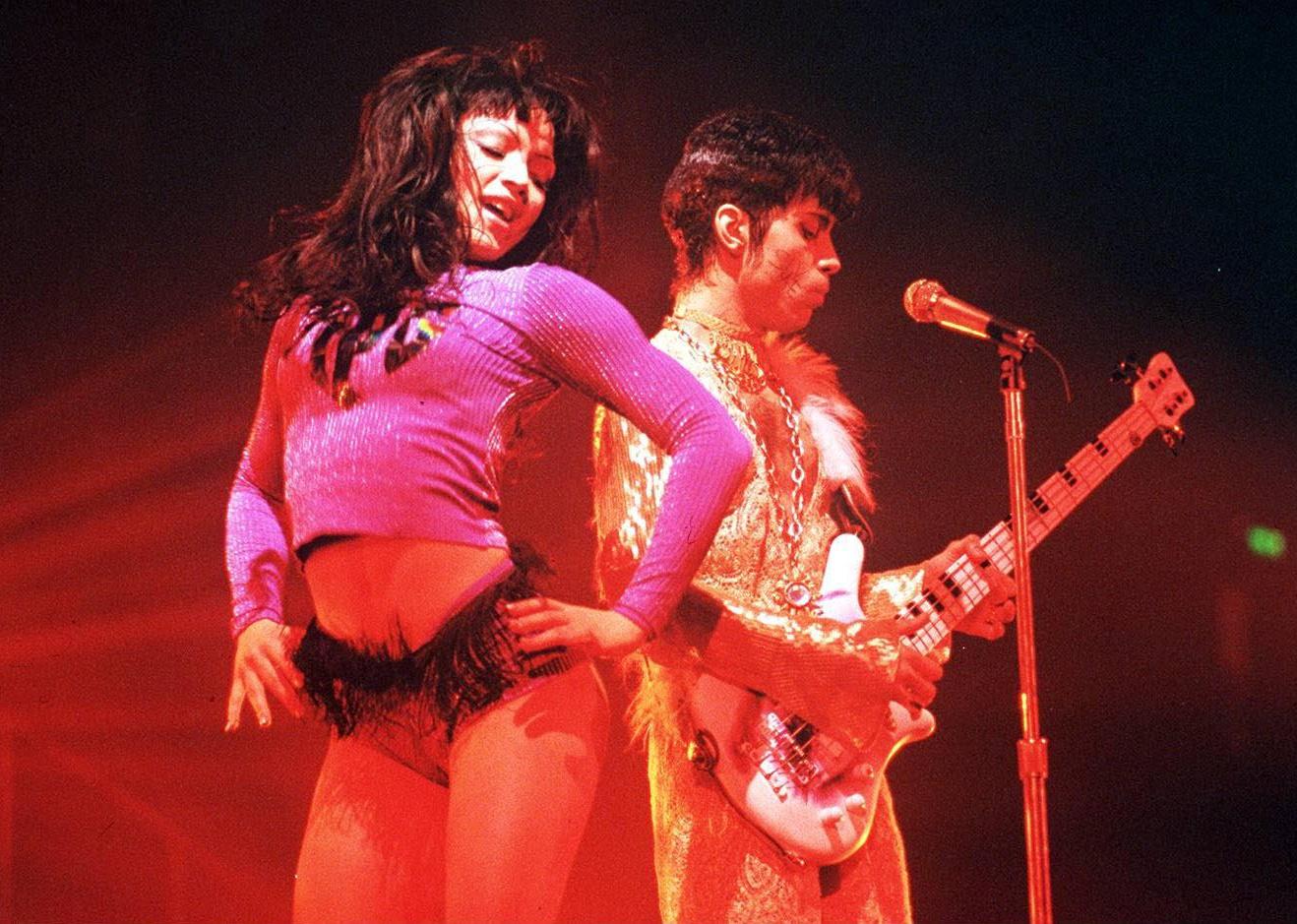 Brian Rasic // Getty Images
Prince and former wife, Mayte Garcia, founded Love 4 One Another in 1996 to encourage the presence of music in the lives of children. The organization still exists today, servicing, retaining, and reviving music and arts programs in schools.
1996: Unleashes 19th album, 'Emancipation'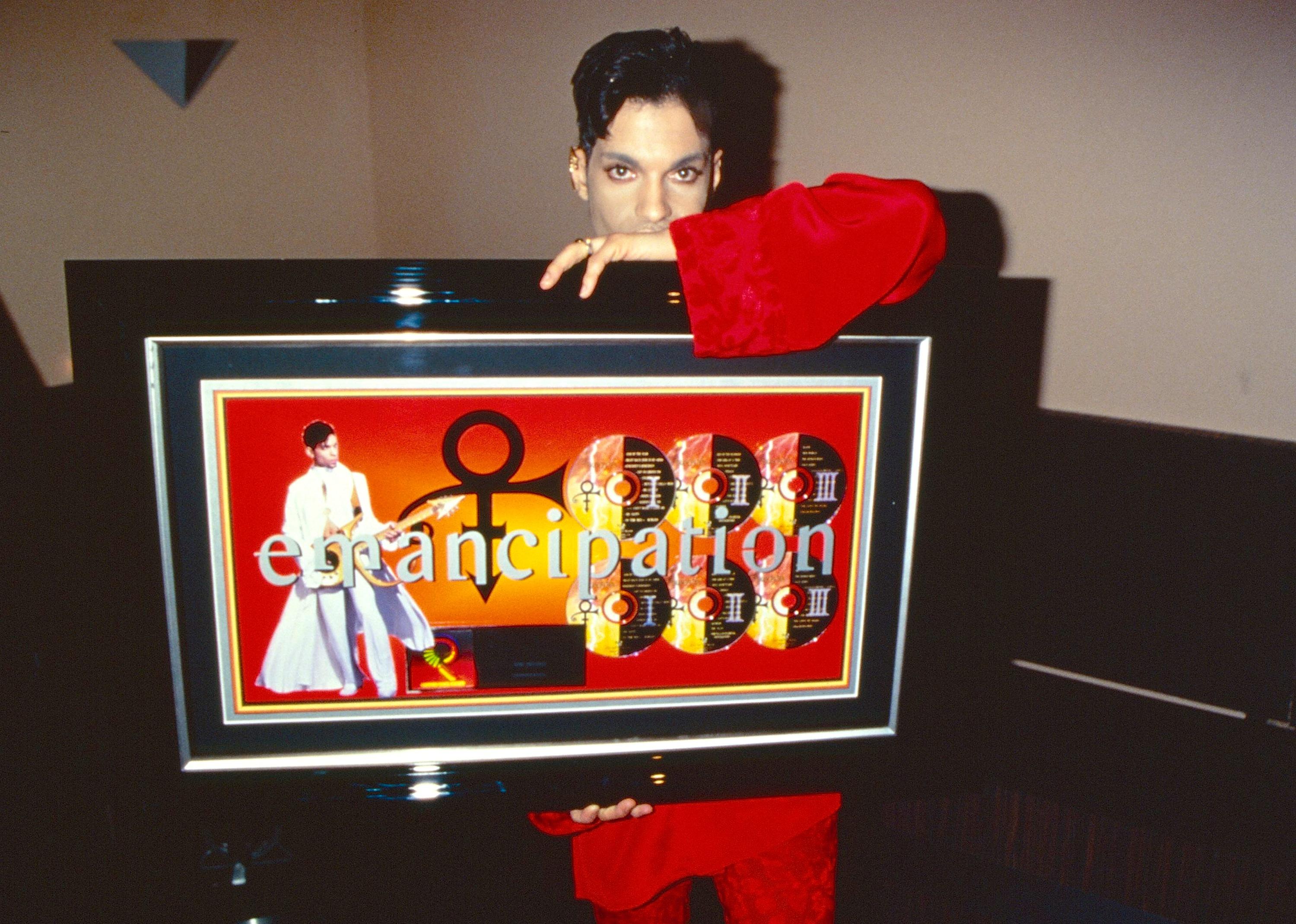 KMazur // Getty Images
In 1996, Prince released his 19th studio album, "Emancipation." The three-disc album is what Prince described as "what freedom sounds like," in an interview with USA Today—symbolizing his freedom from Warner Bros. Records.
You may also like: Clint Eastwood: The life story you may not know
1997: Rare interview with Chris Rock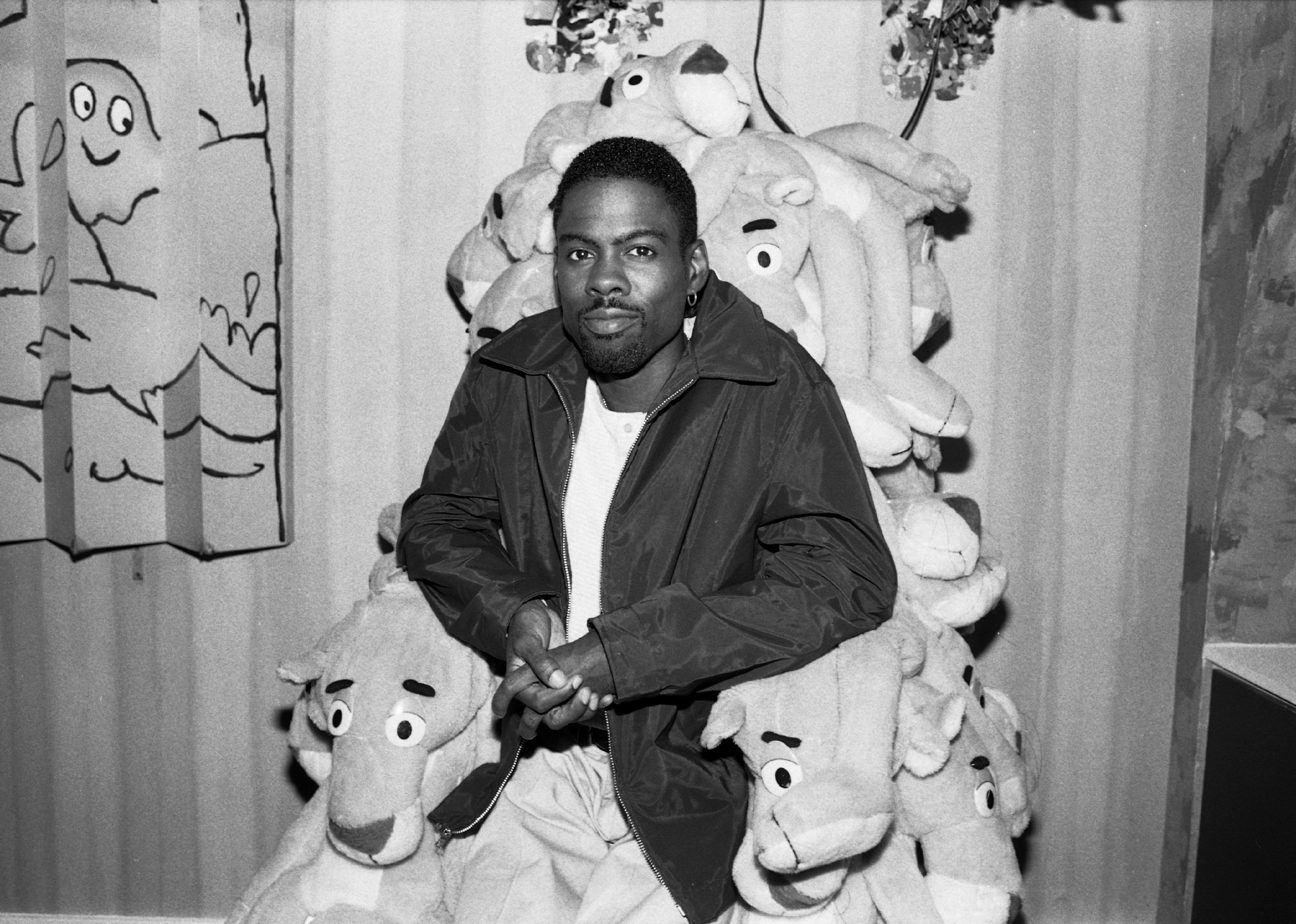 Catherine McGann // Getty Images
In 1997, comedian Chris Rock sat down for an interview with Prince for MTV. Prince gave a rare intimate conversation on influences as well as personal and controversial topics, such as his androgynous style, his relationships with women, and even potential musical rivalries.
2001: Marries Manuela Testolini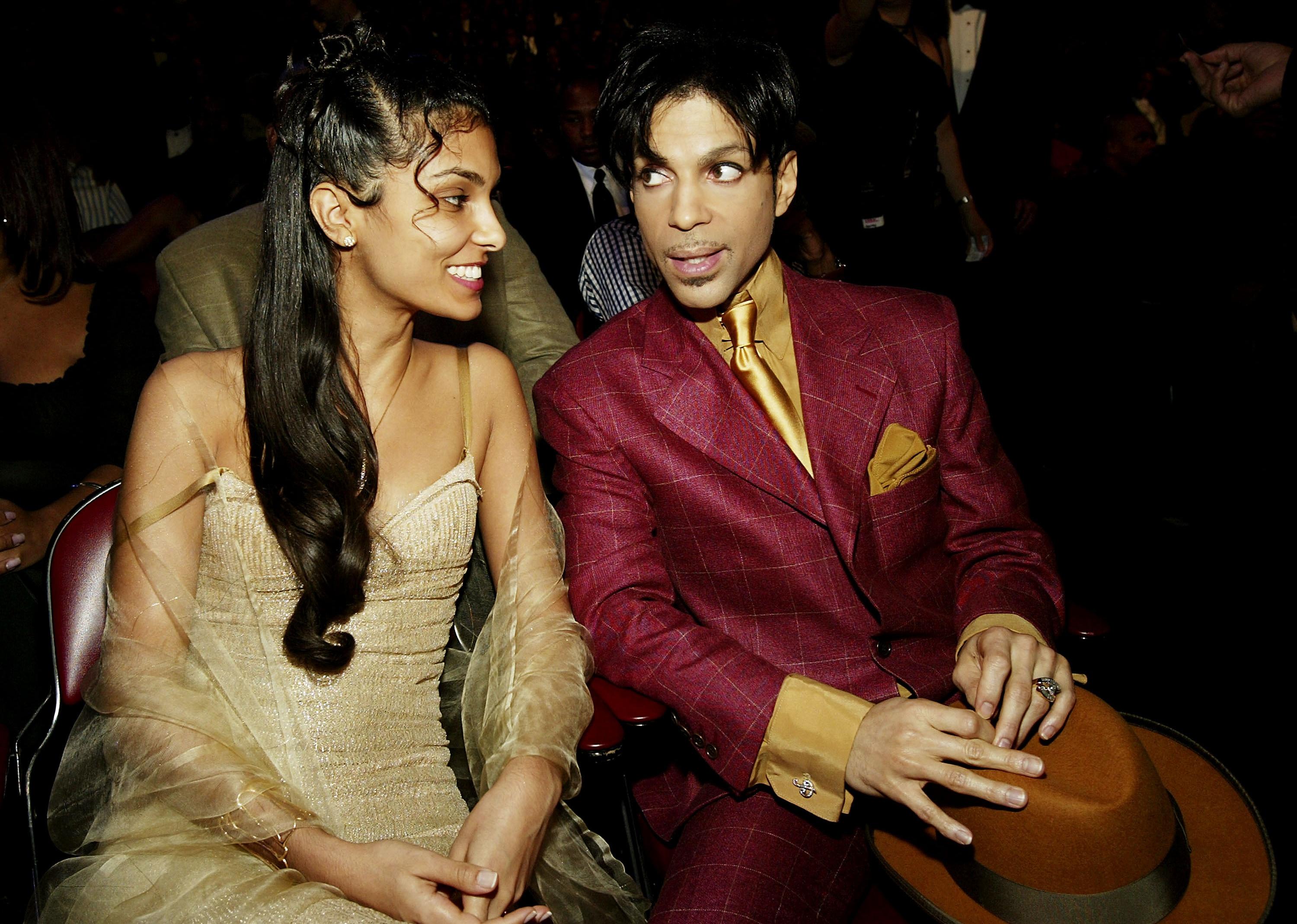 Frank Micelotta // Getty Images
Prince married Manuela Testolini in 2001. The couple lived in Toronto until they divorced in 2006. During his time in Toronto, Prince recorded his 2004 album "Musicology."
2001: Becoming Jehovah's Witness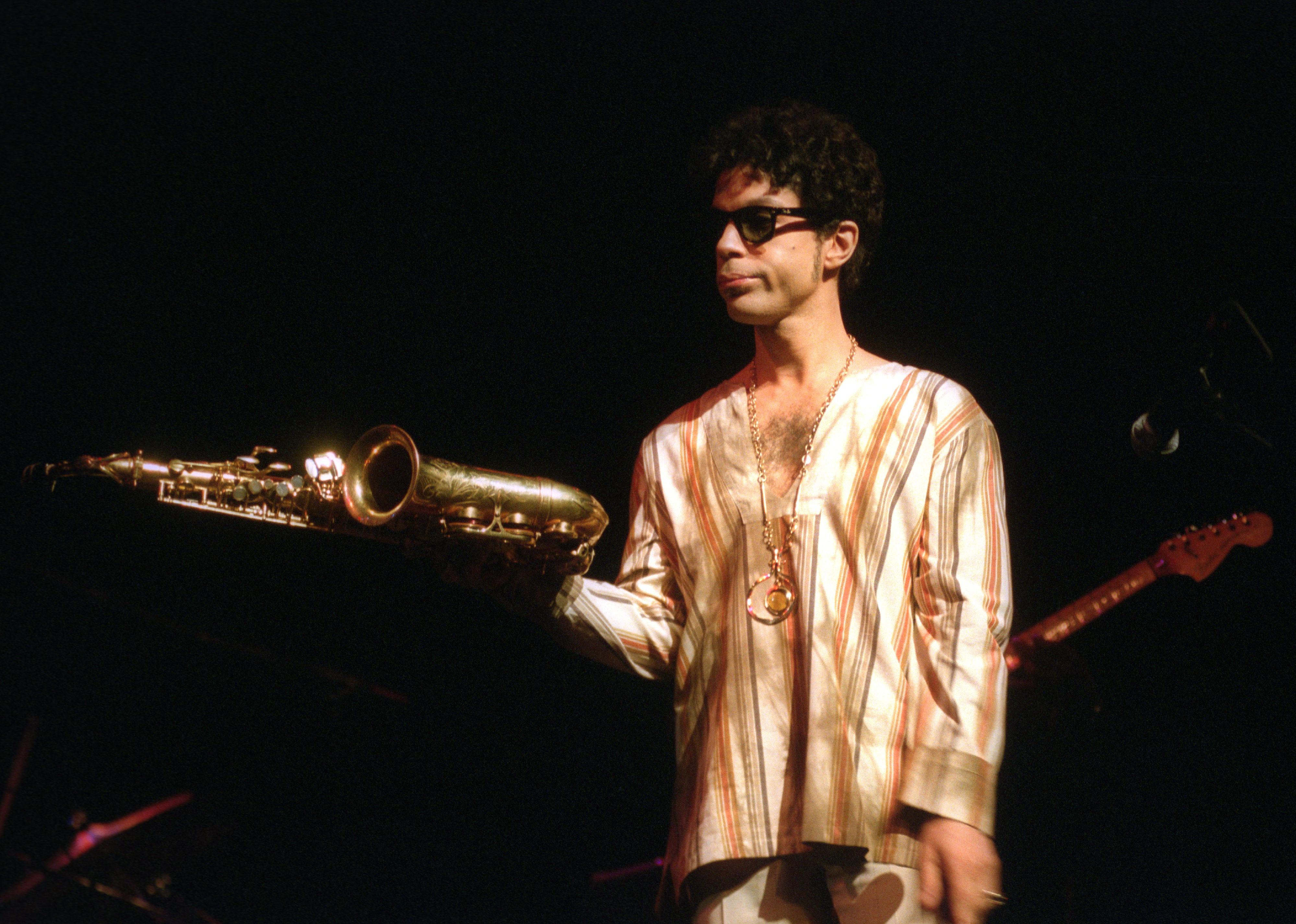 Hiroyuki Ito // Getty Images
Raised Seventh-day Adventist, Prince transitioned to the faith of Jehovah's Witness in 2001. In a 2008 interview with the New Yorker, Prince said he didn't see his switch as a conversion but rather as a realization. Religious motifs would play out in his music.
2004: Rock & Roll Hall of Fame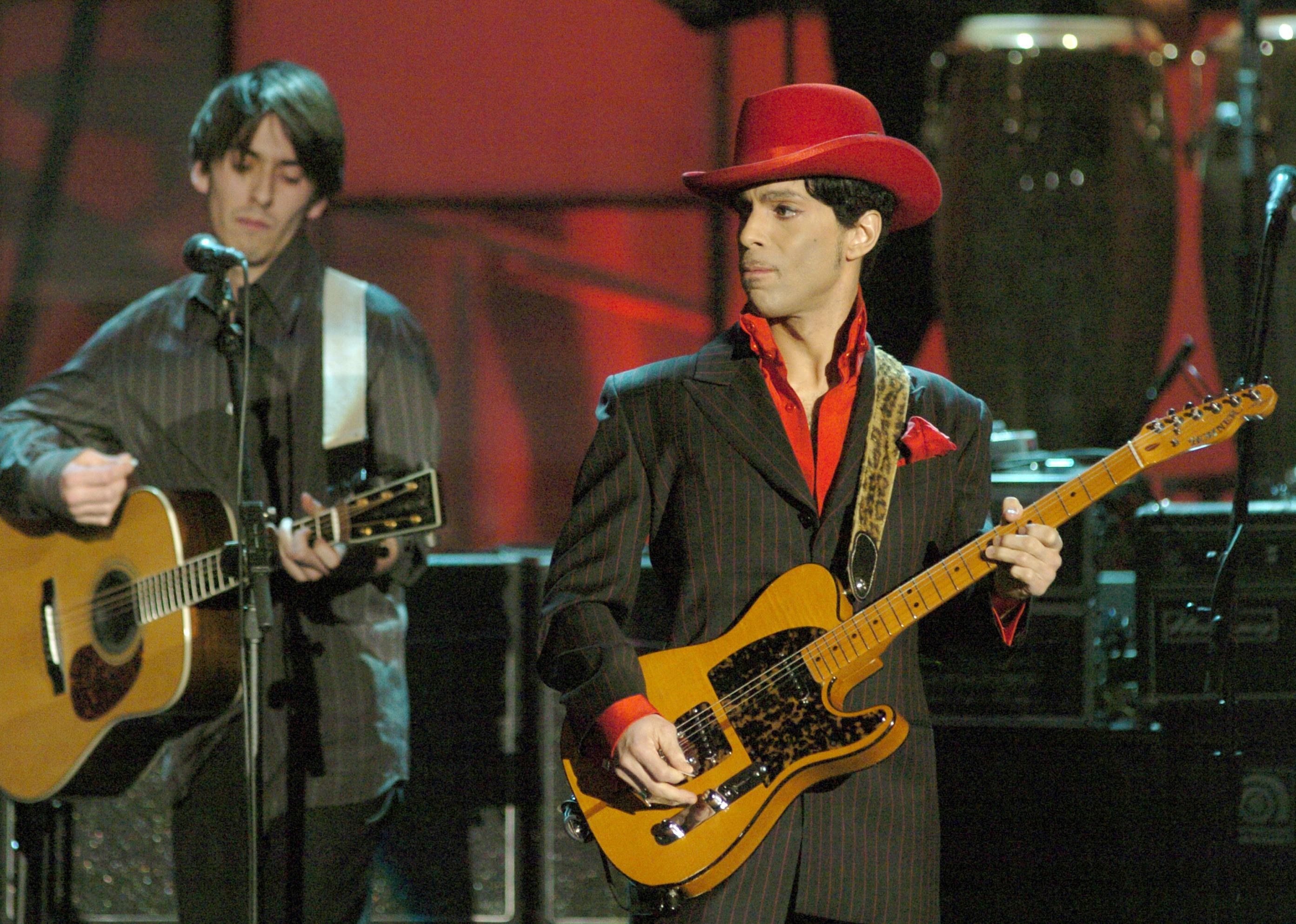 Dimitrios Kambouris // Getty Images
The musician was inducted into the Rock & Roll Hall of Fame in 2004. Prince was introduced by Alicia Keys and Big Boi and André 3000 of OutKast. He performed fan favorites "Let's Go Crazy" and "Kiss."
2004: Performing with Beyonce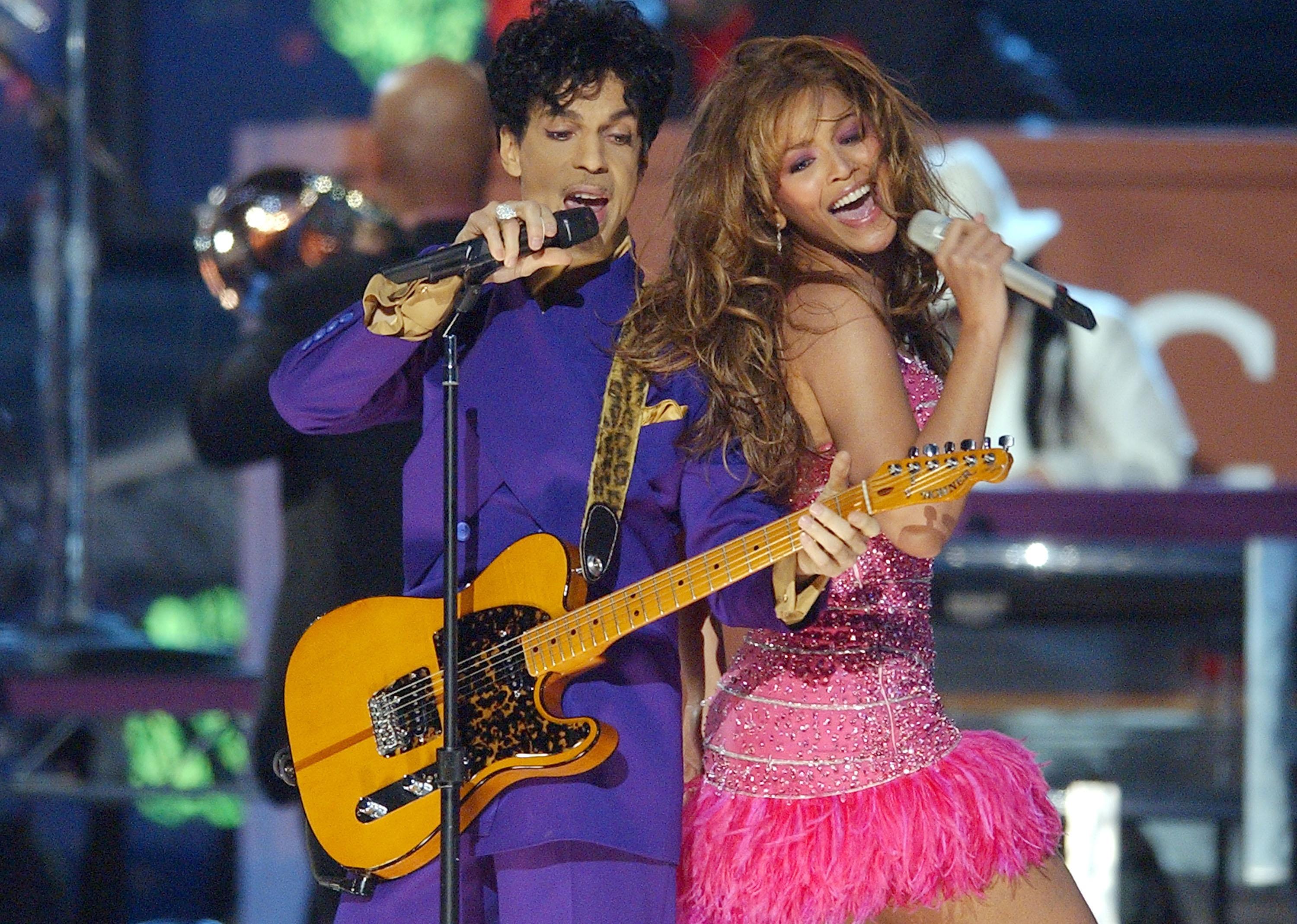 Michael Caulfield Archive // Getty Images
In 2004, Prince and Beyoncé opened up the 46th Annual Grammy Awards performing a medley of hits. It was an unforgettable performance that sizzled with the duo's showmanship. Along the way, Prince showed Queen Bey a few chords on the piano, which apparently inspired a renewed appreciation for piano. She soon showcased her skills in a rare video of her on the ivories performing "Die With You."
You may also like: Celebrity stage names vs. their real names
2007: Super Bowl XLI halftime show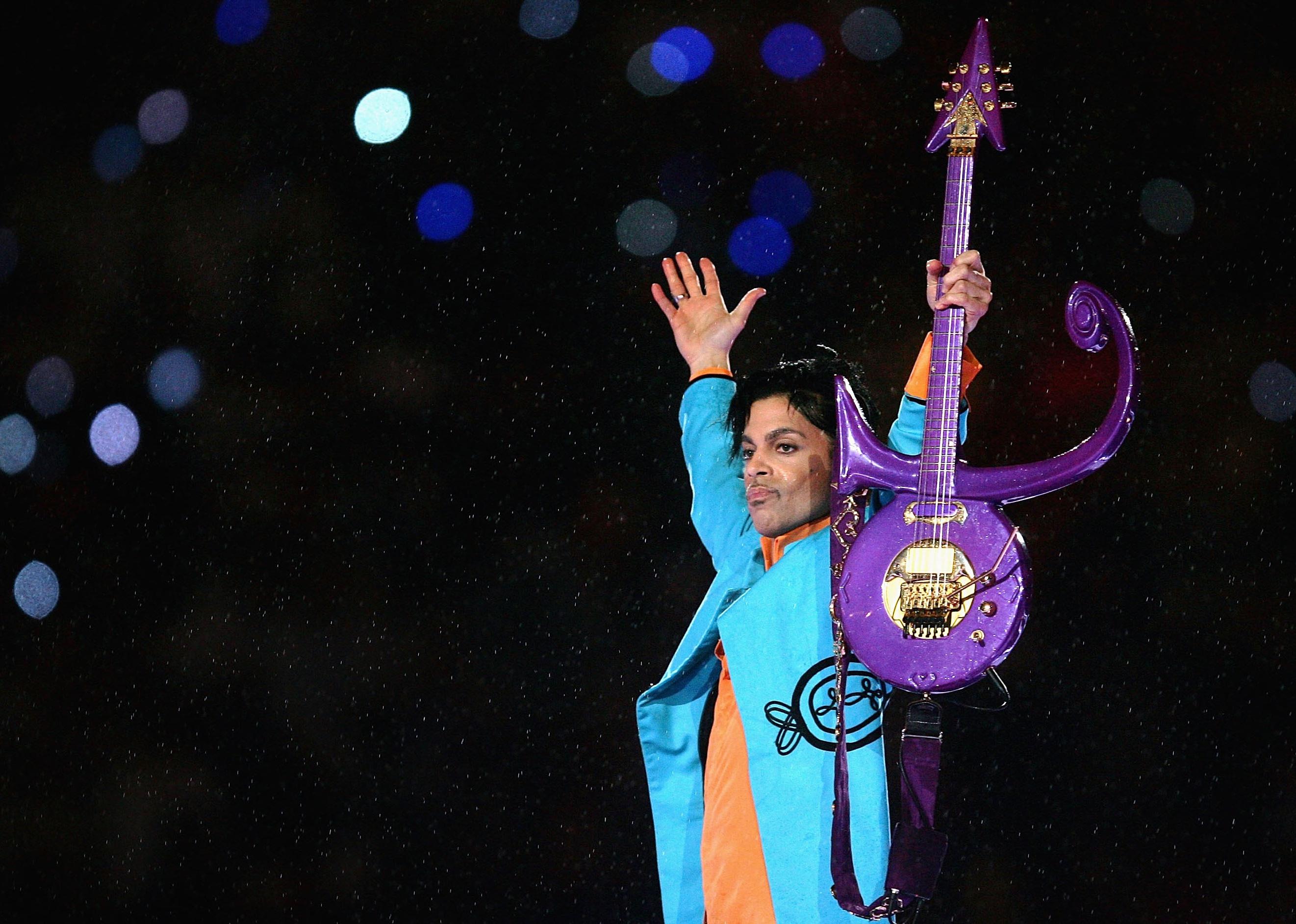 Jonathan Daniel // Getty Images
Prince was the headliner for the 2007 Super Bowl XLI halftime show. Despite a storm that rolled in that day, it's said that Prince put on one of the greatest halftime shows ever and garnered an estimated 140 million viewers on television. He ended the performance with "Purple Rain."
2008: Publishes first book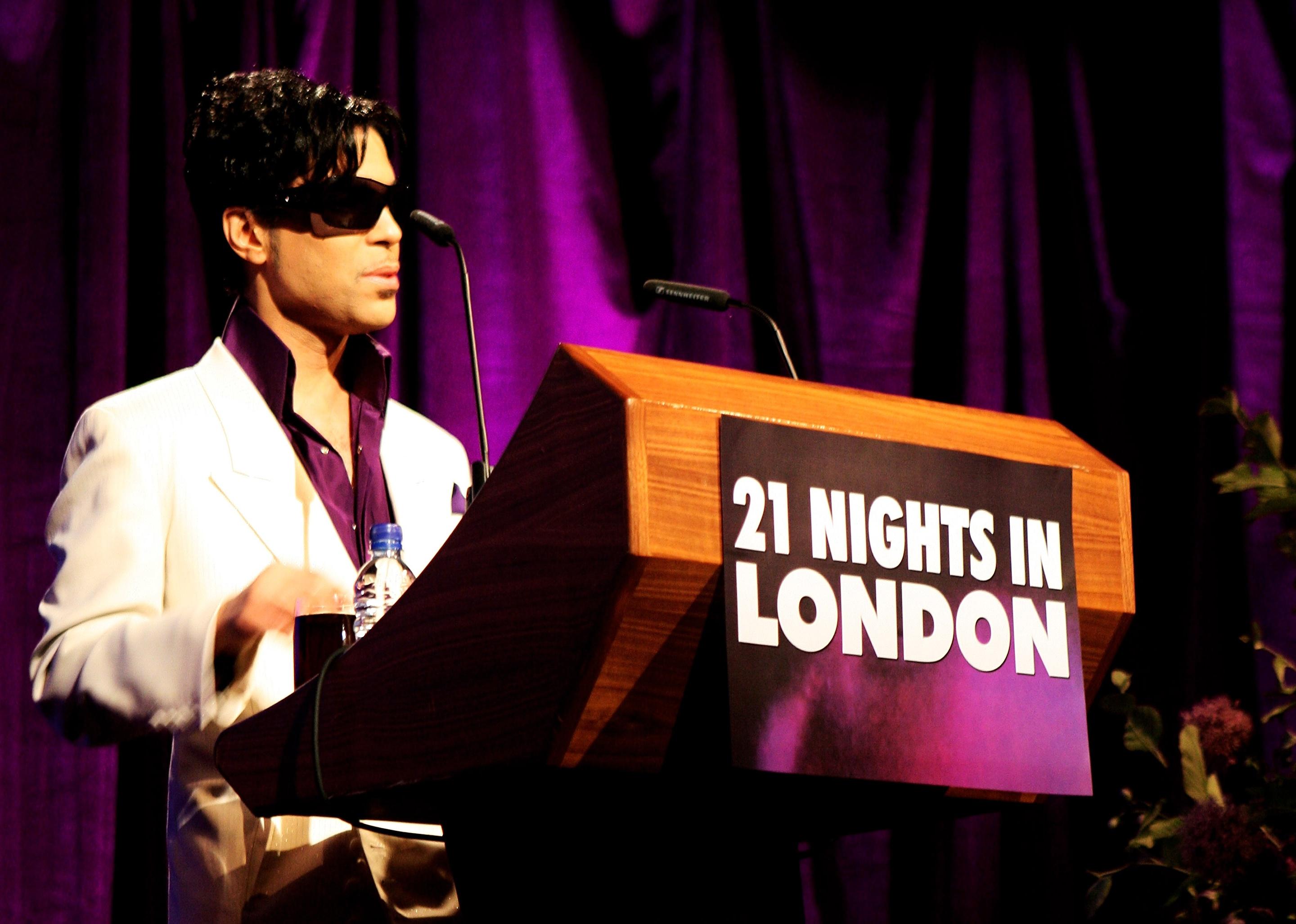 Claire Greenway // Getty Images
Prince released his first published book, "21 Nights," in 2008. A photo essay following Prince's sold-out 21 concerts in 21 nights at London's O2 Arena in 2007, it features photography by photographer Randee St. Nicholas alongside Prince's poetry and new lyrics.
2011: Library of Congress National Recording Registry induction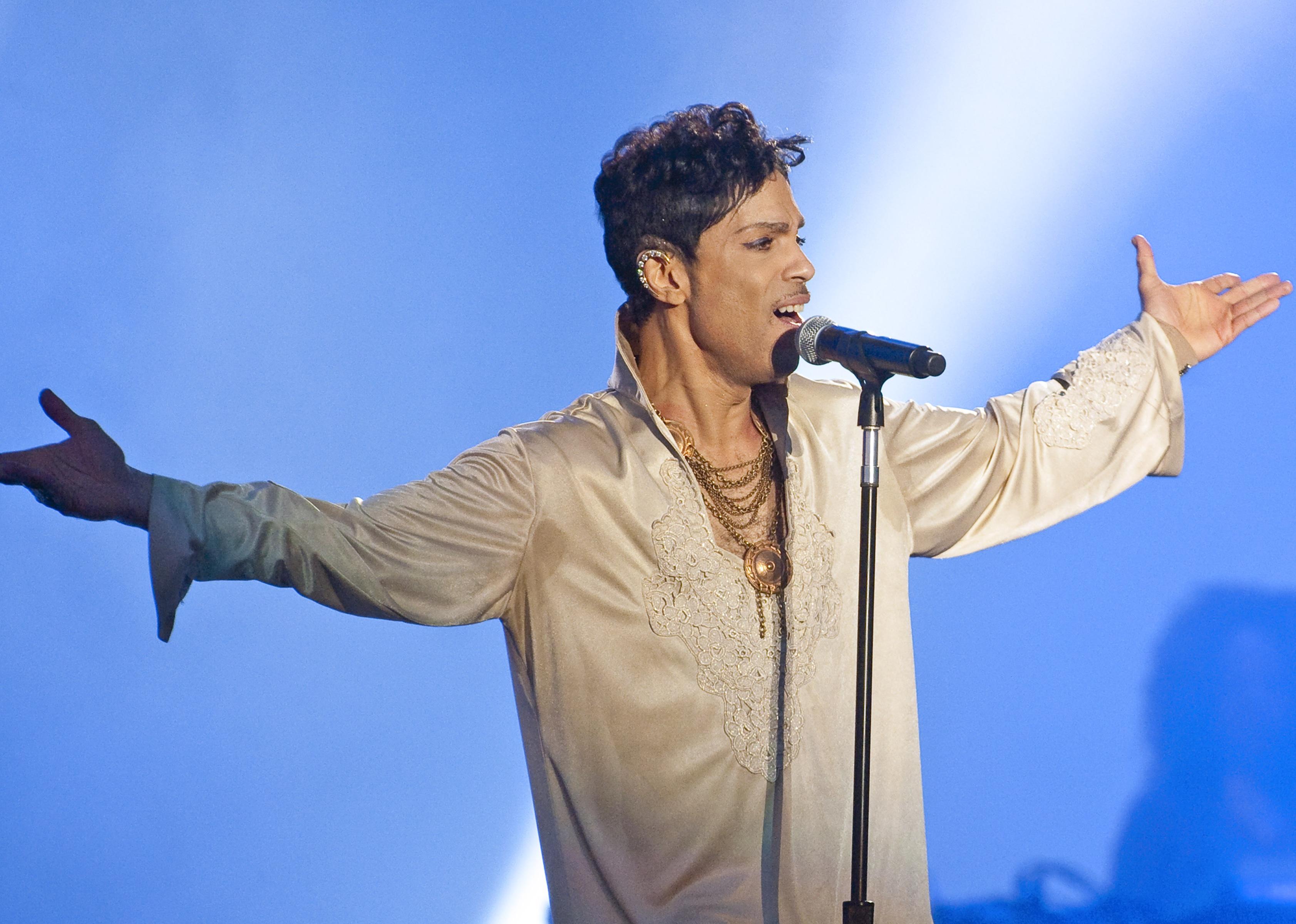 Neil Lupin // Getty Images
The multi-platinum soundtrack "Purple Rain" was inducted into the Library of Congress National Recording Registry in 2011. The album delivered a sonically experimental mix of synth-pop, funk, and electronic guitar riffs—that would become a bedrock of Prince's iconic "Minneapolis Sound."
2016: Unexpected death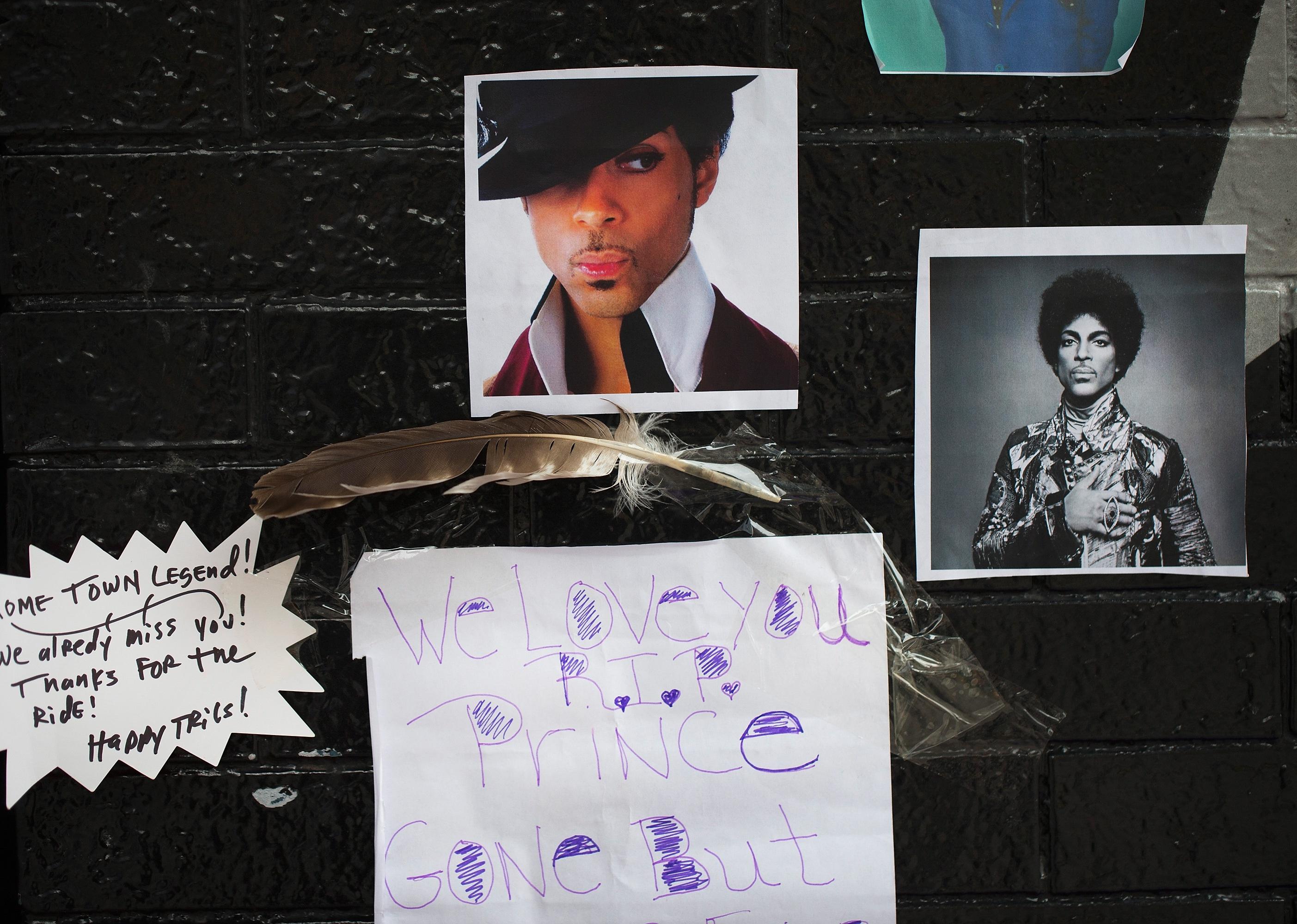 Scott Olson // Getty Images
In 2016, Prince was found unresponsive in the elevator of his Paisley Park home. The singer's death resulted from Prince ingesting what he probably thought was Vicodin; it was actually a counterfeit painkiller laced with fentanyl. This led to his death at 57 years old. Prince's remains were cremated.
2022: 'Camille,' the unreleased album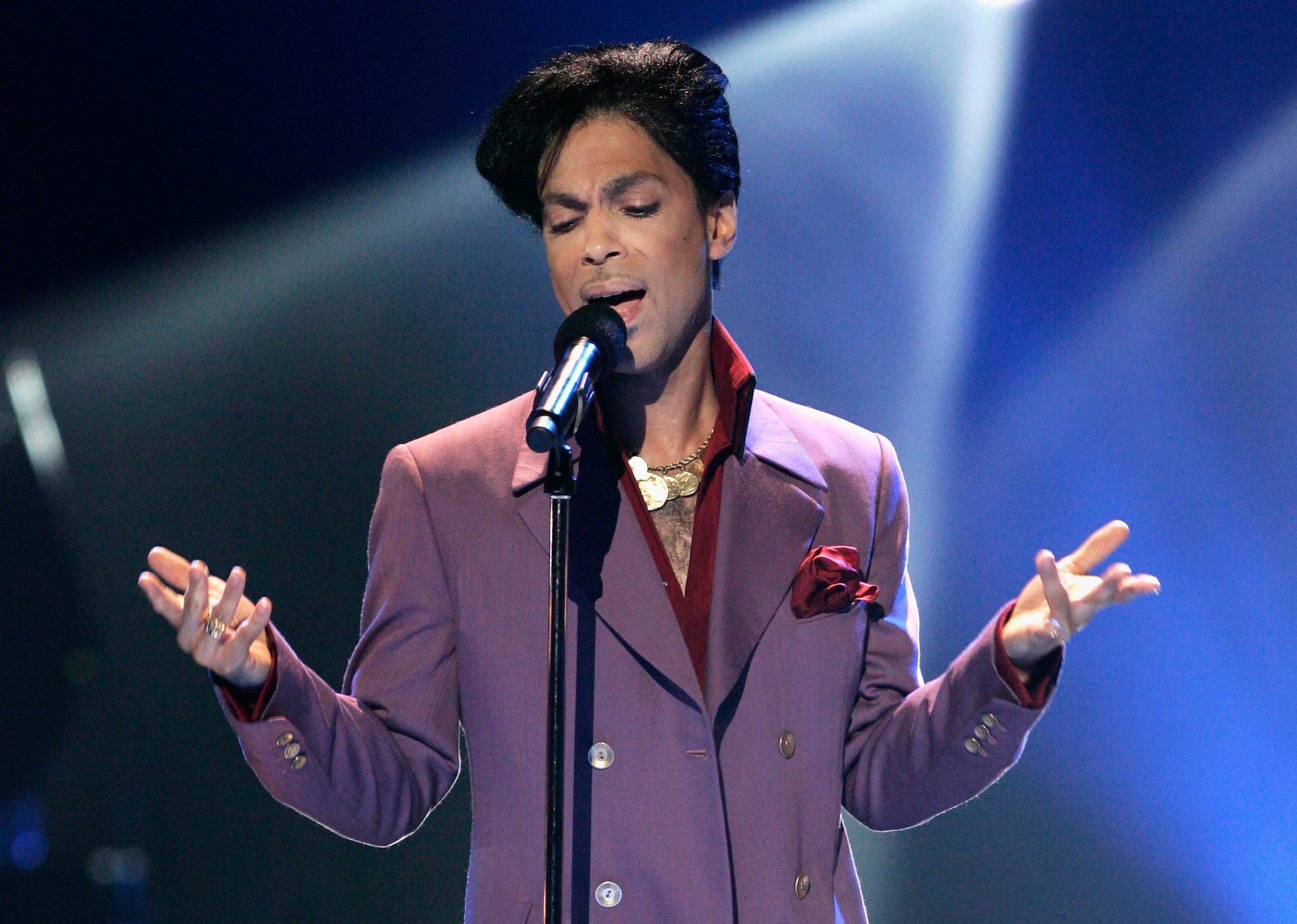 Vince Bucci // Getty Images
An unreleased album, called "Camille," became the topic of conversation by Prince fans after his death. Camille, a feminine-presenting vocal style created by Prince with the help of some studio processing of his voice, turned out to be more than a rumor. In 2022, musician Jack White's record label, Third Man Records, confirmed they had the unreleased 1986 Prince album as well as permission to release it. As of this writing, no further release dates have been announced.
You may also like: Freddie Mercury: The life story you may not know