"Mama Huhu," author Christopher Steele's new memoir about the five years he spent in China teaching English, is part Bill Bryson and part Paul Theroux, with a bit of Baedeker's travel guide vibe mixed in.
"Mama Huhu" translates in English to "so-so" or "mediocre." Why would an author give his book a title that might characterize it as boring? Steele's answer reflects not only his take on life but also how the Chinese abhor bad outcomes. The book makes the case that bad outcomes arise from simple misunderstandings, which can lead to catastrophe.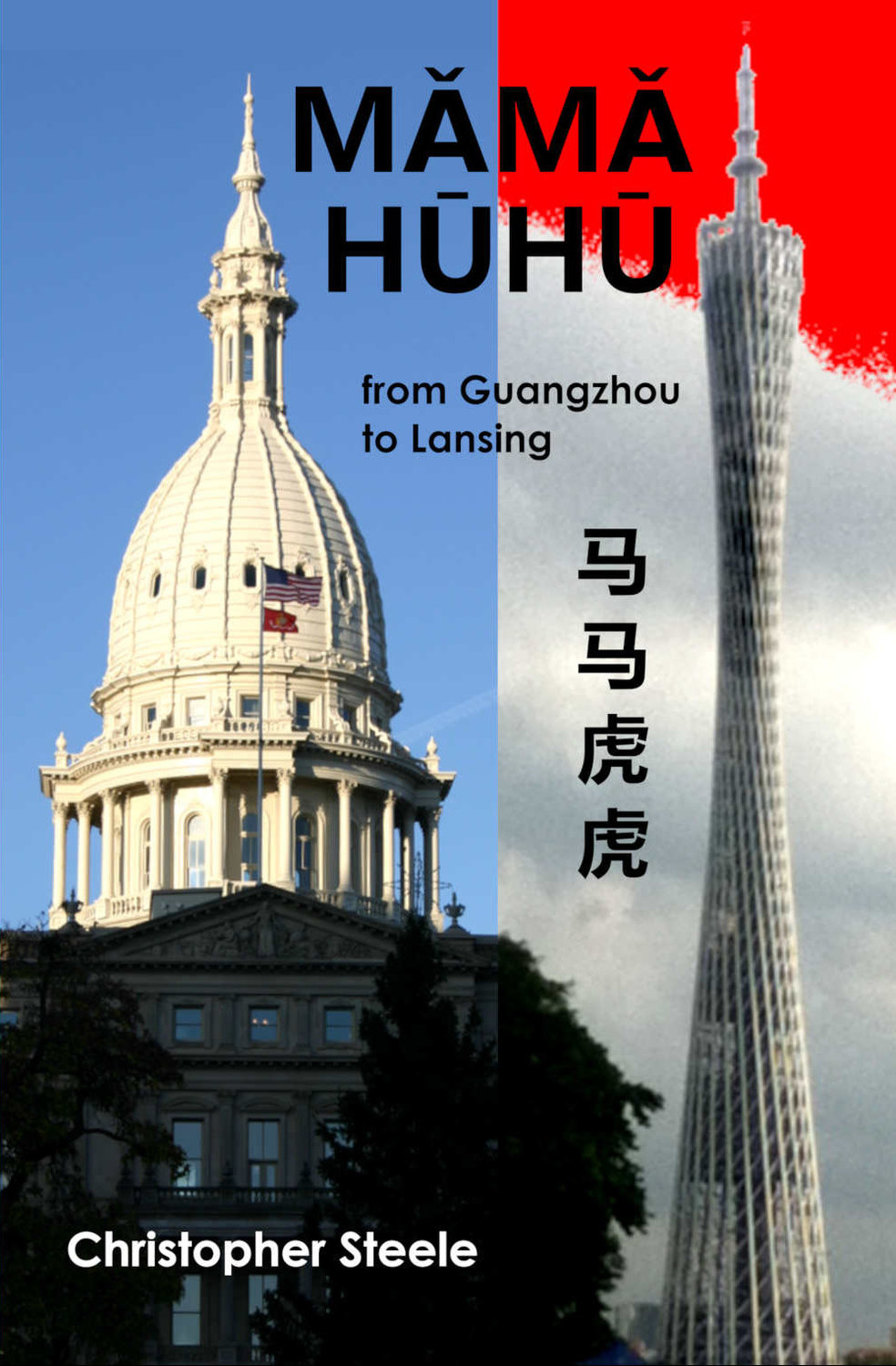 It can be purchased on Amazon or Steele's website, mamahuhubook.com.
Steele has always viewed life a little differently, often running ahead of the pack on social issues. While working for the Michigan Department of Labor and Economic Growth in the late 1970s, he shepherded a program about creating food self-sustainability. Later, he combined that philosophy with his bent for entrepreneurship and founded a local company, Michigan Marketing Association, supplying specialty food items to restaurants.
After years of providing care for his ailing mother in Virginia, Steele decided he wanted to visit Southeast Asia. He made his first trip to Vietnam in 2003. While there, he noticed numerous English-as-a-second-language schools and began thinking he could use that type of position to self-fund a trip to China.
He took a four-week crash course on ESL in Hawaii and soon landed a position at an English language school in Guangzhou, China's fifth-largest city.
In his first days in Guangzhou, he was scammed by two young Chinese students wanting to "practice" English with him, which really meant an extended cocktail hour with Steele footing the bill.
The lesson he learned was that modern China was "like the Wild West, with everyone scrambling to make a dollar."
"Everyone I met there, in some sense, was an entrepreneur," he said. He posits in the book that this may be due to the Chinese doing anything they can to survive.
Survival is one of the reasons the ESL system thrives in China, especially for students whose grades on the national college tests fall below the requirements needed to get into subsidized, higher-level state schools.
Those students and their parents know the only hope is to learn English, which would allow them to take jobs in brokerage or export-import companies. The schools are expensive alternatives, but they provide jobs like the one Steele landed.
By American standards, the job didn't pay much, but there were other perks.
"Teachers were given an apartment, plus I didn't have a car, so my expenses were virtually nothing. I saw myself as on the fringe of the upper middle class," he said.
In his classroom, he quickly found that traditional teaching methods weren't working and moved to techniques offering student interaction.
"Previously, no matter what I would do, they would find a way to copy each other's work or cheat," he said.
He created a game using oxymorons, which helped students learn the complexity of language.
After five years in China, Steele doesn't necessarily love or hate the country.
"I was most surprised about how much it was like America. The students dressed like Americans — all wore jeans with big rips. They strive for the luxury car and want to buy a Rolex," he said.
He also learned that a tall, obvious Westerner was a hot commodity for Chinese entrepreneurs. Numerous times, he was hired as a pretty face for advertising and accompanying businesspeople at trade shows.
"Having an American with them added a certain cache," he said.
While in China, Steele regretted not learning to speak Chinese. It left him feeling isolated and lonely and led him to return to his home in Lansing.
But he took advantage of his time traveling, enjoying the flora and fauna and observing the sometimes-strange happenings one might not experience in the U.S.
Some of his favorite stories relate to how the Chinese government is constantly building impressive structures that go unused or are torn down within a year.
"I like to tell stories, to keep it simple and to get people to laugh," he said.
Throughout the book, Steele muses about life in China and his experiences back home at a YMCA steam room, where he quickly learns the negative ideas some hold about the country. One member of the group exclaims, "Does anyone not hate China?"
Steele hopes to give Americans a different view of China and show that it and the U.S. aren't superheroes. He encourages Americans to see the world and "meet real people on the ground."