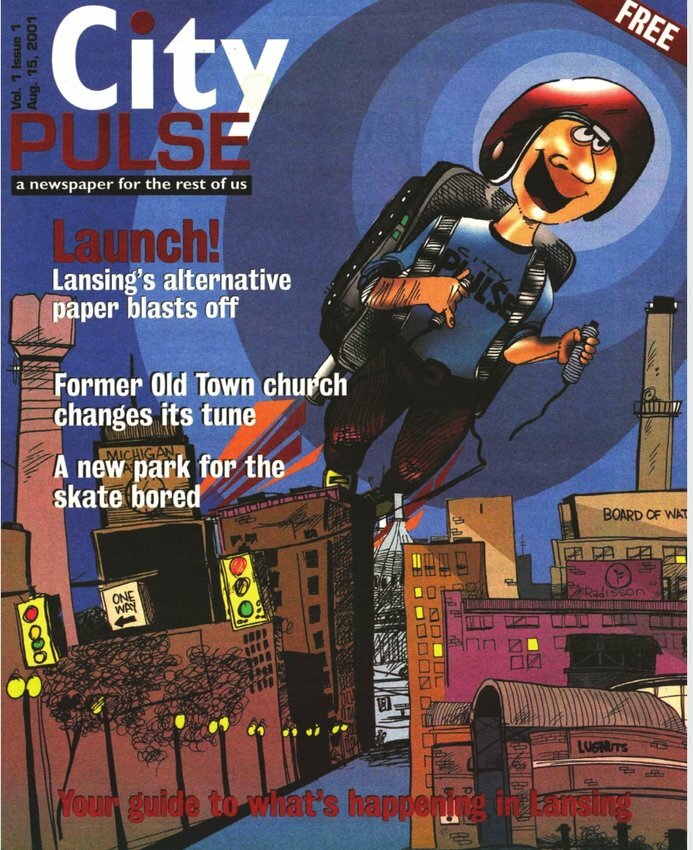 DEAR READERS:
I was sitting on my first porch editing the next print edition of City Pulse when a Fed Ex delivery truck pulled up.
"I don't have anything for you," the driver explained from my sidewalk. "I just wanted to ask you a question: How come you don't charge for City Pulse? I'd pay something for it every week."
It's a question I've heard more than a few times over the 22 years of publication we just completed.
As we embark on a new publication year with this week's issue — number 1,142 (but who's counting?) — it is one I want to answer.
Let me begin with our mission statement, which we published in our first issue, on Aug. 15, 2001: "To provide a journal of news and opinion on civic, social and political issues as well as arts and entertainment in Greater Lansing."
We might have added "free," because we believe everyone should have access to City Pulse, regardless of income. We want to be a thread that runs throughout the community. Therefore, look for City Pulse to stay free and widely available, both in print and online.
But some necessary changes are afoot that are meant to maintain and grow the newspaper for the rest of us.
The shape of our future will depend increasingly on community support. That's a trend throughout the country for free alternative newspapers, as our genre is known. Some people may think it is inappropriate for a for-profit business such as City Pulse to ask for contributions. I disagree.
A newspaper is in many ways a community service — from which, I assure you, no one at City Pulse is getting rich. Therefore, it seems entirely appropriate to seek support from readers through voluntary subscriptions, as it were.
Print advertising, our largest source of funding, ebbs and flows, and 2023 has been a decidedly low-tide year. As a result, our small team of dedicated City Pulsers is devoting considerable time to researching ways to improve and subsidize ad revenue. Our strategy is still taking shape, but I can report that it will take two forms.
One is that our sales efforts will place more emphasis on digital marketing opportunities through our website, newsletters and social media. City Pulse has two audiences: print and digital. There is some overlap, but mostly they are distinct from one another. Our print audience is sizeable: twice as big as the weekday Journal and close to the same as its Sunday readership. Our digital audience grew rapidly during the pandemic, and it has stayed robust.
However, our image with advertisers is largely perceived as a print product. Thus, in the coming months, we will be rebranding City Pulse as print AND digital.

Of more direct interest to readers is a second direction we intend to take City Pulse. Some backstory: Last month, City Pulse was selected to participate in a Google-sponsored initiative called Transformation Tech. Its goal is to help papers such as ours learn how to better monetize digital.
With four months of coaching comes a $20,000 grant for one specific digital effort to monetize. We've concluded that our best use of the money is to seek support directly from our readers, largely through digital campaigns.
Over our 22 years, many readers, like the Fed Ex driver I told you about, have let us know that they appreciate City Pulse. Some have told us by writing checks or making credit card contributions or, as happened last week at the sculpture unveiling in Hunter Park, by putting cash in a contribution box on our table. The voluntary support has been gratifying.
We considered dropping a paywall on our digital content, but we've concluded that a voluntary membership model is what feels right for City Pulse. It's for the same reason we choose to be free in print: We want to serve the whole community, not just those who can afford us.
Thus, in the few months, we will be asking you to commit voluntarily to supporting us, just as WKAR does. We are going to invest our grant money in developing a marketing program and specialized software to encourage such support. Our goal is to bring this online by November.
We contemplate that special benefits will accrue to members, such as newsletters. We envision developing a series of events that will be free or discounted for members. But our print content, whether on paper or online, will continue to be free to all.
Alongside this effort, the 4-year-old City Pulse Fund for Community Journalism will also play an important role in securing the paper's future. The Fund is a 501(c)3 educational nonprofit, gifts to which are tax deductible. Its funds cannot be used for general purposes, such as paying the rent, but they can, have been and will continue to help pay for our local coverage as well as special efforts, such as printing the 2022 League of Women Voters Voting Guide as part of the paper. What the Fund needs is an active board of directors to help us spread our message to more leaders and institutions in Greater Lansing about the importance of safeguarding and nurturing local journalism. Thus, a goal for the Fund is to recruit such a board.
I've laid out our plans for our 23rd year — but I hope you won't wait till we roll out these efforts to support City Pulse.
We would appreciate any support you can send our way now. You may donate by credit card online below or by calling (517) 999-6704, or you may mail a check to City Pulse at 1905 E. Michigan Ave., Lansing, MI 48912.
Thank you very much to those who already support us. And thank you in advance to those who join them.
Berl Schwartz
Founding editor & publisher
publisher@lansingcitypulse.com
p.s. What's the difference between City Pulse and City Pulse Fund? – click here for our FAQ.