She ate, at Joe's on Jolly
Gabrielle Lawrence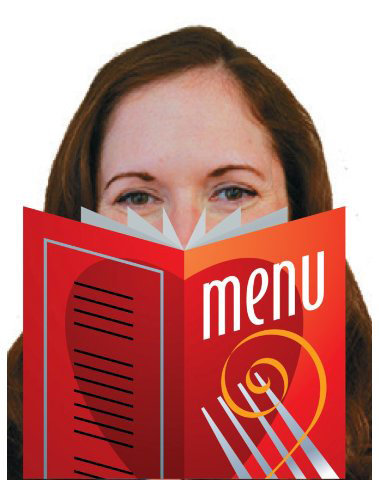 Although it isn't particularly convenient for me, I believe Joe's on Jolly has been able to find itself a perfect location. It's close to the highway, within spitting distance of several subdivisions where I'd wager there's a fair amount of disposable income but also close enough to campus to draw students on their own as well as parents who come to visit. That area was hungry for something a little sports bar-esque, but with good food, and Joe's is stepping beautifully into that role.
My most recent visit to Joe's was under difficult circumstances. I met my mother-in-law and my two children, and we ordered appetizers and kid's meals and eventually ordered our own entrées as we waited for the rest of the party, who were taking their sweet time leaving the Breslin Center after a basketball game. I was mortified, but our server could not have been more gracious, and I appreciated it. My children gobbled up the chicken fingers and cheese pizza, no surprise there, but also ate the seasoned fries, which was new territory for them and something that put a bit of luster back on the penny.
For appetizers, we chose the Na-Joes ($11) and the giant pretzel ($14). Mr. She Ate and I had tried the pretzel on a trip to Joe's a few months prior, so we knew everyone was in for a treat. To be honest, pretzels generally don't do anything to turn my head. I find them to be dry to the point of being nearly inedible. This version is totally different, though. I fear that calling it "greasy" gives the wrong impression when it is the greasiness that imparts flavor and moisture. Please don't be dissuaded by my use of the word, because the giant pretzel is one of the best things I've tried on the menu.
The actual best thing I've tried is the Na-Joes. The menu description claims a base of house-made tortilla chips, which are fantastic. They're super thin, super crunchy and covered with the perfect amount of salt. They're topped with typical nacho ingredients — cheese, shredded lettuce, tomato, scallions, cilantro, sliced jalapeno, black beans, sour cream and salsa, all of which are fresh and flavorful. If you're looking for a filling, fun, meatless meal, check this out. You can also add a protein if you're so inclined.
I completed my meal with the kale and quinoa salad ($14), which was so large that, after taking bites of the appetizers and sampling my children's food (you know, for safety), I could barely make a dent. I love a massaged kale salad, and this version is no exception. Yes, I said massaged. Kale can be tough and chewy, but if you throw a bit of oil or lemon juice onto the leaves after stripping them from the stems and massage them with your fingertips for a few moments, they become more vibrant in color and much easier to eat.
Mr. She Ate, fresh off a Melting Moments ice cream sandwich at the game, chose the poke bowl ($16). He developed a love for poke during our trip to Hawaii last summer; if you're unfamiliar with what it is, the Joe's version is a classic introduction. A bed of rice is heaped with arugula, edamame, avocado, sliced cherry tomatoes, scallions, cucumber and tuna tartare, drizzled with soy and chili oil and sprinkled with sesame seeds. While he claimed that it was "no North Shore poke," I told him to leave his snobbery at the door and give me a bite of his food.
My dad loved the elevated mushroom burger ($18), especially the umami-packed addition of caramelized onions and the creaminess of the brie. His wife chose the fried chicken sandwich ($15), which was approximately the size of my daughter's entire body and just as tasty as the beef. We ate early because all later reservations were taken, but I'm thrilled that Joe's actually takes reservations (and needs them) because business appears to be booming.
Here's hoping that Joe's keeps providing excellent service; innovative, fresh, tasty food and available early-bird-special time slots for my family to fill.