He ate, at The Old Bag of Nails
Bryan Beverly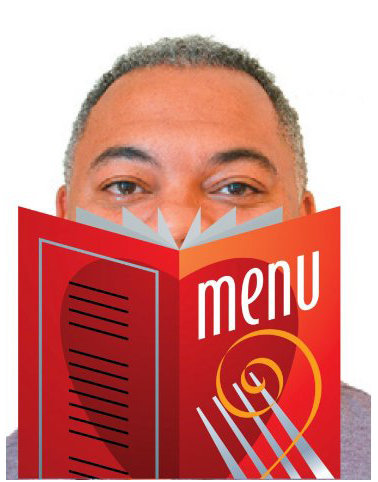 When The Claddagh Irish Pub in Eastwood Towne Center closed in 2020, opportunities for authentic fish and chips in Greater Lansing took a major loss outside of some seasonal fare around Lent. The former Fish & Chips restaurant on East Michigan Avenue has given way to a 'you buy, we fry' seafood-and-chicken-wing spot that mirrors others around town, so I've been searching for a new home for a classic version of one of my favorite meals.
Enter The Old Bag of Nails Pub, an Ohio-based chain that recently expanded into Michigan with a spot in the still-developing Red Cedar project. Beautifully constructed and neatly tucked into the rear of the property, the restaurant seems primed for success.
Inside, there's a modern ambiance that seems like it could stand up over time as it doesn't give way to kitsch or cliché. Furthermore, the outdoor seating, including a second-floor patio, beckons Lansing's happy hour crowd once the weather (finally) breaks. The wine list, discounted on Wednesday nights, boasts Woodbridge and Chateau Grand Traverse by the glass and bottles from Italy; New Zealand; and Lodi, California.
The company's 14 Ohio restaurants have a strong concept, and I can see why it's been successful to this point. However, if it wants to gain traction here, it will need to step its game up. My two visits — one takeout, one dine-in — left me with an overall dissatisfied rating.
What's meh
Let's start with the service. The Buffalo Chicken Wrap ($12) that was ordered with no onion and no tomato instead came with both, chopped and mixed in with the lettuce and chicken. My daughter was forced to swap meals with her mother, and, even then, only half the wrap got eaten.
The accompanying steak fries were OK but nothing special. Such was the case with my double burger ($12), which was overly greasy and limp and didn't include the "favorite mayo-mustard sauce" that was touted in the description. These handhelds lacked love and attention to detail.
I also ordered the onion rings ($4), which were (too) thick-cut and heavily breaded, leading to an undercooked onion on the inside.
Lastly, I almost didn't even want to mention the potato skins ($12) because they were that lackluster. Small and hollowed out too much, I guess since they were an afterthought coming out of the kitchen, they might as well be one here, too. Not the strong start I was anticipating given the rave reviews I'd seen on social media.
What's better
My dine-in visit with a colleague was better, mostly. They had the Fish Tacos ($14), which looked on point. With blackened cod, bright salsa and crunchy slaw, the three tacos were flavorful and filling.
Given that this was lunch and the fish and chips had three fillets, I ordered the Fish Sandwich ($13). The Atlantic cod was served Eddie Style with seasoned batter for a nice kick on the back end. The fish was pleasant — crunchy and tasty and served on a hoagie roll with tartar sauce on the side. I can never get enough sauce when I order fish, but thankfully, there was a bottle of malt vinegar on the table to rescue me.
Our meals would have likely been home runs had they not come out as we were both on the second bites of our soups. Forced to choose between hot soup and hot food, my entrée was eaten far more tepid than I wanted.
Best bite
The soup, however, was delicious. The New England Clam Chowder ($6) tasted of the sea, with chunks of potatoes and chopped clams. The base was savory and creamy, reminiscent of scratch-made versions that steep for hours in boiled-over pots across the Northeast and Mid-Atlantic. There was more love poured into this one cup than my entire prior takeout meal. Hopefully, Old Bag of Nails' newest location is willing to spread that love into other areas sooner rather than later.